Music
Ziggy Marley At Club Nokia: Show Review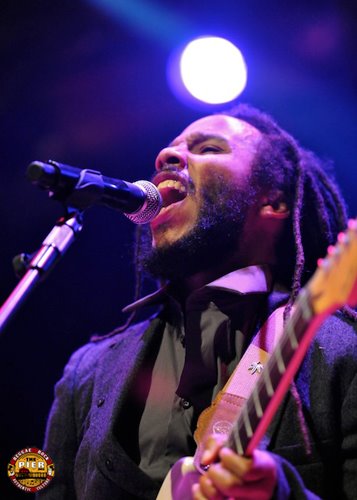 It's about 7:45 p.m. on a chilly Los Angeles Tuesday night. Downtown's L.A. Live just cleared out from the Lakers traffic, and suddenly the sight of purple and gold transitioned into a wide spread of greens, yellows and reds, otherwise known as the colors of the
Rastafarian movement
.
A long line stood outside of Club Nokia ranging from women in their best dresses and heels, families with matching Rasta-inspired shirts, and countless men and women with dreadlocks, styled in an array of fashions.
At the front of the line sat the most sought out table within a mile radius of the venue for it held the only element separating these people from fulfilling their "One Love" destiny.
Ok, maybe not fulfill their entire One Love Destiny, but at least coming one step closer.
This sacred table, also known as will call was in a frenzy as anxious, yet mellow fans rushed to go up to the Club Nokia entrance on the 3rd floor and indulge in a night good vibes and reggae music.
The giant doors of the venue opened into a concert hall packed tight with reggae lovers of all ages. The bartenders were more like angels or a really bright light to the crowd as the majority of them gathered around the bar like flies gather around one of those zapper lights people leave out on their porch.
But rather than getting zapped they were getting tipsy… well no… wasted. (Hey most of the crowd seemed like they had a really long day at work, can you blame them?)
On the stage, bright yellow lights shined down and out came Chali 2na.
The man that blew up the '90s with hits like "Concrete Streets" and "What's Golden" performed the classic Jurassic 5 tunes along with a mix of old school favorites like B-52's popular 80's hit "Rock Lobster".
There was a brief intermission, which allowed to crowd to make their second… or third trips back to the bar. Not too long after, a lot of "oh excuse me," "coming through," "my husband is at the front," "I'm with the band" or any other excuse you could think of were heard through the audience as fans tried to get as close to the stage to see the eldest successor of the international reggae legend, Bob Marley.
The crowd was ready. As beers were sipped and thick clouds of smoke filled the air (not tobacco… hint hint) the curtains opened and out came the headliner of the night, Ziggy Marley.
The man who has been on the scene for years, caring out his father's legacy after Bob Marley passed in 1981, approached the stage with the biggest grin on his face that brightened up the whole venue. Guitar in hand, Marley began to sway back and fourth with his long and majestic dreads following him, the crowd responded in unison.
The Caribbean sounds filled the venue, which, now looked at full capacity. General standing room and the balcony above was full of fans singing along, jumping up and down, dancing, really feeling the music. It was a beautiful sight.
Even standing in the back where Ziggy Marley seemed like a giant ant, were people dancing and singing along to him like they were right in front of him. Although, the crowd was made up of people all from different backgrounds, thoughts, beliefs, upbringing, social status, you name it… the music connected every one together. They were fulfilling their "One Love" destiny.
Fans sung along to Marley's set, which included classics from his albums along with his father's music. Yet people were surprised when they did not recognize a few of the songs that came on. Marley unloaded new material onto the fans from his upcoming album "Fly Rasta."
In an interview with Song Writer Universe Marley says, "With every album, I bring in songs that I have written over a certain period of time, and the goal is to make a really good sounding album that tries to push the boundaries and carry the music forward. Fly Rasta is a little futuristic for me in that it tests the limits of traditional reggae musically while lyrically I'm writing a lot in these 10 songs about overcoming obstacles. They're based on some of the tougher times I've been through and some require listeners to read between the lines to get at the deeper meanings. It's been many years since I sang with both of my sisters and Erica, so I wanted to bring their distinctive style to the new album as well."
"Fly Rasta" is set to release April 15, 2014.
Read more of NT's show reviews here.
Reach Staff Reporter Faith Jessie here. Follow Faith on Twitter.