Food
Yellow Fever: Bowl-ful Of Options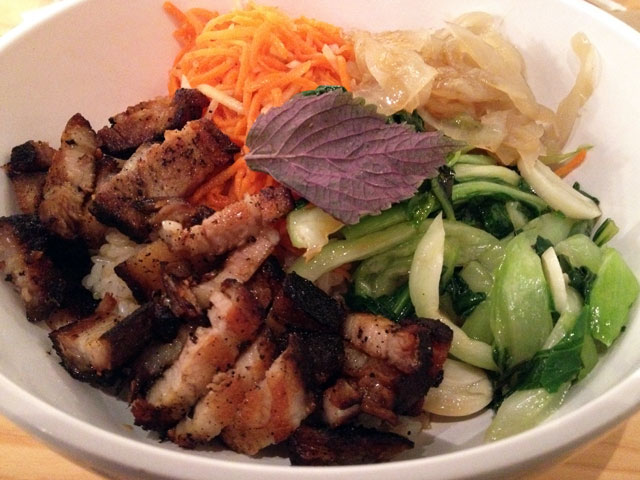 Yellow Fever
, which opened last December in Torrance, is known for its Asian bowls.
But along with those flavorful bowls come good customer service; a clean, hip environment and friendly staff members, not to mention a hip cuisine.
First-timers will be pleased to discover that the menu is not overwhelming (there's only seven entrees currently listed) but there's lots of room for customization (additional toppings include baked kale, double rice, garlic, ginger chips, etc.). There's also some good sides that are noteworthy (ahem, "Ugly Egg Rolls" and "Parmesan Furikake Fries").
The ordering process is very simple: customers simply choose a base—rice, noodles or salad—and a "city" (entrée).
The rice base is a sticky rice that's slightly sweet in flavor and is reminiscent of Jasmine rice. The noodles are soft and thin (the type you would find in somen salad), and the salad comprises fresh, crunchy greens.
The different "cities" (entrée names) contain a wide range of styles and flavors. For example, the "Saigon" features grilled chicken breast, Asian slaw, sprouts, salad greens, almonds, quinoa and a lemongrass vinaigrette. The "Seoul"—one of the eatery's best sellers—includes grilled filet mignon, Asian slaw, mushrooms, kale, fried egg and gochu sauce. For those who love extra spice, the "Bangkok"—mushrooms, grilled chicken breast, Asian slaw, almonds, Thai basil and green coconut curry—is a great choice, and of course, there's something for the Hawaii natives that often inhabit Torrance and Gardena (the "Kona" features spam and egg, Asian slaw, kimchi, furikake, green onions, ginger and tamarind katsu sauce).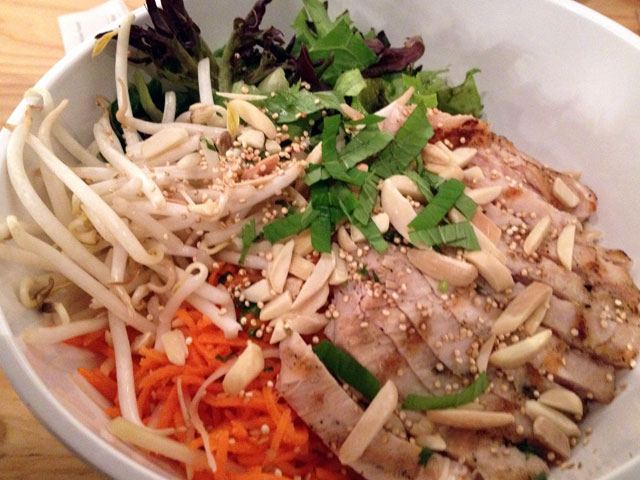 After ordering (customers are rung up on a high-tech iPad), diners can relax and enjoy their meals in the eatery's contemporary environment. Ample lights make the dining area bright, and the décor (bowls of different shapes and sizes) lines the back wall. If the eatery isn't busy, you might even have a chance to chat with the owner (who'll often be walking around the restaurant, mingling with customers) and learn about some of Yellow Fever's history.
Yellow Fever is a great option for those looking for a healthy meal at a reasonable price (all entrees are under $10) or for those looking for a not-chaotically-busy spot for lunch or dinner. Not bad for being the "new kid on the block."