Los Angeles
USC Student Protesters Rally Against University Policies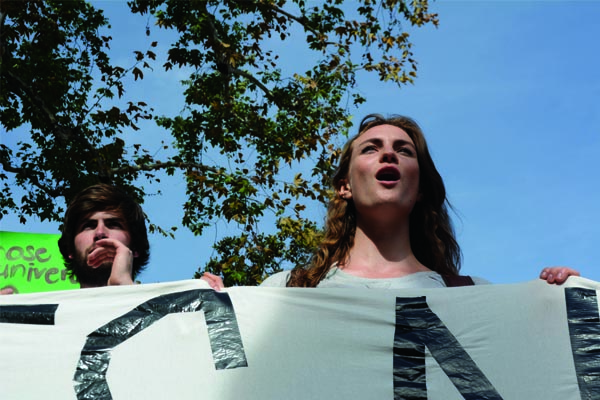 More than 50 students staged multiple sit-ins in various administrative offices Wednesday afternoon, pressuring University of Southern California officials to sever ties with apparel manufacturer Jansport. Today's protests come as the latest in an eight month-long campaign to persuade the school administration to stop supporting manufacturers that employ sweatshop labor.
Last week, university officials called the parents of several students who occupied space in University President Max Nikias' office, threatening to suspend students and withdraw financial aid.
But students say the university is refusing to listen to their demands, and consequently is complicit in allowing sweatshop labor to continue.
Last year, more than 1,100 people died when an eight-story garment factory known as Rana Plaza collapsed outside of Dhaka Bangladesh last year. Although no USC apparel was manufactured in that particular factory, it is virtually identical to those that do, including several owned by manufacturer of some USC apparel, VF Corporation. VF Corporation is the parent company of Jansport.
READ MORE: Who Are The Students In The USC Sit-In And Why Are They So Mad?
Today's protests were staged in two parts. The first phase initiated around 2:30 p.m., when four groups of students affiliated with the Student Coalition Against Labor Exploitation (SCALE) and other groups gathered and proceeded to occupy mostly administrative space.
Those included the Vice Provost of Student Affairs Dr. Ainsley Carry's private office, Vice President of Admission's and Planning Katharine Harrington's office, the Epstein Family Alumni Center, and the manager's office of the University Bookstore, Dan Archer.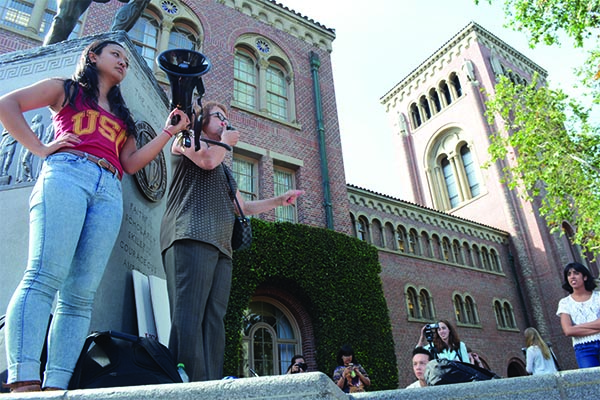 After about an hour and a half, the groups left their posts and marched around the center of campus, loudly proclaiming their cause for hundreds to hear. Ultimately, the crowd of students ended up at Tommy Trojan, where they held a rally demanding that USC's administration listen to their concerns, and end the school's connection to sweatshop labor.

"We're giving them a second chance to engage in conversation to let them know that students are feeling even more fired up after last week," said Andy Su, President of the Student Coalition for Asian-Pacific empowerment. "This is not going to go away."

The first chance was last week's attempt to talk with President Nikias directly in his office. Since then, the university has posted security at the entrance of the office, thus inhibiting any students from entering.

READ MORE: USC Plays Chicken With FERPA At A Student Protest?

For students passionate about this issue, the school's dismissive attitude is unacceptable and represents an administration that refuses to listen to the thoughts and opinions of its students.

Sarah Newell, one of the lead organizers in the day's events, is infuriated, especially at charges that SCALE is acting belligerently and not trying to work within the proper channels.

"We have extensively," said Newell. "We've sent them hundreds of pages of research, talked with them for hours, delivered 13 letters, and collected 852 community votes from USC students to end this—all things they've ignored."

Being ignored and pushed around is nothing new to SCALE. The organization is more than 10 years old and in that time has been constantly pushing for reform of university agreements. It took years of work for the organization to convince USC to partner with the Workers Rights Consortium, an independent agency that monitors factory conditions in Bangladesh.

A partnership that, according to several SCALE members, the university threatened to end months ago if students considered pushing against sweatshop labor.

READ MORE: USC Students Decry University's Handling Of Sit-in, Occupy Administrative Offices

This attitude of ignoring students' concerns continued today during the sit-ins.

Harrison James is a member of SCALE, and was the primary voice for the group that occupied the Vice Provost's office. According to him, Dr. Carry was willing to talk to students on a surface level, but would not engage in discussion that could lead to university policy change.

"It was still unproductive," said James. "I brought up our concerns and he essentially dismissed it. He'd give their position and we'd ask a further question and he'd repeat the same answer. He was so entrenched in his position that he couldn't just answer our questions—he kept giving the same invalid argument."

James says that Carry cited examples irrelevant to SCALE's cause, instead focusing on previous times that the university has addressed students' concerns.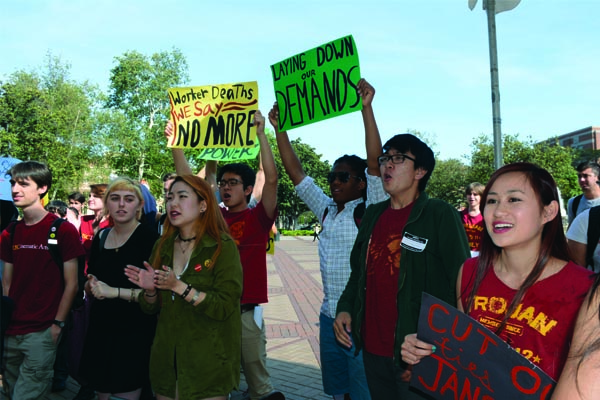 Carry allegedly explained to James and others about how the university once worked with a group of international students who requested a service that provided transportation between Los Angeles International Airport and campus.
James understands the idea of addressing a student concern, but thinks there is a critical difference between a shuttle-bus and sweatshop labor.
"I understand that there is a compromise dialogue and it's a student concern and they listened to it, James said. "But this isn't an issue of compromise; this is an issue of life or death here. We can't really negotiate this and you either agree with us or you don't."
When asked about what happens from here, James answered that so long as the university continues to ignore the interests of its students, "there's going to be more action."
Why?
Sarah Newell says that "as long as Trojan dollars are going to brands that kill workers, we're complicit in their deaths. That's unacceptable."
Neon Tommy reached out to Ainsley Carry's office. We were informed "Dr. Carry has no comments today."
View more pictures from Wednesday's Protest on Flickr.
Contact Staff Reporter Matthew Tinoco here.