Los Angeles
USC Students Occupy University Offices, Host Rally Condemning 'Corporation Before Students' Attitude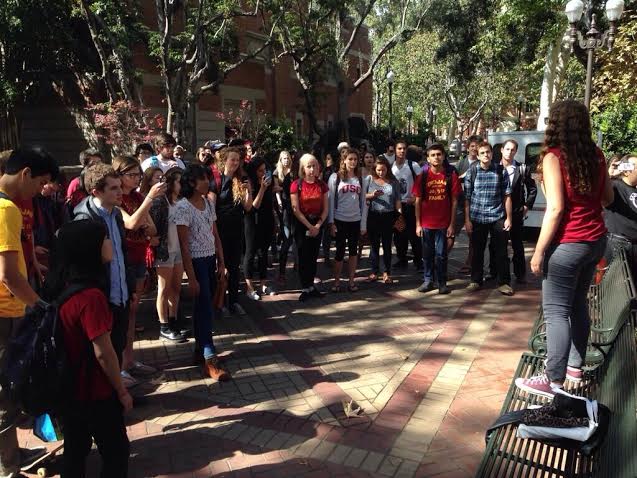 About 60 USC students from multiple university organizations came together Wednesday afternoon to condemn how their university treated 18 of its students at a sit-in last week, and USC's ties with clothing company JanSport.
The student divided into small groups and occupied the offices of four administrators, including Vice President Todd Dickey and Vice Provost of Student Affairs Ainsley Carry.
Last week, Student Coalition Against Labor Exploitation, or SCALE, sat in Nikias' office and refused to budge until he spoke with them about their repeated requests to break ties with JanSport. The sit-in sparked tensions between students and officials after USC administrators turned of Wifi, threatened suspension and called a handful of students' parents in an attempt to quell the sit-in.
"It's very obvious that USC operates as a 'corporation before people,'" said freshman Lorelei Christie. "It's incredibly disappointing."
Christie, a SCALE member, and a group of about 10 students marched to USC's Alumni House to "inform former students where their money is going," in regards to JanSport reported connection to factories in Bangladesh.
Vice Provost of Student Affairs Dr. Ainsley Carry's office was reportedly "very harsh" with students, said one protestor. Sophomore Avery Regen tweeted that Carry warned the handful of students seated on the floor outside his office, "We have the toughest code of conduct on university campuses."
However, there are reports that students sitting at Carry's office were invited in and were speaking with the Vice Provost.
Dr. Carry had "no comments today," according to his secretary.
Christie said her small group joined forces with another group at the student union and "a lot of DPS is involved."
"It's just pretty upsetting because they have been telling us that only formally elected representatives from our orgs can talk, or that the people who can help us or in meetings," said Christie. "So we won't stop until they sit down and speak with us."