Sports
USC Spring Football: Position Battles And What To Expect This Fall
Why Kessler?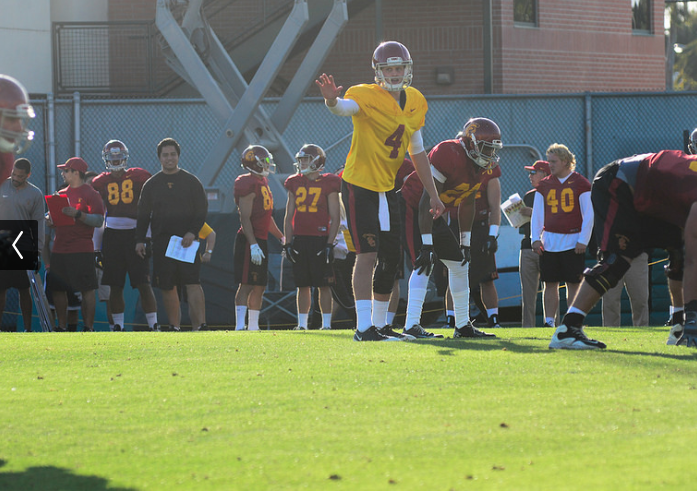 Prior to the 13th spring practice last Tuesday, Sarkisian announced that Cody Kessler would be named starting quarterback of the Trojans. Kessler, the redshirt sophomore, and highly touted true freshman Max Browne have been locked in a battle for the starting job all spring. This situation is nothing knew to Kessler. Last spring, he was locked in a quarterback battle with both Max Wittek and Max Browne. Last year, the quarterback controversy surrounding former coach Lane Kiffin and the Trojans continued into fall camp, and did not come to a halt until two games into the season when Kessler was named the starter.
In the 2013 season Kessler fell under a lot of scrutiny by skeptical fans and analysts. After an early and unexpected loss to Washington State where he threw a pick-six, many didn't believe he had what it took to lead the historic program back to the top. Even so, Kessler was named starter and led the team to a 10-win season, throwing for 2,968 yards, 20 touchdowns and only seven interceptions. He finished the season as MVP of USC's domination of Fresno State in the Las Vegas Bowl. However, his early struggles overshadowed his improvement, and after Steve Sarkisian was named as the new coach of the Trojans, he reopened the quarterback competition.
Browne, a member of USC's 2013 recruiting class, was considered to be one of the best quarterbacks in the nation coming out of high school, and many believed he would have an immediate impact. After enrolling a semester early last spring, Browne was eventually ruled out of last year's competition. His inexperience and lack of comfortability with the offense were factors in that decision, however with a season under his belt, he had regained the opportunity to take the starting job.
It became clear early on in the spring that Browne was still facing comfortability issues behind center, while Kessler showed confidence and immense improvement. Throughout spring, Kessler had an edge on Browne due to more experience and better accuracy and decision-making. Many skeptics claimed he had a weak arm, something Kessler had said he'd been working on with his coach in the offseason, and it showed. In the first live scrimmage of spring ball at the Coliseum, Kessler showed off his improved arm with two long touchdown bombs that included a 75-yard touchdown pass to wide receiver Nelson Agholor.
When he named Kessler as the starter, Sarkisian commented on his decision-making, confidence, and leadership, saying, "I think he's extremely decisive from where he was in Week 1 in a new system to where he performed today. He knows where he's going with the football. Are there some fundamentals and techniques we're going to continue to work on? Sure. But I think he's got a great deal of confidence. I love his leadership in the locker room with the players. He can throw the deep ball extremely well and he has enough athleticism to buy himself some time to create some plays down the field."
After the spring game on Saturday, where he was 5 of 10 for 86 yards and Browne was 6 of 17 for 76 yards, Kessler commented on the effect of knowing he was the starting quarterback. "It's a big confidence thing for me, and knowing that going into summer and then ultimately fall camp that I am the guy, I'm going to take it upon myself that this team doesn't fail offensively," said Kessler. "I'm excited, I'm ready…I'm ready to lead this team."
Sarkisian said the competition will be reopened in the fall, and feels Browne will make another run at the job.
In preparation, Kessler said he will be working on his timing with his receivers. He feels he has good timing with receivers Nelson Agholor and Darreus Rogers, but needs to continue to improve it as well with the other receivers.
Forming the Offensive Line
Throughout the spring, USC has seen several different players trying various positions on the offensive line, something that was a big question for the team going into spring practices. From the beginning, Tim Drevno, the offensive line coach, has said, "Every job is open for open competition. Our job is to find the best five starters."
The most notable question on the line is who will replace former center and captain Marcus Martin, who is projected to be a second-round pick in the NFL Draft. Early on, Max Tuerk, Khaliel Rodgers and Toa Lobendahn were tried out as the replacement.
Tuerk, a former all Pac-12 honorable mention at guard, took an early lead on the job, and has been working with the starting group all spring. Tuerk has said biggest challenges he faces with the move to center are knowing all the calls, drop-blocking the nose guard and getting accustomed to the mental aspect of playing center. Tuerk has improved at the position, and is the favorite going into fall. Coach Drevno commented, "He's done a great job. He's a tremendous leader, smart guy, executes at a high level, you couldn't ask for anything better than Max Tuerk there".
Other positions in battle on the offensive line are the guard positions and right tackle. Returning starter Chad Wheeler appears to have the job at left tackle locked up for now. Freshmen Khaliel Rodgers and early enrollee Toa Lobendahn are currently seeing time as the two starting guards, but that has been contingent on some injuries. Aundrey Walker and Jordan Simmons have been sidelined this spring with injuries, and when they return to fall camp the guard positions will be wide open. Rodgers and Lobendahn have the advantage of spring practice, but Walker and Simmons have experience on their side. Walker is a talented player, who has the potential to be great, but lacks the work ethic. If he finds the motivation to work hard and return strong after his injury, it won't be a surprise to see him take Rodgers or Lobendahn's spot.
At the other tackle spot Zach Banner, who is coming off an injury sidelining him during the 2013 season, and Nathan Guertler are in battle for the spot, with Banner currently holding the lead. However, Nico Falah, who has been injured this spring, will return in the fall and fight for the starting spot at right tackle. Come fall camp, expect Banner or Falah to be the favorite for the spot.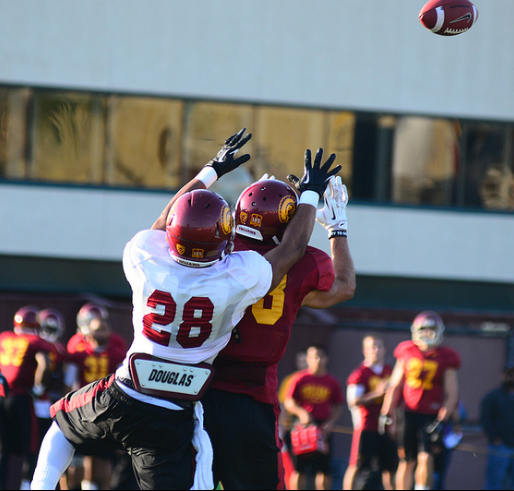 What Spring Ball Didn't Answer Fall Will
Spring ball didn't answer many questions for Trojan fans, with many position battles carrying over to the fall. It did help name the starting quarterback, but Sarkisian did say Browne will have another opportunity to beat out Kessler. So what position battles should everyone have their eye on in August?
On the offensive side of the ball, besides the offensive line, wide receivers and running backs will see some competition. USC is full of talent at both positions, however where each player lines up in the depth chart is up for question.
Wide receivers Nelson Agholor and Darreus Rogers are the clear one and two options, but who's next? Victor Blackwell, Christian Tober and George Katrib saw a lot of field time last season, especially with the injuries to Lee and Rogers, but where do they fit in this year? Blackwell is a talented player, who excels at gaining yards after the catch. Tober is small, but he's fast. His quickness and good hands are important attributes for a slot receiver. George Katrib, someone who played an important role in practices last season but didn't see much of the ball in games, has had a successful spring and will be someone to watch in the fall. In this group, Tober and Katrib should be expected to battle for the slot spot, with Blackwell battling for the spot out wide behind Rogers and Agholor. However, another thing to consider is incoming freshmen athletes Adoree Jackson and John "JuJu" Smith, who each may earn time at receiver.
In the 2013 season, the Trojans saw a plethora of running backs emerge as the team dealt with several injuries at the position. Buck Allen and Tre Madden will be the favorites to compete for the top two spots, and Ty Isaac, Justin Davis and James Toland, a young player who took advantage of the spring injuries to show off his talents, will fight it out for the remaining spots on the depth chart. All of these running backs are talented players who can play roles both in the running and passing game, and will all be utilized during the season.
On the defensive side of the ball, there are questions remaining in both the secondary and linebackers. In the secondary, Josh Shaw has his spot locked up at one corner and Su'a Cravens as well at safety. The other spots at both of these positions, however, remain in question. Chris Hawkins, Anthony Brown and Kevon Seymour will be fighting for the open corner spot. Hawkins, a 2013 recruit, has shown ups and downs throughout spring, and will need a strong fall camp to earn the spot. Brown was originally a starter in 2013, however an early injury sidelined him the rest of the fall as well as the spring. If he can return to the level he was at early last fall, he may be a favorite for the spot. Finally, Seymour, another player who saw time as a starter in 2013, will have to prove himself after a rough performance late last season, especially against UCLA where quarterback Brett Hundley picked him apart. Leon McQuay III had a lot of success at safety this past season, but Gerald Bowman may take the spot after a successful spring and the option to move McQuay to corner. Jackson and Smith, who will enroll at USC in the fall, are highly touted recruits in the secondary who will also have the opportunity to prove themselves.
Finally, the linebacking core has a lot of spots to fill after Morgan Breslin and Devon Kennard graduated, and Lamar Dawson suffered an ACL injury. Scott Starr and Jabari Ruffin have spent most of the spring as the starters on the outside, with J.R. Tavai and Hayes Pullard in the middle. However, freshmen Quinton Powell and Michael Hutchings are both talented players looking to further prove themselves in the fall and work their way into a starting role. Dawson, who's coming off an ACL injury, will work over the summer to get back in form and earn his position back.
August should an interesting month for the Trojans, as various players will be battling to earn their spot on the depth chart and the coaches will look to fill open positions.
Reach Staff Writer Jordan Schuchmann here or follow him here.