Film and TV
Stars Grace 'Minion Mayhem' Yellow Carpet At Universal Studios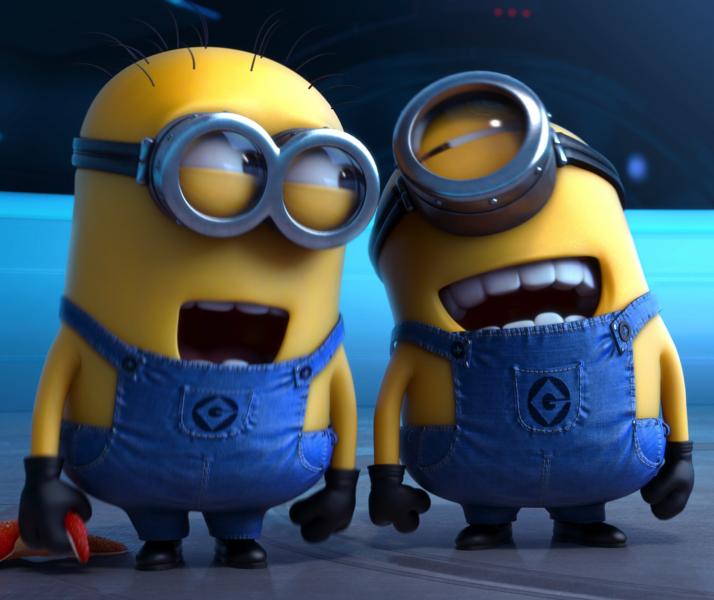 So you think you have what it takes to be a minion?
Grab your goggles and overalls, and get ready to test this out with Universal's all new 3-D Ultra-HD adventure ride, 'Despicable Me 2 Minion Mayhem' which aims to make everyone a minion. The adventure ride had a grand premiere opening yesterday before opening to the public on April 12, 2014.
Stars, minions, park executives and politicians alike paraded along the yellow carpet in celebration of the event which immersed them into the world where minions reign. In attendance were "Despicable Me" series stars, including Miranda Cosgrove (Margo), Dana Gaier (Edith) and Elsie Fisher (Agnes), who were also joined by entertainer and host of EXTRA, Mario Lopez; Joshua Erenberg, "Parenthood"'s Lyndon Smith and Ultimate Fighting Champion Chuck Lidell.
Los Angeles Mayor Eric Garcetti also made a special appearance by making a speech in which he thanked Universal for it's pivotal role in driving the city to a record number of visitors last year: 42.2 million.
Mario Lopez of television's "Extra" served as the emcee of the ceremony which also included a fun and upbeat dance to the Oscar-nominated song "Happy" from the movie "Despicable Me 2.".
"I love that song, it really makes you feel good. It's even my ringtone," said TLC's T-Boz Watkins.
Miranda Cosgrove, fellow Trojan and voice of the character Margo in both Despicable Me movies was on hand to help the lovable arch-villain Gru and his three girls press the big red button to open the ride.
Cosgrove spoke about her involvement with the development of the ride, " I used to come to Universal so often when I was little with my parents, so it was cool to be a part of a ride. I love it."
The ride even surprised some of the film's biggest stars like Cosgrove, who most would think knows all of the ride's ins and outs. "I didn't know it was going to make you feel like you were on a roller coaster for a second and that you're supposed to be a minion on the ride." she said.
"It was kind of a little crazier than I thought it would be because I know it's for kids, but I had a really good time."
That's exactly what the ride's show producer and Universal's Creative project director, Jon Corfino, was hoping to do, though.
"There's a lot of little surprises and you get to be part of the action. You get to see yourself occasionally and maybe get to be in the film on camera, in the spotlight in some ways and minions are always sneaking up on you," he said.
Though you have to experience the ride for yourself to unveil all of the surprises, Corfino gave some insight into what guests can expect.
"You can expect to become a minion, and that does not happen everyday so that's always fun." According to Corfino, guests can even find themselves in the spotlight with the chance of being on screen as part of the movie. The biggest thing that he hopes fans take away from the experience? Smiles.
"Working with illuminations and the filmmakers it's a rare opportunity, you don't always get a chance to do that. It was very collaborative, and very rewarding," Corfino mentioned.
Jake Miller, upcoming hip-hop recording artist and Despicable Me movie fan was happy for the opportunity to attend the event, despite having to head straight to a studio session right afterwards.
"To be out here for someone like me is just really awesome because you connect with so many people. And, I get invited to cool things like this," the Florida native said.
Parenthood star also shared in the excitement. "I know nothing about it so I'm pretty excited to see what they have in store for us."
The ride attracted stars of all kinds and their families to begin minion training, including UFC fighter Chuck Liddell and his daughter Guinevere. "I love the movies, she watches them all the time,"he said.
This was a little bit of a change of pace from Liddell's usual setting, but he claims that he is still a kid at heart no whatter what. "All of my kids think they're older than me now," he said.
With his daughter in tow, Liddell mentioned, "I want to see her reaction, that's the best part of it for me."
Joshua Erenburg, actor and co-star with Steve Carrell in "The Incredible Burt Wonderstone" came to the park to focus on the minions. He talked of his special connection with the second film of the franchise given his relationship with the movie's very own voice of Gru.
While working with Carrell, Erenburg said Carrell told him everything to know about Despicable Me 2 before it came out so he was completely prepared for that when he saw it on opening day.
"In real life he sounds different and then when he plays Gru it's like, 'Did you hit puberty twice?'" Erneburg said of Carrell.
Laughing and sharing stories from set, Erenburg shared, "My brother asked for him to do the voice of Gru on the set. He did it, and my brother was just like 'I have a new boy crush.'"
Together, "Despicable Me Minion Mayhem" and "Super Silly Fun Land" represent a creative and immersive environment fit within Universal Studios Hollywood to immerse guests whole-heartedly into the world of Gru, his girls and the Minions. Head on over to Universal Studios to become one of the lovable yellow minions that everyone can't get enough of.
Reach Staff Reporter Brianne Tracy here.