Los Angeles
South L.A. Residents Shop For Employment At Its First Plaza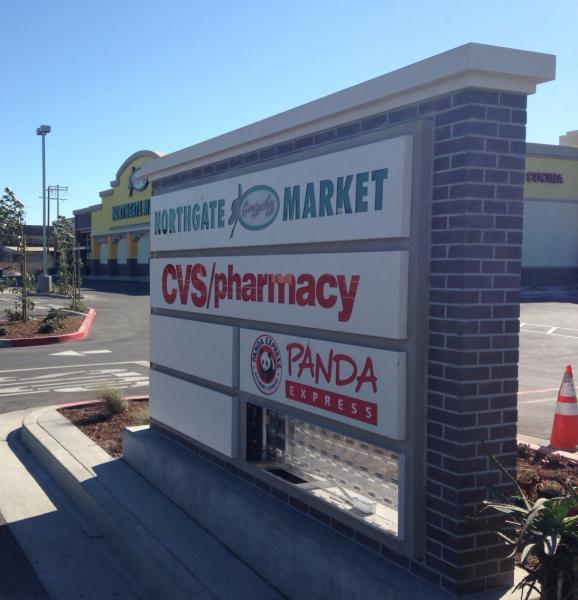 At the back door of Northgate Gonzales Market, security guard Ulises Hernandez asks a maintenance worker for proper identification.
Gonzales started working at Northgate, located at Slauson and Central avenues, a month ago. The grocery store expects to open its doors April 15.
"It actually gave me a raise - about four dollars more per hour," he said. "I've been working in El Monte and La Puente. They're really far compared to from this one. I definitely prefer this job."
Inside the store, more than 100 residents in South Los Angeles found employment through Northgate's partnership with Emerging Markets Inc., a consulting firm that helps supermarket chains pursue business opportunities in low-income neighborhoods.
"It helps us coordinate with a couple of work resource centers here in the local area so that we were able to organize interviews," said store director Alberto Ayala. "I believe there were 1,200 applicants that were interested in our positions, so there were a lot of people that came together for the job fair very like they had.
"We hired 80 percent of men, as well as different cultures in the areas," Ayala said. According to him, new employees are currently being trained in different stores for their jobs, which vary from the checker to different departments including grocery, meat and produce.
The opening of Northgate is also expected to help eliminate food deserts in the neighborhoods of more than 455,000 residents. Six years ago, the City of Los Angeles started to forbid fast-food outlets in South L.A. from opening within a quarter mile of each other in order to advocate healthier eating habits.
"We're gonna offer the community a selection of a lot of items," said Ayala. "Besides basic grocery store items, we have different styles of Mexican food in our kitchen called 'COCINA.' We also have a healthy food line called 'Viva La Salud,' and it's more based on a healthier form of eating."
Other businesses opening include a CVS/Pharmacy, Starbucks, Panda Express and Yogurtland at Juanita Tate Marketplace, the first outside shopping center in South L.A. named after the community activist, spanning over 77,000 square feet with over 400 parking stalls.
"We're gonna have medicine for people who are sick, instead of going all the way to Huntington Park," said local construction worker Robert Castro, who sees the development's progress while he bikes along the street every day. "We have more stores around, more businesses and more people work. That's good."
Conceived in the aftermath of the 1992 riots, the actual construction of Juanita Tate Marketplace has been delayed three times until City Council finally approved the project in September 2010. Designed by Nadel Architects on a former scrap metal plant site, the shopping center is a $21-million project run by the city's Community Redevelopment Agency (CRA).
The location is home to a large number of Mexican and Central American immigrants, 60 percent of whom don't have a high school diploma.
"Our goal was to provide a convenient, centralized shopping destination that supplies a wide range of food and services catering to the South LA community," said Greg Palaski, managing principal of Nadel Architects and project director. "Our design helped create an inclusive retail center for local residents to enjoy."
Regency Centers, the country's largest grocery center developer that owns the shopping center, predicts a 10 percent annual return. Its partner, community property management company Concerned Citizens of South Central Los Angeles (CCSCLA), would receive a fee of $242,000, said Jenny Scalin, project manager for the city redevelopment agency.
"We are very excited that Juanita Tate is moving forward," said John Mehigan, vice president of investments for Regency Centers. "With Nadel Architects' design, we are well on the way to delivering a quality shopping center with best in class retailers for this community."
City Councilman Curren Price called the retail center the first of its kind in the 9th District in about 40 years.
"That's a big deal here in South L.A," he said. In addition to more retailers serving nearby residents, it also improves job opportunities for the surrounding neighborhoods, where the unemployment rate is 13.7 percent.
The developer and the supermarket operator have agreed to a Community Benefits Plan, ensuring jobs, half of which are permanent, for the workforce residing within tree miles of the project site. They have also agreed to payments and benefits equal to, or greater than, the city's living wage ordinance and comply with CRA's Living Wage Policy.
"It needs to be here because in this neighborhood, we don't have CVS, Northgate and all that stuff. It's good for here," said Fred Gibson, a taco cook at Los 3 Puerquitos who also wants a job at the center. "It brings good to people here in South Central L.A. It brings more jobs, gives you more self-esteem by itself."
College student King Cooper would like to work part-time at CVS or Starbucks because he simply "loves the brands."
"People don't have to go far any more, " he said. His friend Lanaee Mitchell, a high school student, plans to visit Panda Express frequently to eat her favorite Chinese food or even look for a job.
Councilman Price hopes the retail center can serve as a symbol that South L.A. is business-friendly and ready for investors.
"They want to know that the atmosphere's conducive for investment. They want to see the red tape pushed away, and I think they're right," he said.