Los Angeles
South L.A. Charter School Students Build Needed New Playground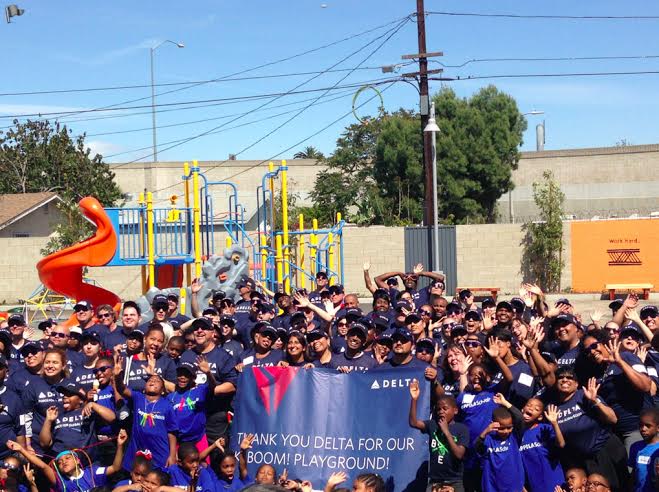 KIPP academy of opportunity, charter schools, KIPP LA, delta airlines, KaBOOM!, public education, south los angeles, LAUSD, Obama, playground, blended learning, API
About 150 KIPP Charter school staff, parents and corporate volunteers gathered last Saturday to build a new playground at the KIPP Empower Academy in South Los Angeles, yet another example of how charter schools are expanding and taking charge of L.A.'s public education system.
Delta Air Lines partnered with KaBOOM!, a national non-profit dedicated to constructing playgrounds, as a part of their Force for Global Good initiative, to help South L.A. students get a brand-new playground that will soon serve around 500 elementary school students in need of an upgraded outdoor area.
"You gotta read, baby, read. Say what. You gotta read, baby, read. Say what. The more I read, the more I know. The more I know, the faster I go. Cause knowledge is power, and power is freedom," sang the group of elementary school students at KIPP Empower Academy.
KIPP (Knowledge Is Power Program) Empower Academy is part of nine other KIPP schools in Los Angeles, and 141 nationwide. KIPP is a network of public charter schools across the country that works to prepare students in underserved communities for college and successful lives.
The Los Angeles Unified School District (LAUSD) serves approximately 640,000 students, nearly 80 percent of which come from low-income families. The district also has the highest amount of charter schools in the state, about 250 independent and affiliated charter schools serving over 130,000 students. California also has the highest number of charters, nearly 1,500, in the country.
The charter school movement has been a hotly contested issue in Los Angeles, California and across the country. Teachers unions say charters have too much independence and are eroding the public school model. Critics also say charters take away funding and resources from district-run schools, choose the best students from an area, leaving students who do not perform as well, have more issues and cost more to educate in traditional public schools. The growth and power of L.A. charter schools like KIPP reflects a national shift in education. Obama is also a strong supporter of charter schools, which often pits him against teachers' unions who say he is too pro-reform.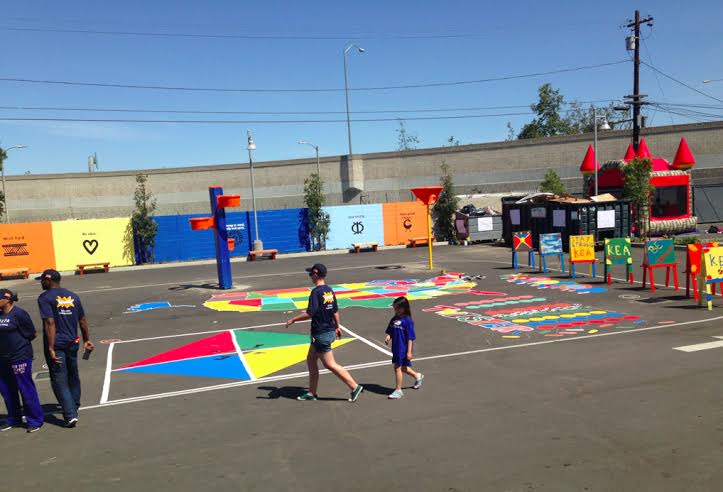 But Executive Director of KIPP LA Schools Marcia Aaron says there is positive, distinct difference between charter schools and those run directly by L.A. Unified.
"For a large entity, at times it can be much more challenging than being a young growing organization," she said. "We have much fewer rules and regulations that we have to comply with, which gives us, I think, more flexibility."
Not to mention KIPP Empower Academy, which opened in 2010, is the top-performing school in the LAUSD. The school currently serves K-3 students and has an Academic Performance Index (API) of 991, one of the highest scores achievable, as reported by the California Department of Education in 2013.
Each KIPP LA School, like the Empower Academy, is run individually, led by a "School Leader" or the equivalent of a school principal. The School Leader has the independence to set the school's curriculum and is responsible for hiring staff and teachers based on the needs of their school.
KIPP schools are also part of a trend in education in Los Angeles toward "blended learning." The Empower Academy was the first KIPP School to change curriculum to include more technology to create a blended environment with both computer- and instructor-based learning.
"We've seen more charter schools embracing technology so we were one of the first to really do this in Los Angeles and now there are many other schools using technology in intensive ways to help raise the quality of education for their children," Aaron said.
Third-grader, Ashandi Moten recited a poem she learned at the Empower Academy. "If I try, I will succeed. If I try, I will flow through my tests successfully. If I try, I will read carefully. If I try, I will yearn through college."
"We really believe in providing the best opportunity for our children to learn so that they can get on a path 'to and through college'" Aaron echoed. "That's ultimately what we think of at KIPP, of how we can help more students achieve, really, the American dream."