Sports
Sloppy Tuesday: Day 7 Of USC Spring Practice Faces Winds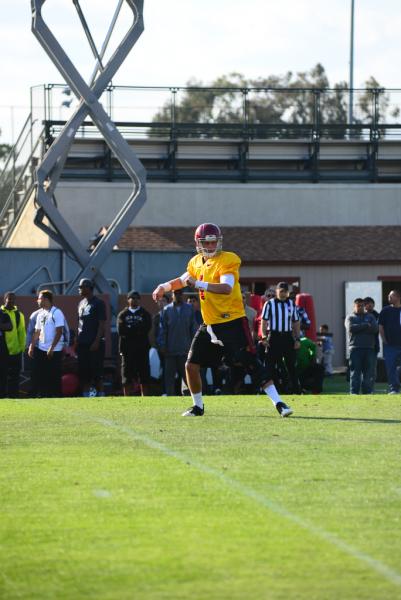 Day 7 of spring training saw a few challenges for the USC Trojans, as even new head coach Steve Sarkisian acknowledged that "the ball handling was sloppy today."
Granted, the winds the players had to play in on Tuesday were quite frigid. Despite the cold weather, there were key developments made by familiar players, who took advantage of the colder conditions. Cody Kessler, Max Browne and Jahleel Pinner all tightened up their game, hinting towards the possibility of a much stronger season.
Cody Kessler
Steady in the pocket, Kessler's confidence seems to be peaking. His passes seem to be more consistent and he's clearly taking more of the time he needs to make stronger passes; Kessler is using each day of practice to "be able to lead the guys and help them." When asked about playing in the brisk evening winds, Kessler welcomed the challenge. "I think anytime the season is colder helps, because it forces you to get out of your comfort zone. It forces you to get comfortable being uncomfortable."
Speaking of being uncomfortable, Kessler also spoke upon the possibility of a competition between him and fellow quarterback contender Max Browne. Browne redshirted his freshman year, last year, but even with a year under his belt, did not seem any more confident today in practice. Browne threw an interception and missed a snap, definitely not as calm as Kessler on the field - yet. Kessler believes Browne is "improving on his confidence" and is "starting to yell at the other guys." He also favors the competition because "it's great to be able to push [himself.]" Kessler maintained that he is "doing his best to teach Max and Jalen [Greene]," but only more practice and more of the season will be able to reflect how much the two are learning.
As far as what he is working to improve on, Kessler stated he "needs to speed up a little bit in [his] throws. I need to know the guys. Nelson [Agholor] might step quicker, and I need to know from him - and the difference between the other guys." In keeping with his determined fashion, Kessler has been practicing his timing on weekends and outside of practice, "work[ing] on Sunday with things I missed, and with Nelson."
READ MORE: USC Spring Football Practice Recap: New Looks At Running Back; Passing Game Finds Rhythm
Max Browne
While Cody Kessler welcomed the cold weather as a challenge, Max Browne felt he was better adjusted to colder throwing days - or so he thought. More of the battle came from Kessler, than it did the wind. He agreed with Kessler's sentiment of using the competition to "push each other," and further agreed that "[the competition] definitely helps the team." Browne's been hoping to "stick to his own play and his own game," and "focus on [him]" as best as he can. With half of spring training being over, Browne is looking forward to moving past the learning curve of plays and no longer feels like he "has to play catch up." Rather, Browne has taken the mindset he takes with "each rep and drill, to make everyone play harder." Improvements in his game can gradually be seen, but overall, Browne needs to continue developing his confidence before he can further develop his game.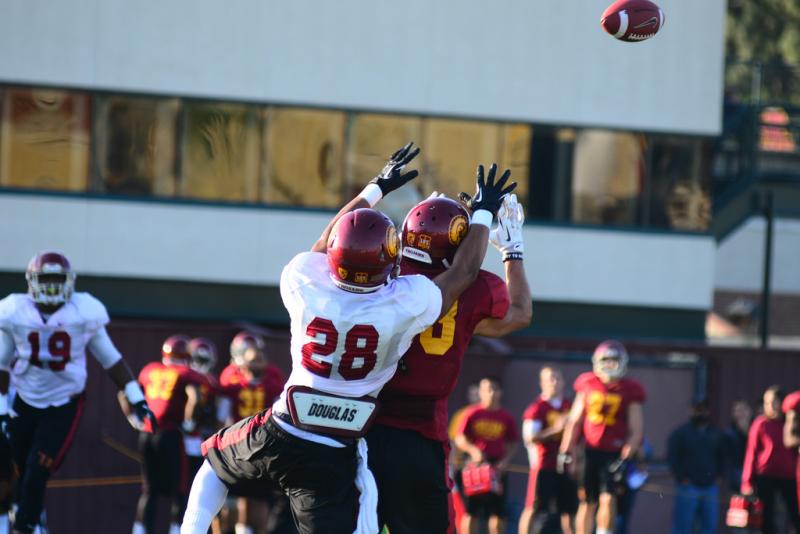 Jahleel Pinner
Pinner, a fullback, has been proving his worth in previous practices, and continued his streak today. Pinner once again played as a running back, and has begun to start learning the plays. With his emerging versatility, he says he believes he "has a shot." He's been "running his plays more instructive," and "not thinking, just doing." On the field, Pinner is showing how good his hands are, but size is his biggest ally. "Having good hands is definitely a commodity, but a lot of guys have good hands. I think my size is what makes me stand out." As far as making the transition between fullback and a running back, Pinner said "pass protection for fullbacks and running backs is the same, its all about staying focused." So long as Pinner can keep that focus, we can continue to see surprising, yet strong plays from him.
Injuries
Wide receiver George Farmer's knee is healing, and he was able to come out and endure a whole practice. Coach Sarkisian commented on Farmer, stating that "half of a knee injury is physical, and the other half is mental - believing the knee is alright." On Farmer coming out to play, Sarkisian said it "speaks volumes," and that it shows "mentally, he's bouncing back."
Tailback Javorius Allen's rolled ankle isn't a serious concern. Sarkisian just wants him out to "stay healthy and okay, and after spring we can pull back Tre [Madden.]"
Safety Su'a Craven's sprained his knee on Saturday, but again, Sarkisian assured it was nothing serious.
READ MORE: USC Spring Football Practice Recap: Offense Steps Up
Sark Summaries
After practice, Sarkisian reminded the team that "it's not always roses," and while "there were some good things," such as the defense and ability of the team to get turnovers, "the ability to get the football needs to improve - and ball handling on both sides needs to improve." Sarkisian is confident in the effort of the team, but knows that the execution needs work. "That's why there's practice-" he said - "to point out the areas they need help on."
In terms of players, Sarkisian viewed the "quarterback competition" just as positively as the players did. "I like these guys," started Sarkisian, "their comfort level with the overall scheme is improving" even after having thrown "wrinkles" at the pair at the line of scrimmage. There's nothing to prove, as far as Sarkisian is concerned. "The focus is getting two guys to prepare for a tough game," so that no one player is relied on too heavily." He's taken this approach in running backs as well: "having more than one running back means we're going to run the ball a lot, keep them fresh, give them breaks."
After 7 practices, if anything can be said about the team, it's that we're starting to see depth - exactly how Sarkisian wants it.
Reach Staff Writer Durga Ghosh here.