Opinion
The USC Skull And Dagger Prank Is Tomorrow: Don't Be Fooled

Rewind to April 2, 2013.
It was my first big break as a reporter. I had been put on the story by USC's Daily Trojan newspaper just an hour earlier. The scoop? A dramatic announcement by the University at Tommy Trojan. The band was playing, the Song Girls were dancing and, as Matt Barkeley and Marquis Lee stepped on to the stage, I knew this was something big.
Except it wasn't. Khaled Holmes, USC's all-star center, took the mike and announced it was a prank. The band ceased, some awful pop music started playing and a banner bearing the crest of USC's oldest (and questionably most prestigious) honor society, Skull and Dagger, dropped from the Gwynn Wilson Student Union.
That was it. The "announcement" had drawn the attention of hundreds of students, and even local TV stations, whose reporters cussed into their phones as they hauled off their cameras to cover the real news.
The saying goes that if something is too good to be true, it probably is. The same is true of the converse of that statement: if something is too dumb to be true, it's probably not true.
Now fast forward to four and a half hours ago, when the following email showed up in the inboxes of what seems to be a significant amount of USC students: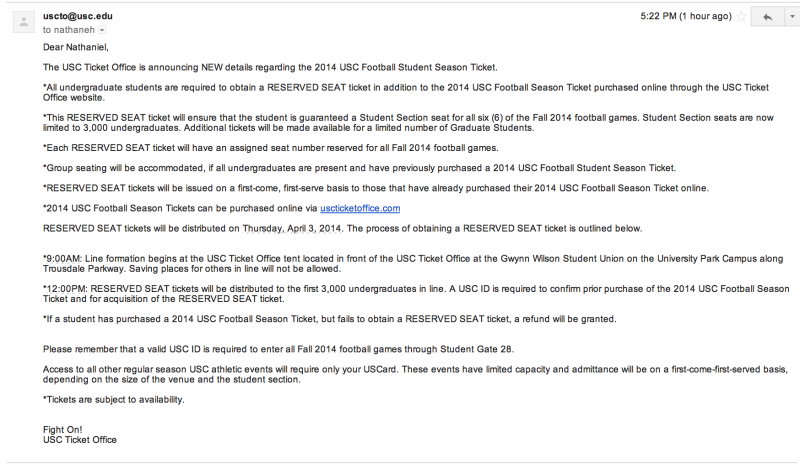 If you haven't put the pieces together yet, let me lay it out for you: Skull and Dagger is about to waste the time of hundreds of USC students, and you don't want to be one of them. Some will cut class, some will cancel plans and some will just wake up early to stand in line for who knows how long. Even worse, some will blow a hole in their credit card tonight to make sure they can get a reserve seat tomorrow. After an hour or so, the banner will drop, and that will be that. Don't be one of those people.
This prank doesn't pass the laugh test. If you aren't convinced, here's why you should be. Look close at the email, and you'll notice the sender: [email protected]. Sounds legit enough (to = ticket office). But if you've been harassed by the real ticket office for the last few months like me, you'll notice that's not actually their email address. Here's a shot of real email I received eight days ago:

That email comes from [email protected]. I'm not one to believe that USC agencies change their email addresses very often. At least you tried, Skull and Dagger. Good joke.
Founded in 1913, Skull and Dagger is a secret honors society that inducts around 20 some members every year. Traditionally, the new members commemorate their initiation with an annual prank.
Except it's not a joke. More than a few kids are going to cut class, stand in line for god knows how long and watch an elitist club that they aren't a part of lord their exclusivity and intelligence over them. There will be no "reserve season tickets."
What's even more troubling is that the email was sent en masse to who knows how many students. Last time I checked, only members of the administration could do that. Unless Skull & Dagger has somehow figured out how to hack the emails of USC students (something troubling in itself), chances are that some element of the prank is USC-sanctioned. Why the university would sanction something that deliberately takes students out of class is anyone's guess. If that turns out to be the case, I'll be waiting for a real email in apology.
I might be exaggerating, but if nothing else, the fact that one glance at that email was enough to set off alarm bells says one thing: it's a dumb prank.
Try again, Skull and Dagger: the joke's on you.