Opinion
See Through The Film: Jake Locker
Jake Locker hasn't exactly lived up to his draft status as the eighth overall pick of the Tennessee Titans in 2011. After three injury-riddled years, 2014 is a make-or-break year for Locker's future in Tennessee. Not only will next year be key in his perception as a player, but it also holds significance to him personally--with 2014 being a contract year for Locker, his performance will dictate the terms of his next NFL contract.
With Locker heading into such an important year, I decided to take a closer look at his strengths and weaknesses as a player to decide whether or not he is franchise quarterback material.
Week 1 Titans @ Steelers

7:43 Jake Locker takes heavy pressure in his face from Steve McClendon and delivers about a 20-yard laser on a timing comeback route to Kenny Britt (on the 36-yard-line) for the first down. This comes after a play-action fake, which is hard on the quarterback because it gives him less time to read the defense. Even though Locker stares down Britt somewhat and doesn't appear to go through his reads, it worked because Britt was open, and it's an impressive play nonetheless.

10:09 Locker (near his own 45 yard line) escapes the pocket to his left to prolong the play on third down, then accurately hits Damian Williams (around the 33-yard-line) for a first-down completion. This play is impressive not only because Locker was able to escape and throw accurately to his left as a right-handed quarterback, but also because he kept his eyes downfield instead of looking to run first.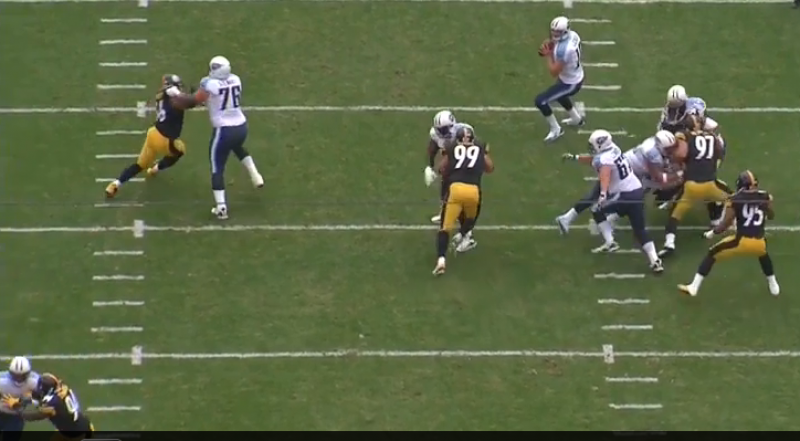 12:04 Locker stares down his receiver Delanie Walker (82, bottom left corner of the screen) for the duration of the play, and then tries to squeeze the ball to him on a third down pass that fell incomplete. Fortunately for Locker, there was a flag on the play to bail him out of a bad read/decision, but staring down receivers is never good.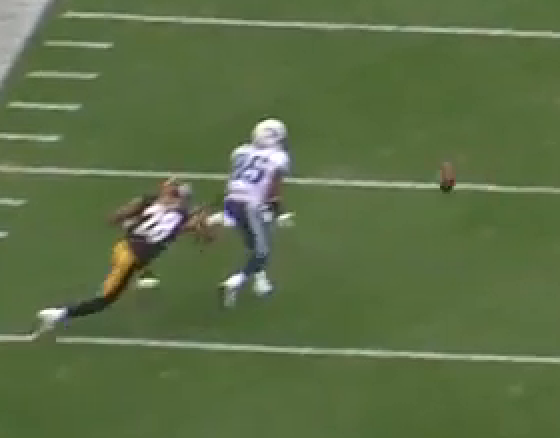 16:43 Tennessee runs a simple passing play where only two receivers go out for passes—two deep comeback routes by the outside receivers. Locker gets a clean enough pocket and has Nate Washington (85) open, but skips the pass into the ground. Inaccurate play from Locker on what should be a fairly routine NFL completion.

23:37 Locker shows excellent ball placement as he completes the third down-converting pass to Nate Washington while putting it in a place that allowed Washington to catch it securely right away.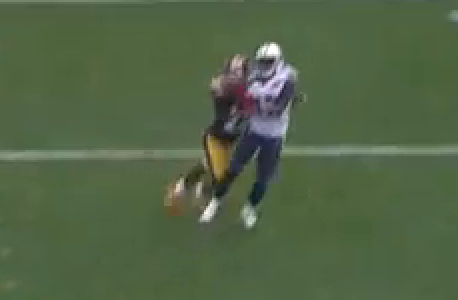 24:12 Locker stares down receiver Kendall Wright and then makes an inaccurate pass behind Wright that is easily broken up and nearly intercepted.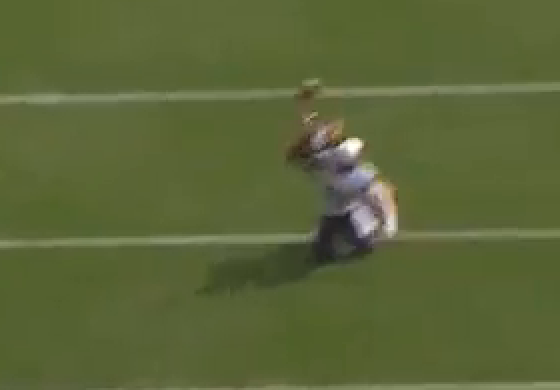 36:19 Another receiver stare-down and inaccurate pass, and another near-interception for Pittsburgh. Not a good sequence for Locker.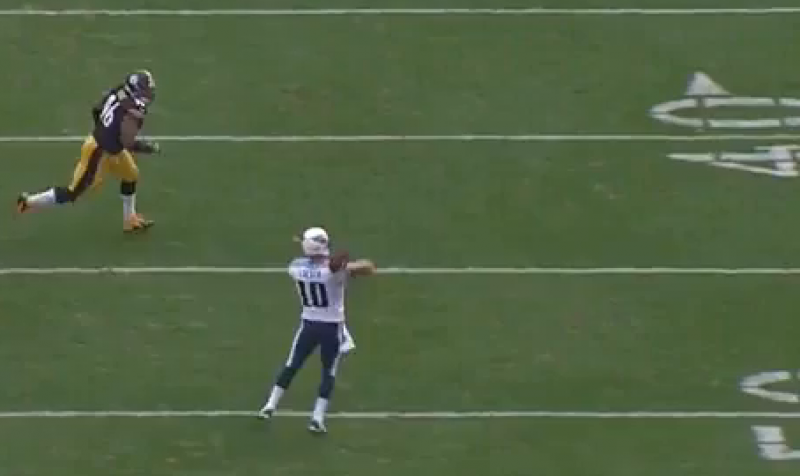 39:30 Locker throws from an off-balance position when he doesn't have to, causing his deep attempt to Delanie Walker to fall inaccurately and incomplete. He could have outrun Ziggy Hood (96) easily on his way to the open field to his right side, where there were no defenders, for a potential big gain on the ground. A throw with better mechanics could have also resulted in a big completed pass.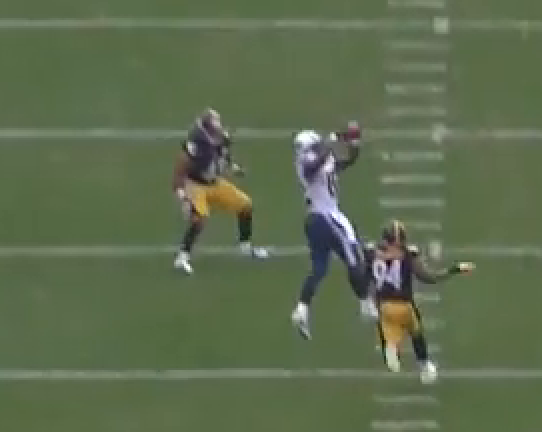 40:59 Locker delivers a strike for the first down up the seam to Delanie Walker on a 3rd-and-15. He stood tall in the pocket and got rid of the ball quickly. Notice the ball placement high over Lawrence Timmons' (94) head in a place where only Walker can catch it. Great throw. The only negative is the fact that Locker seemed to stare down his target again.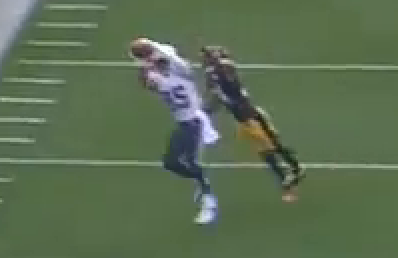 42:12 Locker delivers another laser on a comeback route on 3rd-and-13 to convert for another first down. Again, the ball placement is on time and where only Nate Washington can get it. The physical tools are obviously all there for Locker. It also seems as if he went through multiple progressions on this play instead of simply staring down Washington. Improvement!

48:01 Locker (29 yard line) escapes pressure on third down to find his receiver (on the 44 yard line) for the first. Good job by Locker keeping his eyes downfield while being on the move.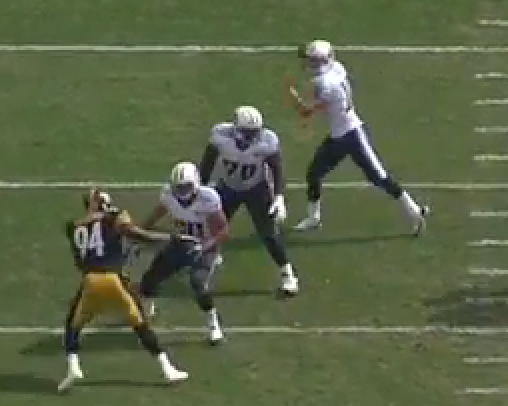 50:20 Locker throws while moving sideways without getting his feet set when he doesn't have to. He has a clean pocket to step up into and had he done that the throw probably would have been more accurate instead of resulting in an incompletion into the dirt.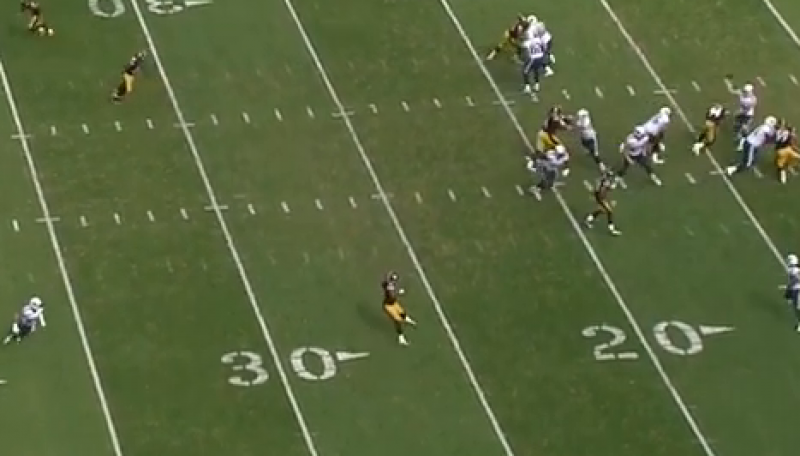 55:38 Locker takes a huge hit from Lawrence Timmons, yet manages to drop a perfect pass in between two defenders to Nate Washington (37-yard-line). Impressive throw under such pressure.
Week 2 Titans @ Texans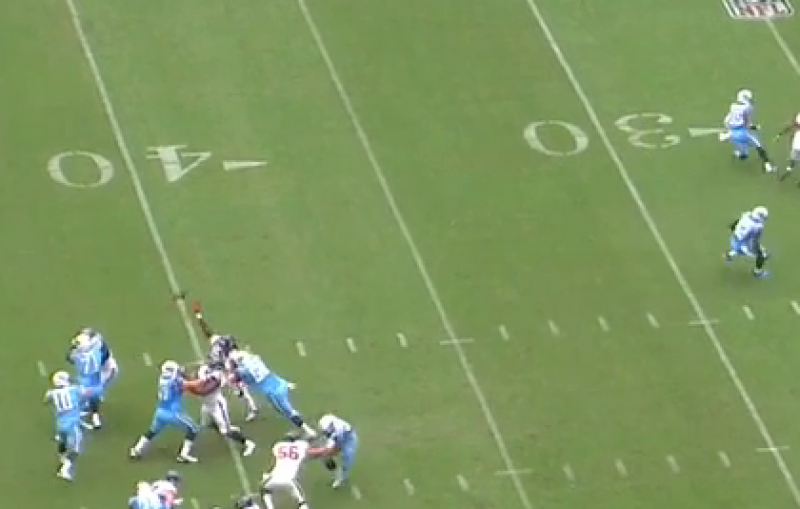 7:40 Locker does a great job anticipating this third down throw—he releases the ball before his receiver even turns around—and completes the pass for the first down. The only problem, again, is the fact that Locker had his eyes on the same receiver all the way from the snap to the throw.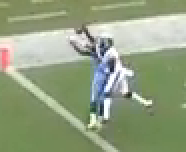 9:47 Yes, Locker stared down his receiver once again. But look at the placement of this touchdown pass to Kendall Wright, especially considering the defender draped all over Wright's back.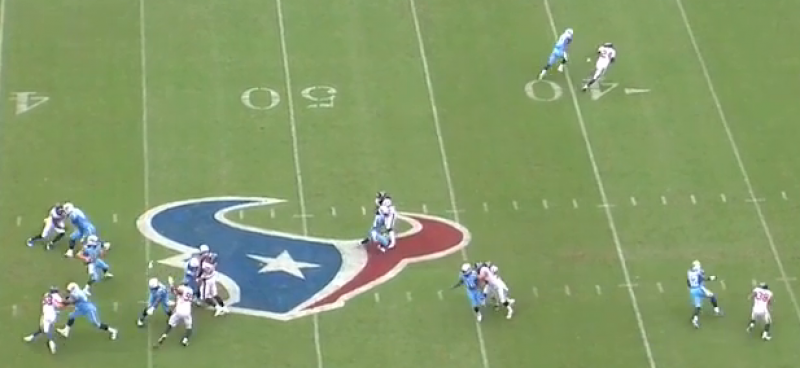 15:21 Surprise—Locker stares down his intended target, Kendall Wright (top of the screen), yet again. But this instance shows tight end Delanie Walker beating his defender and running toward open grass around the 38 yard line, who Locker doesn't see because his eyes never seem to leave the covered Wright.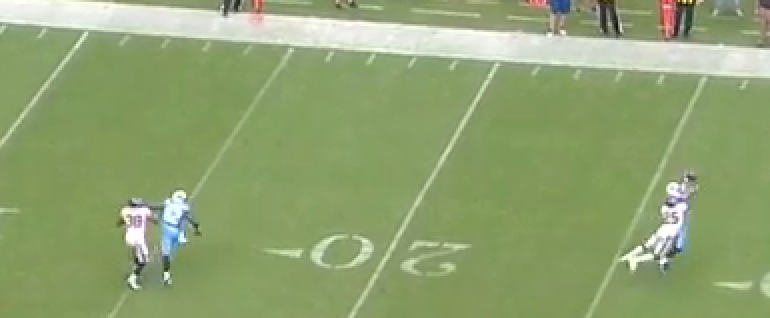 35:16 On third and long, Locker actually appears to direct his gaze to multiple receivers instead of locking onto just one. The problem here is the decision. He pulls the trigger on the receiver covered tightly around the 26-yard-line about 12 yards short of the first down when he could have at least tried Delanie Walker, who was much closer to the first down marker, when he had similar coverage on him. Walker's situation also would have been much more favorable because he has such a size advantage on the defensive back guarding him one-on-one.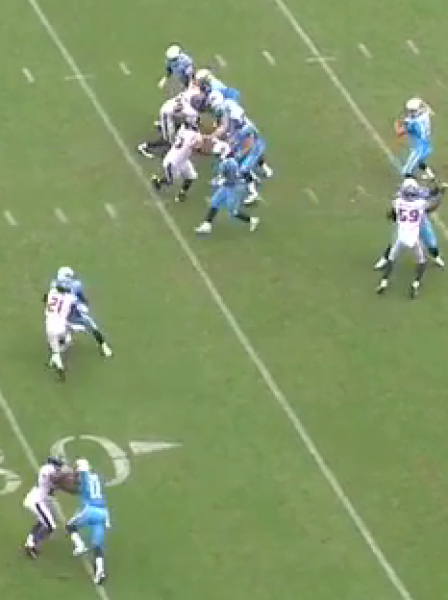 50:41 Locker seems to make up his mind that he's throwing to the receiver at the bottom of the screen on a slant route, even though he is covered. Here is an instance where Locker could have used his mobility to extend the play and give his receivers more of an opportunity to get open instead of forcing a throw into coverage that ended up falling incomplete.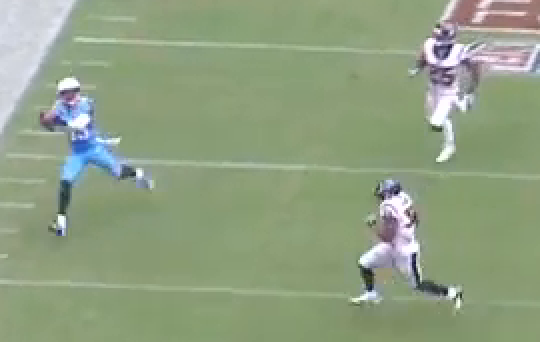 1:01:45 Locker puts beautiful touch on this bomb to place it in between two defenders. He still didn't appear to go through his progressions, but what a throw. Allowed his receiver to protect himself from contact, too.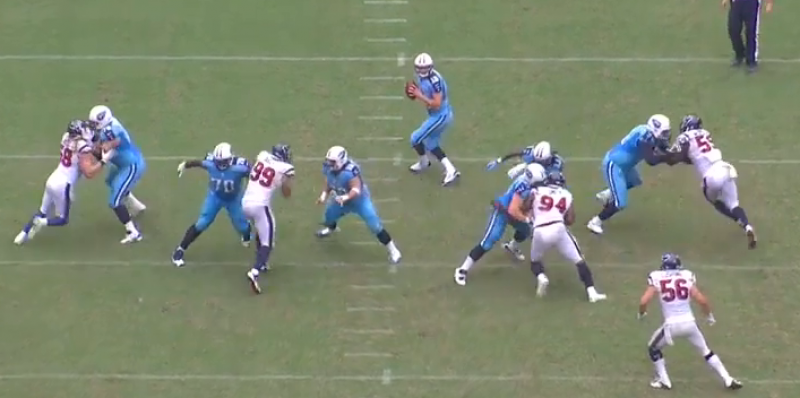 1:02:08 Locker appears to be looking at the safety, and when he realizes the defense is playing cover-1 with man underneath, he quickly slings it out to his receiver running an "out" route on the wide side of the field where there is more room to work. Well done all around by Locker.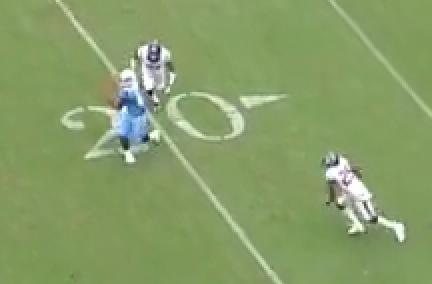 1:04:38 It looks like Locker misread the defense here and thought they were playing man coverage instead of zone. While in pure man coverage Wright would have been open on this quick "out" route, zone defense means the defensive backs' eyes are on the quarterback which allowed the second defender to come in here for the big hit and what also could have potentially been a turnover. In simpler terms, Locker likely thought there would only be one defender in that area, but there ended up being two. It is also possible that the Texan defense keyed in on Locker's tendency to stare down receivers and started jumping the Titans receivers' routes. Either way, this play exemplifies a deficiency in Locker's game.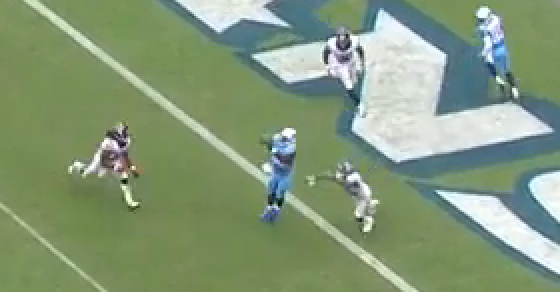 1:05:09 A great throw from Jake Locker combined with the size of Delanie Walker to shield the defender covered for what might have been a mental error on the part of Locker. While this would have been the correct read if the defense was playing man coverage, it gets a little more hazy because the defense is in zone—this pass was half of a Kareem Jackson step or a slightly softer throw away from being incomplete or worse. Nonetheless, Locker was able to fit the ball into the tight window.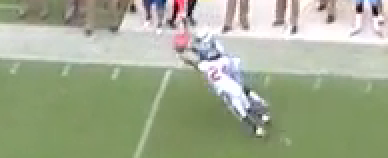 1:17:44 Great decision and ball placement here by Locker. He finds a one-on-one matchup and delivers a ball only his receiver can catch.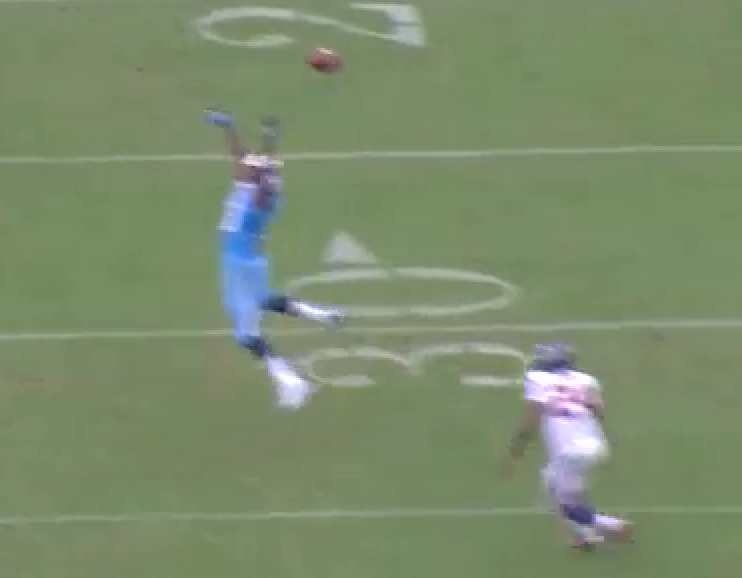 1:18:20 Locker recognized the safety blitz and got rid of the ball quickly, but his accuracy was pretty terrible here. What should have been an easy completion resulted in an incompletion due to a bad throw.
While this sentiment is nothing new, Locker obviously has the arm strength and athleticism to be a very good -- if not great -- NFL quarterback. However, his tendency to stare down receivers and rush some of his throws while using poor mechanics suggests a lack of confidence and trust in himself, and this is where he must improve to take the next step as a player.
Also, while he used his mobility smartly early in the game against Pittsburgh -- he kept his eyes downfield while scrambling, which not all quarterbacks do naturlly -- he doesn't consistently use his fantastic athleticism to its fullest potential to extend plays, such as players like Russell Wilson and even Tony Romo do to extreme benefit.
Ken Whisenhunt's tutelage will hopefully enable Locker to make smarter and more confident decisions. With an immensely talented receiving corps, including players few have likely heard of in Kendall Wright, Nate Washington, Justin Hunter and Delanie Walker, Locker will have no excuses if he fails to play winning football in 2014. Should he fall short this season, it will be due to mental issues, and after four years, it would be doubtful that Locker will ever overcome them and he would likely be regulated to being a career backup at that point.