Nation and World
SeaWorld Admits To Doping Their Whales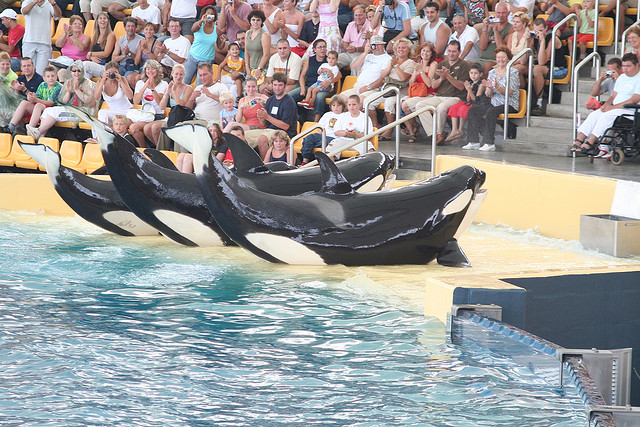 After months of controversial information leaked about
SeaWorld
and how they treat their killer whales, a document obtained by
Buzzfeed
now reveals that the theme park administers
psychoactive drugs
to some of their mammals.
Benzodiazepine, a drug that includes components of Valium and Xanax, is used to keep the orcas from acting aggressively towards each other as a result from captivity. SeaWorld's critics say that the orca's mental issues are directly related to the way they are treated in captivity. This means that these drugs are used to treat a condition that is caused by captivity and the stress caused by not being in the wild.
The documentary 'Blackfish,' which was released last year, exposed the horrendous ways orcas are held in captivity at SeaWorld. Since then, there have been various petitions against SeaWorld to release their killer whales.
Also, this is not the first time SeaWorld has been accused of administering drugs to their animals. Dodo reported in January that 'Blackfish' director Gabriela Cowperthwaite noted that whales separated from their mother or child are often given diazepam (Valium) to ease the stress.
Jared Goodman, Director of Animal Law at the People for the Ethical Treatment of Animals (PETA), told Buzzfeed that "the veterinary records show that orcas at SeaWorld are given psychotropic drugs to stop them from acting aggressively towards each other in the stressful, frustrating conditions in which they're confined, instead of funding the development of coastal sanctuaries - the only human solution."
ALSO READ New Annenberg Building Renamed After TMZ Founder Harvey Levin
Already facing heaps of criticism from animal rights activists, representatives of SeaWorld have responded to the accusations of drugging their whales by an email to Buzzfeed.
"Benzodiazepines are sometimes used in veterinary medicine for the care and treatment of animals, both domestic and in a zoological setting. These medications can be used for sedation for medical procedures, premedication prior to general anesthesia, and for the control of seizures. The use of benzodiazepines is regulated, and these medications are only prescribed to animals by a veterinarian. Their use for cetacean healthcare, including killer whales, is limited, infrequent, and only as clinically indicated base on the assessment of the attending veterinarian. There is no higher priority for SeaWorld than the health and well-being of the animals and its care."
Many animal rights activists have said that orcas do not react well to being confined in tanks, and will therefore act in an aggressive manner, biting concrete and smashing their heads against the sides of the tanks. Ingrid Visser, founder of the Orca Research Trust, told Buzzfeed "there isn't a single orca living in captivity where you cannot see these one of these behaviors."
Visser also accused SeaWorld of "pumping these marine slaves full of psychotropic drugs in order to force them to perform stupid tricks," Buzzfeed said.
ALSO READ U.N. Court: Japan's Antarctic Whale Hunts Illegal
Reach Executive Producer Beatrice Verhoeven here. Follow her on Twitter.