Music
Review: Disclosure DJ Set At Club Nokia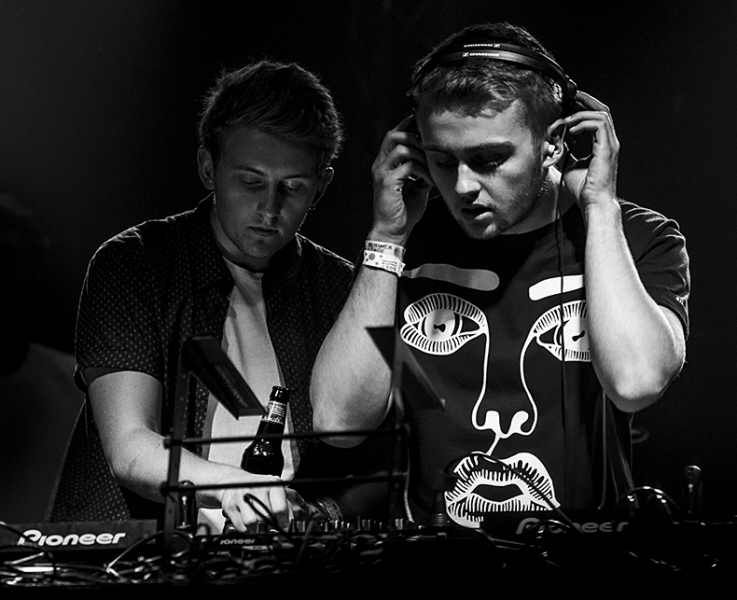 On Friday April 11, Guy Lawrence, half of the English electronic music brother-duo Disclosure, took to the stage at Club Nokia in Los Angeles. Disclosure, who just released their first album last year, have been nominated for Grammys, performed at sold-out shows across the world such as the one I attended, and played at festivals like Coachella (which the pair are performing at this weekend). Guy took to Facebook on Thursday to announce that his brother Howard is suffering from a "trapped nerve" and therefore Guy was going to have to do the show solo. Guy even joked that he is the "superior DJ anyway," and that this would not interfere with the set.
Despite this announcement, the crowd was confused when they saw a single man start spinning the tracks. One disgruntled audience member shouted: "I thought there were two of you." Despite this initial confusion, the crowd quickly started to dance as the beats dropped and the whole audience erupted in rhythmic euphoria.
The show started with some smaller DJs who played for an hour each. These included Jerome LOL and MK. Jerome Potter rose to fame with his DJ-duo LOL Boys. Despite this group's success, they decided to break up which led to Jerome's career as a solo-artist under the name Jerome LOL. An LA native, Jerome LOL combines modern dance music with an Internet-inspired sound (after all LOL Boys was started in an Internet Message Board). There weren't many people here for his set, since he started at 9 and Disclosure would not be there for another 3 hours. People grooved and chatted as he played.
Next up was MK. The Detroit-based DJ and producer is known for his seamless blending of house and popular music as well as his original hypnotic work. His tracks "Burning" and "Always " have helped define house music and were definitely popular among the EDM fans in the audience. By the end of his set, the club was full of people bouncing up and down as they recognized some of their favorite songs of the 21st century being remixed by this house legend.
Up next was the Harlem native A$AP Ferg. The self-declared Trap Lord is a member of the A$AP Mob. Wearing a red jersey, Ferg took the stage and the audience was ecstatic. The audience bopped up and down as he went through his set, which included plenty of audience interaction, an oddly placed prayer, as well as twerking. Joined by his crew, the audience chanted the choruses to his tracks. Crowd favorites included Dump Dump and Work.
Ferg told the audience that he recently bought a house in LA and asked the audience if it would be all right if he came over to borrow some sugar sometime. They ecstatically shouted yes. After a brief A$AP Rocky tribute (it seemed like the entire audience dropped it to the floor after the beat dropped in "Wild for the Night") and, what is quickly becoming a concert cliché, a twerk contest featuring the infamous track Express Yourself by Diplo, Ferg played his most famous track "Shabba" and then exited the stage.
It was clear that the audience was growing restless. Towards the end of Ferg's set people started chanting, "We want Disclosure!" Many were confused why the two were even performing at such an intimate venue, after all, both would be performing at Coachella this weekend, which features a blending of styles, genres and cultures. It was evident that many were a big fan of both so when Guy humbly walked on stage and got ready to play, the crowd could barely contain their excitement.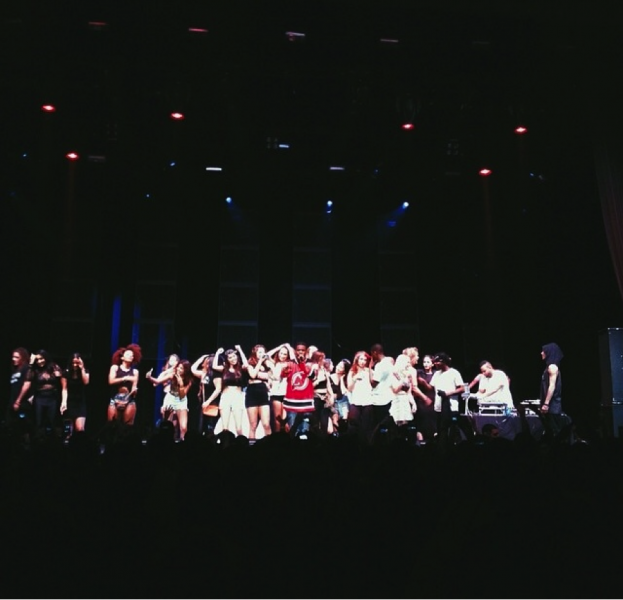 I should probably explain one thing; this was not a typical Disclosure show. Since this was their DJ set, they mainly played deep house music and mixed some of their more popular songs into the two-hour long set of hard-hitting beats and infectious lyrics. The stage was surprisingly simple. Guy. His DJ set. A LCD-screen behind him displayed various geometric shapes as he played.
The crowd, which almost exclusively seemed to consist of hip youngsters between the ages of 16-26, danced melodically to the music. When a familiar beat or lyric was heard, the crowd would erupt in cheers, such as when "When a fire…when a fire" was heard. Guy then played a house-influenced remix of this popular track as the audience attempted to sing along. Shortly after "F For You" was played and the repetitive beat and lyrics allowed the audience to gyrate back and forth while repeating, "I've been infected with restless whispers and cheats" and "Because I played the fool for you." Then Guy briefly spoke to the audience: "Thank you for coming to see us… I mean me." The audience laughed. The beat dropped. We danced.
Other favorites included "Help me Lose my Mind" which allowed for the audience to exercise their vocal chords. One thing that was interesting to me was the dancing. Some danced together, rubbing their bodies together, while others preferred to be solo, in their own world. No matter what your style was, a few things were clear: Everybody had fun and nobody had space. The crowd through up their hands when they heard the beginning of "White Noise."
Guy closed the show with "Latch" by teasing the audience with playing "Never" over and over again. The crowd could barely contain their excitement and euphorically sang along as the familiar lyrics entered our ears. Guy then thanked the audience and left. No encore, but it was not needed.
Overall, the concert was extremely fun. It featured artists from LA, the UK, Detroit and New York. The different styles allowed for various muscles to be exercised as dance moves changed with the vibe. As I walked out, I heard people talk about how much fun they had. Disclosure, well at least the half I saw, certainly lives up to their hype.
Reach Staff Reporter Ryan Ochoa here.