Pop Culture
'Orange Is The New Black' Author Breaks Down Prison's Unofficial Social Rules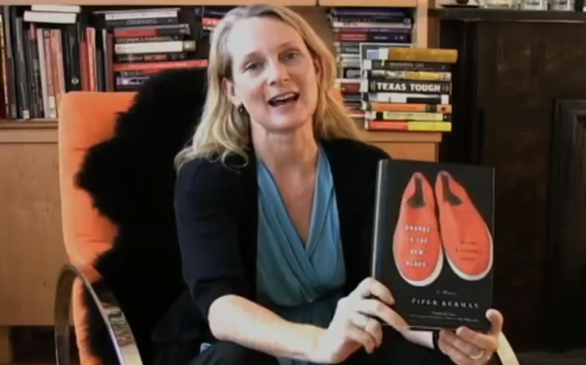 Piper Kerman
, author of the
New York Time's best seller
, "
Orange is the New Black: My Year in a Woman's Prison
" spoke to students at the University of Southern California Monday night. Kerman's talk began with an explanation as to why she felt the need to write the novel. She expressed how people would try to get "every single detail out of her," or at least "as much as they could" regarding her fifteen months in three separate prison facilities.
She mentioned that she chose to share her story for readers to come away with different persepectives about who is in prison, why people are sent to prison and what happens inside prison. Before breaking down the strict rules within her prison communities, Kerman explained the two reasons behind choosing the title, "Orange is the New Black."
The title of her book, which inspired the hugely popular Netflix original series of the same name, plays on "the notorious orange jumpsuit" prisoners are forced to wear. Kerman said she also wanted to make a sort of "trend commentary" and stress how this story is about women, because the phrase "the New Black" also stems from women's fall fashion trends.
After discussing the significance of the book's title, Kerman articulately transitioned into a summary of how prisoners survive while feeling completely separated from "the outside." She broke down rules of incarceration into two different subtopics: (offical) prison rules vs. (unofficial) prisoner rules. A new prisoner must learn both as quickly as possible to survive. An official prison rule refers to passing an inspection, while an unofficial prisoner rule probably refers to something as random as not sitting in the wrong chair at bingo, because it just might be Martha's chair.
According to Kerman, one of the most difficult parts about "life on the inside" was maintaining a sense of control. The strict rules created by government officials are not always enforced, while some are strictly enforced, making it hard for new prisoners to follow along.
"Prisoners often created rituals to feel human in an environment meant to dehumanize," noted Kerman, before listing several ways her fellow inmates clung to their sanity. One of her cell B bunkmates was an artist, who would make name tags in beautiful calligraphy for new innmates. Kerman often found herself running around the track, but recalled how "books were the only form of legitamate escape. Prisoners are veracious readers."
Kerman currently works as a member on the Woman's Prison Board in upstate New York and is the only member on the board who has done time. She believes that a prisoner's experience is ultimately defined by four groupings of social constructs and movements.
African-Americans are eight times more likely to be tried for possession of marijuana then their white counteparts.
2. Friendship & Empathy
"I did not expect to forge friendshps with these women who would teach me how to do my time," Kerman said, describing how she and other women created rituals to survive the experience. She noted how the only recipe she mastered was "Prison Cheesecake" and that "the ingredients were disgusting." But, that making the cheesecake served "as an act of defiance and love."
3. Gender & Power
"Things can get really weird, really fast," Kerman said, in reference to sexual abuse in prison and the systematic culture of sexual abuse that exists between guards and prisoners.
4. Reform
Kerman mentioned how the passing of the Sentencing Reform Bill would increase "common sense sentencing" and would allow people to serve reasonable amounts of time depending on the weight of the crime or crimes committed.
Public Defense Reform would also decrease incarceration rates, especially because 80% of Americans convicted of a crime cannot afford a lawyer.
As a middle class, white American author, Kerman acknowledged her privileged status, expressing gratitude that she was lucky enough to be able to afford a good lawyer prior to her own conviction. On the day of her release, an officer escorted her out of the high-rise, prison tower and into an alley way, where she was left with a $28 refund, a men's shirt and parka, and a distance of 800 miles to travel home. Her husband, Larry Smith, was waiting outside the building with a plane ticket.
Reach Contributor Maya Richard-Craven here, Photos by Rebecca Orlandini here