Food
Inside Olive Garden's Revamped Menu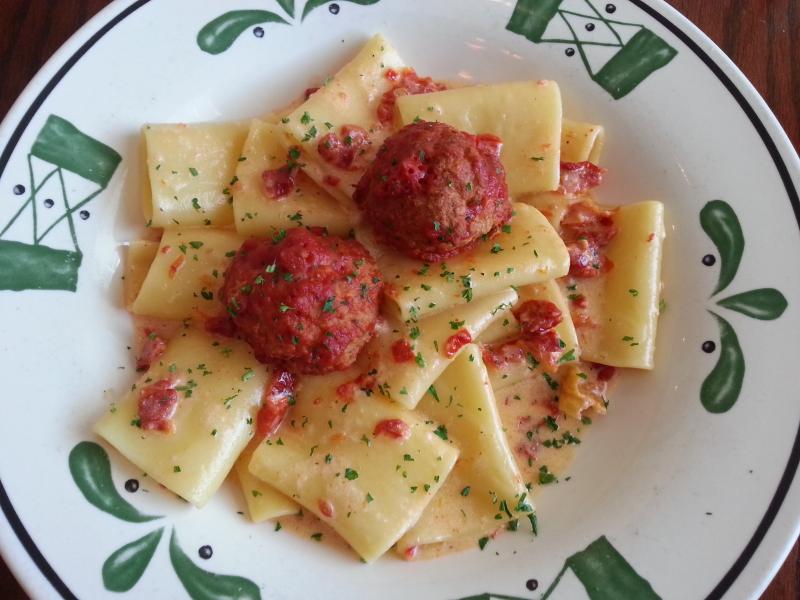 When the words "Olive Garden" are uttered, most people might conjure up nostalgic memories of hearty traditional classics such as cheesy lasagna and creamy fettuccine alfredo.
While these comfort foods have had a great run at Olive Garden, fresher and lighter seasonal fare has taken over the restaurant chain's revamped menu.
We recently visited the Olive Garden in Cerritos, Calif. for a preview of its biggest menu overhaul in history, designed to appeal to the evolving tastes of today's casual diners via fresher, lighter and more vibrant options. With more than 20 new menu items, Olive Garden is now incorporating different cooking techniques to bring out new flavors and brighter dishes, according to general manager Christopher Paredes.
Here are some new menu items we tried:
• Antipasti Italian Meats & Cheese Salad – With Olive Garden's classic garden salad as the base, new toppers like hard salami, genoa salami, pepperoni and mozzarella add protein and depth of flavor to this hearty salad.
• Crispy Risotto Balls – A creamy blend of Italian cheeses and rice, fried to add crispiness and served with marinara sauce. This dish is part of the Tastes & Toasts menu, which offers small bites and drinks at lower prices before 6 p.m. on weekdays.
• Polenta Shrimp alla Greca – Another small bites plate, this dish features juicy sautéed shrimp, served over smooth and creamy polenta. The dish is topped with a tangy blend of olives, capers and tomato sauce.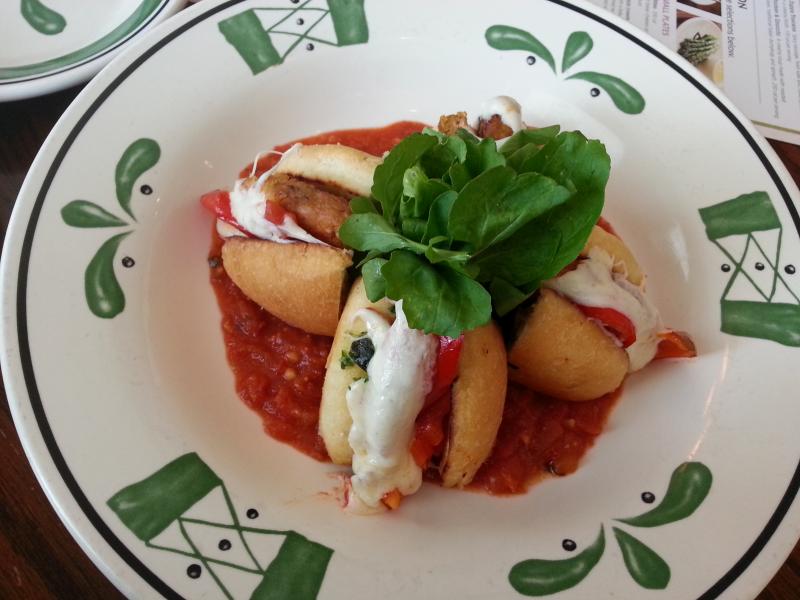 •
Smashed Chicken Meatball Sandwich
– The chicken patty is surprisingly moist and flavorful in this new lunch menu item. The sandwich is presented in four pieces, with roasted bell peppers, mozzarella and a diavolo sauce with Calabrian chili paste, all on a soft and slightly crispy focaccia bun. This dish was definitely a standout due to the great flavors, ease of sharing, and ease of enjoying a juicy sandwich during your lunch break without getting it all over you.
• Large Paccheri Pasta with Creamy Sun-Dried Tomato Sauce and Chicken Meatballs – This dish is part of the customizable "Cucina Mia" menu, which grants guests the ability to create their own entrée from a choice of six pastas and five made-from-scratch sauces. Each combination is $9.99, with the option of adding on protein toppings such as sausage meatballs or shrimp. The large paccheri pasta had great texture and bite, and worked well with the creamy, tangy sun-dried tomato sauce and juicy meatballs. The menu also indicates which of the pastas and sauces are gluten-free, as well as which are vegetarian.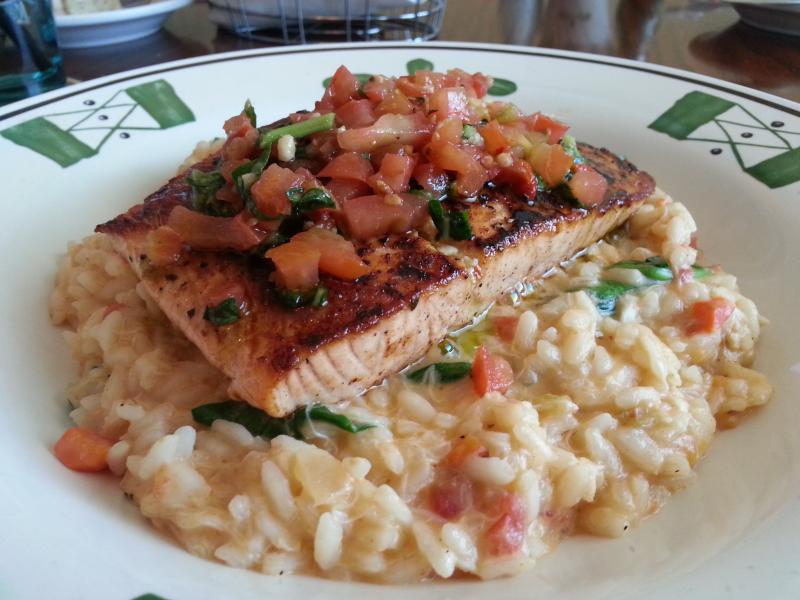 •
Salmon Bruschetta
– The salmon filet is grilled on Olive Garden's new Piastra flat-top grills, which results in even cooking. Topped with bruschetta tomatoes and basil pesto, the moist salmon is served on a bed of freshly made seafood risotto with crab meat.
• Wild Berry Layer Cake – A seasonal dessert, layers of sweet cream are tucked between moist cake, with a trio of raspberries, blackberries and blueberries on top and in between layers make for a sweet and slightly tart combination to end the meal.
Other new menu items include Crab-Topped Chicken, Mediterranean Grilled Trout and Center Cut Filet Mignon. Certain seasonal dishes are offered for a limited time only, before they are replaced with new items.
For the traditionalists, there's no need to fret. The restaurant chain will still offer its classic dishes, along with the garden salad and those addictive garlic breadsticks.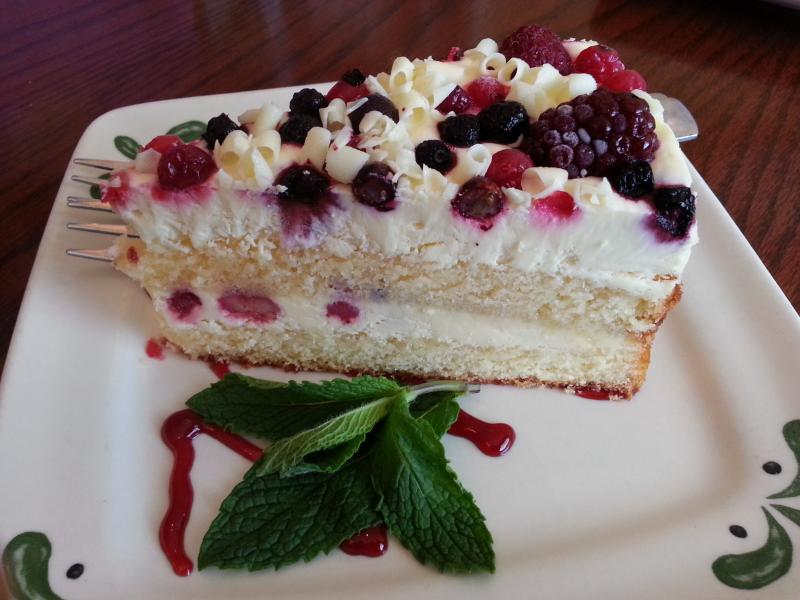 Along with a more customizable dining experience, Olive Garden aims to draw in a larger portion of the weekday lunch crowd by offering an expedited 40-minutes-or-less lunch service. "Our new menu is designed to give our guests an enhanced experience by giving them new flavors, more variety and everyday value," said Jay Spenchian, executive vice president of marketing at Olive Garden. Additionally, Olive Garden will now be offering a complimentary wine sampling with your meal after 4 p.m. on weekends.
Olive Garden has once again become a place for the whole family, and is now also a great place to go for a quick work lunch or post-work bites and drinks. Plus, did you know that Olive Garden donates excess food to local charities instead of letting it go to waste? For example, the Cerritos location donates to Food Finders in Long Beach, Calif. Now that's a meal that can make you feel good in many ways.