Nation and World
Sexual Abuse Behind Bars: Why Nobody Listens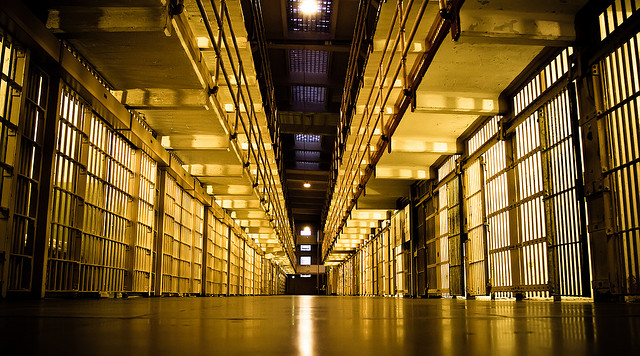 Every year, more than 80,000 people are raped behind bars in American jails and prisons.


This is a staggering number, one indicative of a tremendous amount of pain and suffering for the thousands of men and women trapped in an environment that has been described as "a sexual jungle" where the predators are both in jumpsuits and in uniforms. For thousands of inmates, the promise of protection from guards rings hollow.

"A lot of people don't think that they'll ever be able to see justice served," said Jesse Lerner-Kinglake of Just Defense International, a global nonprofit determined to ending sexual victimization behind bars. "They see a system that works against them in so many ways."

In 2013 the U.S. Bureau of Justice Statistics released a report detailing sexual victimization in prisons and jails, finding that of the approximately 2.3 million people incarcerated in the United States, about 4 percent had experienced sexual victimization within the last year.

The study allowed those incarcerated to anonymously report whether they had experienced sexual violence within the past year, notwithstanding formal charges of assault and rape.

The report detailed that prison staff and law enforcement officials were responsible for more than half of the 80,000 inmates who said they were raped.

The remaining 33,000 are victims of inmate-on-inmate abuse.

For those raped behind bars, there is little hope that their attackers will ever be legally punished. Behind bars, reporting crime and seeking justice is challenged by a culture that encourages these crimes to be simply ignored.

READ MORE: DOJ Investigating Claims Of Rampant Sex Abuse In Alabama Women's Prison

Take, for example, the case of Micah, a former California prisoner who was first incarcerated in March 2011. He has since been released on probation, but while incarcerated, he says he was raped by no less than six law enforcement officers, according to testimony given to Just Defense International. Last Names are not publicized by the agency.

Like many who are abused while in-custody, Micah's assaults was merely swept under the rug, and forgotten.

"Over the course of several hours, six law enforcement officials beat and sexually assaulted me while I was naked and handcuffed," Micah told Just Defense International

Micah reported that he was beaten, kicked, verbally abused, anally raped and burned on his genitals by officers' stun guns and tasers while in police lock up.

Shortly after, he was transferred to a county jail, where he reported his assault to officials. There, he reports he was mistreated, and placed with known predatory inmates, inmates who are known to commit violence against others. When he tried to get help, he was encouraged by corrections staff to ignore the rape.

"I tried to get counseling from the jail psychiatrist and spoke with my attorney and the Sheriffs," Micah said. "But I was told to forget about the abuse."

Lerner-Kinglake says that the attitude against never officially reporting abuse runs deep.

"A lot of the people we work with speak of a culture where corrections officials simply look the other way," he said. "Part of it's because they worry about liability, but also because it's just the way it's always been, and those in charge don't see a need to change it."

It should be noted that rape and sexual assault are already dramatically underreported and under-prosecuted crimes. According to a 2006 report by the U.S. Department of Justice, only three out of every 100 rapists are ever successfully convicted, meaning that even outside of prison, sex crimes are rarely prosecuted.

Behind bars, that number drops to virtually zero.

READ MORE: Prison Realignment To Replace Dysfunctional System

A January report by the Department of Justice finds that of staff who were found to have perpetrated sexual violence via a formal complaint issued by the victim, 46 percent were referred for prosecution and 27 percent were arrested. A mere one percent were convicted.

Critics cite convulted policies and unnecessary red tape as major setbacks to stymieing sexual assualt behind bars. When a crime happens in prison or in jail, it is not prosecuted by a regional district attorney like most crimes are. Instead, the criminal process runs through a different agency, usually the corrections officials in charge of running that particular facility.

For a prisoner to successfully bring suit against his or her attacker, the victim not only has to show that the incident occurred, but that the prison staff showed "deliberate indifference," a term dating back to the 1994 Supreme Court case Farmer V. Brennan, for the prisoner's safety.

Considering that the initial investigation into a reported incident is conducted by the same entity that would suffer if the prisoner's claim were found to be true, it's no wonder that there is virtually nobody convicted for the rape of a person in prison or jail.

This is reflective of a staggering problem and a broken system that allows sexual assault and rape to occur in the belly of the criminal justice system.

There is hope, however.

In 2003, Congress unanimously passed the Prison Rape Elimination Act. The act is designed to specifically combat several contributing factors of prisoner rape.

The act includes a mandate to create an external reporting agency to correct the abuse-report process. In theory, the external reporter bypasses corrections staff, and eliminates any potential conflict of interested that an inmate's abuse could create.

In many prisons and jails, this external report could take the form of a kiosk, phone line, or on-site staff-members not affiliated with the corrections facility.

READ MORE: U.S. Secret Detention Prisons May Burgeon Further Anti-American Sentiment

PREA's effects are a years-long undertaking that are only now beginning to take effect. On May 15, governors throughout the country are required to report their compliance with the act to the federal government, a full 11 years after the act was originally passed.

This isn't to say, though, that everything is going smoothly across the country. For example, Texas Governor Rick Perry remains critical of several of the bill's key requirements, including the act's requirement to separate adult and juvenile inmates in prison.

To Perry, among others, the requirements are "impossible" and will force an unacceptable burden onto the management of Texas' state prison system.

According to the 2013 Bureau of Justice Statistics report, Texas is also home to five of the 10 prisons with the highest rate of sexual abuse in the entire country.

On the other hand, tangible progress is being made in many facilities across the country. Lerner-Kinglake emphasized how many of the entities that Just Detention works with are working very hard to enact the requirements laid forth by PREA. For some, this goes far enough to establishing facilities that are truly free of sexual violence.

"There's a lot of good news," Lerner-Kinglake said. "A lot of people are changing attitudes to the issue. We're seeing more and more facilities changing culture to be proactive in preventing abuse behind bars. It's good, but there's still a long way to go."

Contact Staff Reporter Matther Tinoco here.