NFL
NFL 2014-15 Schedule: How Does CBS's Prime-time Slate Compare With NBC And ESPN's?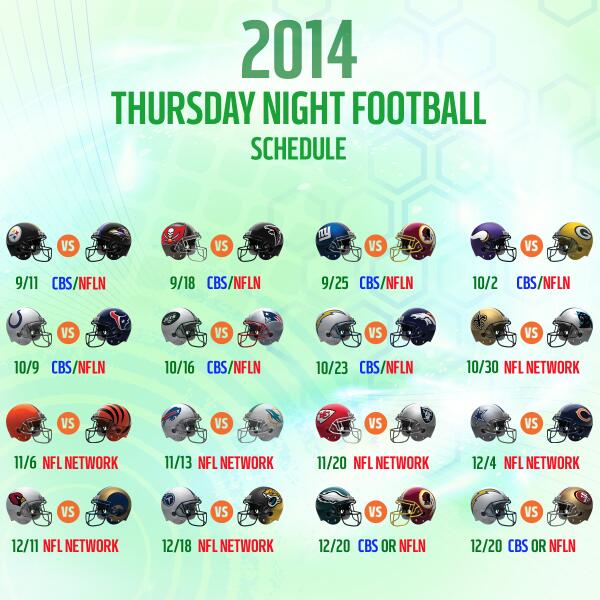 The
2014-15 NFL schedule
was released on Wednesday night, and the first thing all football fans do once it's released is check to see how many times their team is playing on prime time. NBC and ESPN get several outstanding games on Sunday Night Football and Monday Night Football respectively. The networks both deserve it too, as they will be spending a combined $2.85 billion (
ESPN at $1.9 billion
,
NBC at $950 million
) this season for their contracts.
A new player, however, entered the prime-time battle. CBS was awarded the NFL's Thursday Night package for fewer than $300 million for this season. CBS will get to broadcast eight of games with the NFL Network simulcasting them. This includes a Saturday game on Week 16 since the NFL doesn't own the Week 1 Thursday night game. NBC has the first game of the season, which is Green Bay Packers at Seattle Seahawks on Thursday, September 4.
The rest of the Thursday night package will be televised on NFL Network, including the other Saturday game in Week 16. Jim Nantz and Phil Simms will be the announcers for the games, even when the NFL Network exclusively televises the games.
The NFL also promised CBS that they would get strong match-ups. In fact, this is what SportsBusiness Daily's John Ourand wrote about the situation:
"This year's release has created even more anticipation among the league's TV partners, thanks to the presence of CBS's first Thursday night package. Media executives are expecting that schedule to more closely resemble NBC's high-profile "Sunday Night Football" package than the slate of games NFL Network has carried on Thursday nights over the past several years.
Not only that, but multiple media sources are expecting the CBS package to appear much stronger than ESPN's "Monday Night Football" package, too."
While CBS doesn't get to exclusively broadcast their prime-time games, did they get the best deal compared to NBC and ESPN? After all, for their prime-time games, CBS is paying more than three times less than NBC, and an astounding more than six times less than ESPN. Let's take a look at several factors to see which network got the best deal from the NFL for their prime-time schedule.
Cost Per Game And Other Advantages
ESPN's $1.9 billion gives them at least one Monday Night Football game per week, excluding Week 17. To make up for it however, they get two of them in Week 1. Also, they will be televising one NFL playoff game this season for the first time ever. So $1.9 billion stretched out over 18 games is $105.6 million per each contest.
NBC gets 17 Sunday Night Football games, and two Thursday football games. One of them is the aforementioned Packers-Seahawks battle in Week 1. The other is the Seahawks at the San Francisco 49ers on Thanksgiving night. NBC gets to televise two playoff games this season, one Wild Card and one Divisional Round game.
NBC also has the power to flex their games, which means the NFL can swap their Sunday Night game for an earlier, and perceived better, Sunday afternoon game that would have been televised on CBS or FOX. Starting this season, the NFL will get to flex up to two games total through Weeks 5-10 and can flex any game after Week 11. Before this year, the NFL could not flex any games into Sunday Night Football until Week 11.
So for 21 games, and the potential to get even better games by the NFL flexing them into their schedule, NBC is paying $950 million. That comes out to $45.2 million per game.
Since, CBS's package is close to, but not exactly $300 million, for this article's sake, I estimate it at $290 million. Their prime-time slate includes eight games, so they will be paying $36.3 million per game.
Now, to even things out, since CBS will be televising their prime-time games from Weeks 2-8 and 16, those will also be the games that I'll be looking at for NBC and ESPN to compare. How much does it cost each network to televise eight of those games? CBS and NBC will be showing theirs for $290.4 and $361.6 million respectively. ESPN's $844.8 million for eight prime-time games is higher than both of the other networks combined.
How Good Are The Teams?
One way to determine a team's popularity is by judging their recent success. Teams that finished with a good record last season are more likely to be on prime-time television compared to teams that finished in last place. By compiling the last year's records of all of the teams that will be playing at night over that eight-week period, you get a clearer picture of how each network's games stack up.
The records for the teams playing on each network's prime-time games for Week 2-8 and 16 are as follows:
CBS: 123-131-2 (.484%)
NBC: 166-89-1 (.651%)
ESPN: 140-116 (.547%)
CBS's teams, based on last season's record, simply cannot compare to those of NBC and ESPN. How were the records of their teams compared to the seven Thursday Night games that will be shown on the NFL Network from Weeks 9-16 (excluding Week 13 because of Thanksgiving).
NFL Network: 113-111 (.504%)
Yikes.
How Valuable Are The Teams And Their Fan Bases?
Luckily for CBS, previous season team records are not the only way to judge their prime-time selection. Obviously, teams' records change from year to year, and there are only a select few that make the postseason consistently. Additionally, all television executives would rather have a Dallas Cowboys (8-8 record last season) or Green Bay Packers (8-7-1) game than a Carolina Panthers one (12-4). Why? Well, because each team has a significantly stronger brand, fan base and overall ratings potential.
I used Forbes' 2013 rankings of most valuable NFL franchises and each team's 2013-14 local television ratings to figure out how each network did in this category. Here are the top seven most valuable teams and, arguably, most valuable fan bases.
2013 Most Valuable NFL Franchises
1. Dallas Cowboys
2. New England Patriots
3. Washington Redskins
4. New York Giants
5. Houston Texans
6. New York Jets
7. Philadelphia Eagles
2013-14 NFL Teams With Highest Local TV Ratings
1. New Orleans Saints
2. Denver Broncos
3. Green Bay Packers
4. Kansas City Chiefs
5. Seattle Seahawks
6. Pittsburgh Steelers
7. Indianapolis Colts
Then, I figured out how many of those teams would be shown on the eight prime-time games that I looked at for each network. I also included the seven NFL Network games just to compare.
Most Valuable Team Is Shown Team With High Local Ratings Is Shown
CBS 5 4
NBC 4 5
ESPN 7 5
NFL Network 3 2
CBS's prime-time games look a lot better with these metrics, with ESPN having the most combined appearances from a team that was on either of those two lists. Remember though, the NFL can flex games that feature more of these higher-sought teams into NBC.
Star Power
If a fan's favorite team is not on prime-time, a huge reason to watch a night game is opportunity to see a top player perform on a big stage. Peyton Manning, Tom Brady and Drew Brees are annually featured on multiple prime-time games because fans love watching superstars. It also helps that with fantasy football sweeping the country, that more people want to see individual players play.
To measure star power, I took at look at the top jersey sales from April 1, 2013 to February 28, 2014. Not surprisingly, three of the top 15 jersey sellers were on the Super Bowl-winning Seattle Seahawks. More people are going to buy their jerseys if their team wins the championship. Here is the top-15 list:
1. Russell Wilson
2. Peyton Manning
3. Colin Kaepernick
4. Tom Brady
5. Marshawn Lynch
6. Richard Sherman
7. Drew Brees
8. Adrian Peterson
9. Aaron Rodgers
10. Ryan Tannehill
11. Robert Griffin III
12. Calvin Johnson
13. Dez Bryant
14. LeSean McCoy
15. Cam Newton
Pretty solid group of star power, outside of the surprising Ryan Tannehill at the 10 spot. Here is a chart of how many times each of those players will be shown over each network's eight games (and NFL Network's seven):
CBS: 6
NBC: 13
ESPN: 10
NFL Network: 5
Even if you want to discount NBC and ESPN for each having one Seahawks game, the difference between the number of stars that they are showing compared to CBS is significant.
Conclusion
Based on these factors, NBC clearly has the best deal regarding their prime-time games. They are paying significantly less annually than ESPN, yet their games, more often than not, are the best each week. They also get to televise more NFL games (21 to 17), and the power of flex scheduling can assure them strong games down the stretch if their original selections don't pan out.
CBS's games don't feature better quality teams per se, but seven of their eight games are divisional rivalries. This includes Steelers-Ravens in Week 2, Giants-Redskins in Week 4, Vikings-Packers in Week 6 and Jets-Patriots in Week 7. While their Thursday night divisional battles feature teams with great brands, the NFL Network's games often do not. For instance, they have Browns-Bengals in Week 10, Bills-Dolphins in Week 11, Chiefs-Raiders in Week 12 and Cardinals-Rams in Week 15.
But, CBS still has a long way to go before they can boast about having a better slate of prime-time games than either ESPN or NBC.
Below is the list of prime-time games that each network has on Weeks 2-8 and 16.
Week 2
CBS: Steelers at Ravens
NBC: Bears at 49ers
ESPN: Eagles at Colts
Week 3
CBS: Bucs at Falcons
NBC: Steelers at Panthers
ESPN: Bears at Jets
Week 4
CBS: Giants at Redskins
NBC: Saints at Cowboys
ESPN: Patriots at Chiefs
Week 5
CBS: Vikings at Packers
NBC: Bengals at Patriots
ESPN: Seahawks at Redskins
Week 6
CBS: Colts at Texans
NBC: Giants at Eagles
ESPN: 49ers at Rams
Week 7
CBS: Jets at Patriots
NBC: 49ers at Broncos
ESPN: Texans at Steelers
Week 8
CBS: Chargers at Broncos
NBC: Packers at Saints
ESPN: Redskins at Cowboys
Week 16
CBS: Chargers at 49ers
NBC: Seahawks at Cardinals
ESPN: Broncos at Bengals
Reach Senior Sports Editor Max Meyer by email.