Food
Main Street's Manchego Takes Tapas Back Home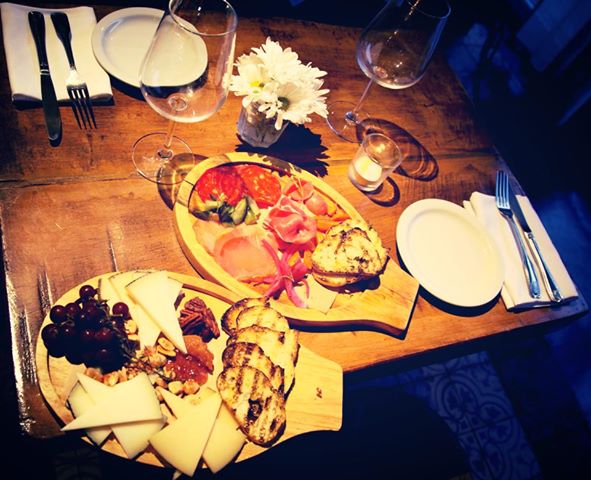 I'm still thinking about the flan de yeye.
I am not usually a flan fan, but Manchego's light, simple honeyed dessert has a story. It's a generational recipe that comes from a Mexican grandmother who knows what she's doing.
Yeye is one of the waiter's grandmothers, and new Executive Chef Viviana Hernandez coated the bite-size, milky flan with the faintest trace of California wildflower honey. The simplistic dish surprised me, and that's how the night went.
The Main Street tapas restaurant recently re-opened three doors down from its orignal tiny space. The new Manchego is still small, but cozy and familiar; a mix of California colors, photographs, mediterranean lanterns and Spanish wines. Dim lighting coats a rustic family style dining area with high bar stools and Spanish tiles.
The host sat us next to an electric blue wall, lit the small candle next to the short vase of yellow daisies and handed us the one-page tapas menu.
Hernandez (previously of Bouchon, Blue Plate Oysterette and Messhall) keeps the menu traditional. The dishes are standard, nothing inventive or surprising—jamon wrapped dates, charcuteria, a kale salad, and prosciutto stuffed goat cheese—but then they arrived.
Manchego's small plates are colored with exquisitely sourced local produce that needed no extra douses of salt, pepper or heavy dressings. The Spanish-Northern Californian recipes have a kind of plain elegance that reminded me of stopping at a farmer's market once on the drive up to Big Sur, or the family vacation to Tuscany where I sat in the small, hot kitchen watching a local cook trim basil and turn over dough in her large, open oven.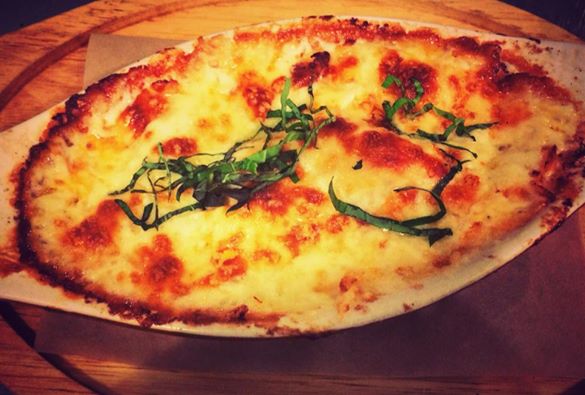 Even the Tuscan Kale salad was a standout. Lately, I've found kale overrated and overrun. If a restaurant doesn't have a kale salad, it doesn't belong in Los Angeles. This salad tasted freshly ripped from some farmer's soil and spritzed with lemon, orange, tangerines and salt. Thick slices Manchego cheese and cubes of avocado were delicious add-ins.
The courses often veered between Spanish classics and farmer's market flavors, like a sweet, inky fig jam sprinkled over soft burrata. The Brussels sprouts were also a pleasant surprise. The vegetable is a solid staple that chefs don't normally toy with. But Hernandez's choice to warmly coat them in a sweet vinagre de Jerez, along with mushrooms and flecks of bacon, took the common dish back to its roots. Some were charred, others soft, but the entire small clay bowl was soaked in a blend of bacon fat and the complex, syrupy reduction of Spanish sherry vinegar.
Manchego works with what it knows, and transforms regular recipes into rustic, effortless experiences. You are fully aware and delighted by the sole dish in front of you in the dark, dimly lit room. The Goat cheese tostada tasted like a hug, as trite as that sounds, it really was comforting, warm and the aftertaste of that wildflower honey is an admirable technique that takes you back to chewing on honey straws at some summer market.
The inexpensive plates aren't adventurous, and that's what I loved about the entire evening. The dishes remind you of how good, fresh staples should make you feel—at home. There are warm, flaky feel-good chicken empanadas with a thick red pepper dipping sauce; an earthy, gritty hummus, served with small triangles of fresh pita and topped with drizzled olive oil; and a delicate seabass filet in a light reduction and stirred with capers, olives and tender, juicy Kohlrabi, a kind of cabbage nutritionist Jonny Bowden describes as the ugliest vegetable you've ever loved.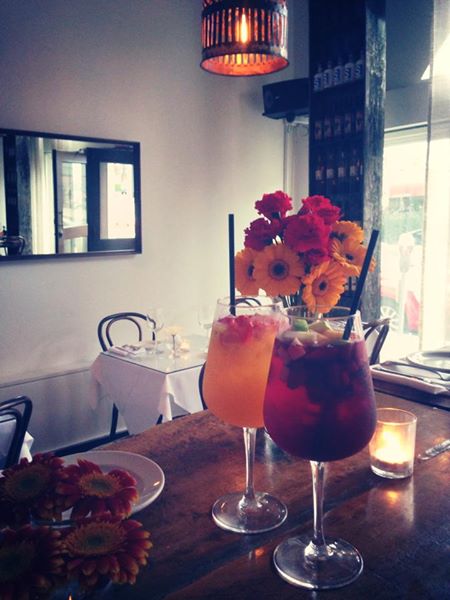 Manchego touts its expansive list of f unique, small production Spanish and South American wines, as well as organic local wines, and the list rose to the occasion. Los Dos, a Grenache-Syrah blend ($8), was my favorite of the evening. It's also the cheapest, which is a win-win. The Spanish Poema Cava was dry and light, and was the perfect companion to that wildflower honey that made itself known in a number of dishes. The house-made white and red sangrias, brewed by owner Ash Amir, are true standouts. Loaded with crisp, wine soaked apples, strawberries and pears, and a blend of different wines, it's not your average glass of inexpensive sangria.
And then there's that flan, Yeye's flan. The small restaurant was brimming with groups and couples by dessert time, but the shadowed, muted lighting camouflaged the crowd. Flan is prized for its simplicity, and Yeye's light but poignantly rich flavors sum up the new Manchego. The dishes are basic, the tapas menu standard, but the quality of the local ingredients is what you imagine Spanish and Mexican chefs grew up tasting, and why traditions become traditions.
Oh, and did I mention they do happy hour?
Manchego
LOCATION: 2418 Main Street, Santa Monica
(310) 450-3900
PRICES:
Plates $6-$21; dessert $6
DETAILS:
Open 5:30-10 p.m. Sundays to Thursdays; 5:30-11 p.m. Fridays and Saturdays
Happy Hour is 5:30-7 p.m. Monday to Thursday, with wines and plates starting at $5.
FAVORITE DISHES:
goat cheese en pan tostado, honey, figs, truffle oil, seabass filet, anchoa olives, capers, kohlrabi, pollo catalana, shaved almonds, poached raisins, flan de yeye.