Los Angeles
L.A. Times Book Prizes Kick Off Festival Of Books At USC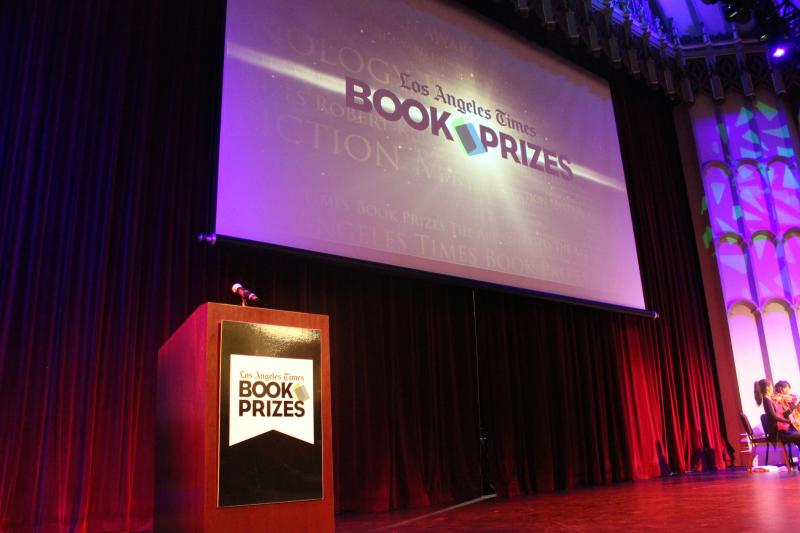 Authors, bibliophiles and nerdfighters crowded into the University of Southern California (USC)'s Bovard Auditorium as the Los Angeles Times celebrated the best writers of 2013.
The event kicked off the two-day book festival by honoring authors in 10 different categories at the sold-out 34th Annual Los Angeles Times Book Prizes last night. Major winners of the night included John Green, J.K. Rowling, and Susan Straight.
Nerdfighteria, impending earthquakes, and the prevalence of hashtags were all big topics of conversation as presenters graced the stage, recognizing writers from various genres including fiction, poetry and graphic novels.
The evening began with a welcome from USC President Max Nikias and the L.A. Times Editor-in-Chie Davan Maharaj, who spoke in reverence of books and writing.
READ MORE: John Green At The L.A. Times Festival Of Books
"We know that good reporting and good writing cuts through the vast amount of information that streams through our lives every day," said Maharaj. "It provides readers with a chance to discover worlds they never knew, to explore the past, to savor the melodies of prose and to practice the art of empathy—and that is what we are celebrating tonight."
Not all the finalists were in attendance and a few absent winners capitalized on it. Graphic Novels/Comic Book Prize winner, Ulli Lust, gave her acceptance speech, appropriately enough, in caricatures of herself; Current Interest category winner Sheri Fink reminded everyone of the impending doom that is an earthquake in California; and winner of the Poetry Book Prize, Ron Padgett, gave a comedic, yet humble take on his win.
"Getting a book prize does not make one's work any better or any worse," said Padgett, gratitude for his nomination. "The work is the work."
The night was truly an homage to books and their creators from authors, publishers, editors, critics and of course, readers.
"What I've always found most moving about reading and writing—and find more moving now that we live in such a culture of chatter—is the way books resist the topical and the timely speaking from a core of human verity instead," said L.A. Times book critic and emcee of the event, David L. Ulin, on the endurance and grit of books.
READ MORE: Terry McMillan Discusses Parenting And Love Over 'Who Asked You?'
The night ended with Ulin presenting the Innovator's Award to John Green, who is "an innovator in both his fiction and his literary life."
According to Ulin, as the author of Looking for Alaska, The Fault in our Stars, Paper Towns and An Abundance of Katherines, Green conveys a true willingness and ability to engage a generation beyond his books. Green's ability to extend his influence through social media and interact with his readers is what Ulin claims won Green the award. The Nerdfighter movement, the vlogbrothers' YouTube account with he updates with his brother Hank and his presence on Tumblr, all further speak to that.
Perhaps more than anything else, the award ceremony was a two-hour book recommendation. Check out the complete list of winners and finalists below if you're looking for some great reads. A few book highlights include Fiction Book Prize winner A Tale for the Time Being by Ruth Ozeki, Fangirl by Rainbow Rowell, and Social: Why Our Brains are Wired To Connect by Matthew D. Lieberman.
Here is a complete list of the winners:
Biography: Bolivar: American Liberator by Marie Arana
Poetry: Collected Poems by Ron Padgett
Current Interest: Five Days at Memorial: Life and Death in a Storm-Ravaged Hospital by Sheri Fink
The Art Seidenbaum Award for First Fiction: We Need New Names by NoViolet Bulawayo
Science & Technology: Countdown: Our Last, Best Hope for a Future on Earth? by Alan Weisman
Robert Kirsch Award: Susan Straight
History: The Sleepwalkers: How Europe Went to War in 1914 by Christopher Clark
Graphic Novel/Comics: Today is the Last Day of the Rest of Your Life by Ulli Lust
Young Adult Literature: Boxers & Saints by Gene Luen Yang
Mystery/Thriller: The Cuckoo's Calling by J.K. Rowling as Robert Galbraith
Fiction: A Tale for the Time Being by Ruth Ozeki
Innovator's Award: John Green
For a full list of all 50 finalists, click here.
Check out the rest of Neon Tommy's Festival of Books coverage!
Reach Staff Reporter Katie Chen here. Follow her on Twitter here.