Columnists
Keeping Score: Water Shortage And Train Troubles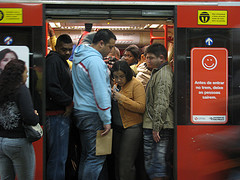 While state governments in Brazil sweat to finalize stadium constructions and other important World Cup-related infrastructure projects, many Brazilians continue to suffer from the long-term precarious living conditions that pose major obstacles to the World Cup's success and, as a result, have recently become prioritized by both the media and authorities.
For more than a month, the city of São Paulo has struggled with limited water supplies. Residents of the North Zone have complained of water shortage for weeks, and have received no credible justification from Sabesp, the state's water company. The water is usually interrupted from late evening until early morning, and others have also complained of shortages during the afternoon.
Similar cases have happened in the outskirts of São Paulo, and residents affirm they never received any notifications from Sabesp. Because of droughts, the main reservoir for the metropolitan areas has failed to sufficiently serve the city and, as a result, Sabesp has had to change to other water sources. They nevertheless continue to deny that water is being rationed.
Since the state cannot properly provide water for its residents, the inevitable question is how they will handle the extra flow of tourists this summer during the World Cup. If São Paulo continues to struggle with water supplies, it won't be surprising if authorities decide to more severely cut water services for the less privileged areas and channel it instead to areas with a large concentration of tourist accommodations.
Another urgent problem is the city's transportation system. It's not only a matter of constant delays, dirty platforms or the odds of being robbed. It's a matter of unsafe overcrowding to the point of compartment doors staying open while the train is in motion. Train riders fight not only to get a seat but also to even enter, and the sporadic flow of trains discourages them from ever waiting for the next one. In such an environment, it's no wonder passengers often complain of crime and that women report cases of sexual abuse in trains.
In São Paulo, many of the World Cup games will take place at Estádio Itaquerão, which is at least an hour away by public transit from downtown. Tourists will most likely have to resort to taking cabs (and be stuck in traffic paying unreasonably high prices), or fight for space in trains that run with eight to nine people per square meter.
São Paulo's city hall may turn the busiest World Cup days into holidays, probably the only solution that authorities could come up with, no doubt losing sleep over how to prevent tourists from joining Brazilians in protests once they experience similar struggles.
A government that spends millions of dollars in building stadiums should be expected to afford to invest in better transportation, but that is not the case. Instead, it is a government that believes the best solution to this mess is to halt work and vital family income for a few days until the extravagance is over. Meanwhile, trains will continue to run with their doors open and water will remain scarce for the poor.
You've heard a lot of speculation about how this summer's World Cup will go for the world's soccer teams, but what about the people hosting the world-famous event? What's in store for the people and government of Brazil? Read more "Keeping Score" to find out.
Reach Columnist Georgia Soares here; follow her on Twitter here.