USC Sports
An Inside Look: USC Baseball Superstar Kevin Swick
Senior infielder Kevin Swick is more than just one of USC's most valuable baseball players. Swick's varied accomplishments and humble personality speak to the Trojan spirit that USC baseball embodies both on and off the field.
A third baseman, Swick is currently USC's leading hitter with a .327 batting average, 110 at-bat's and .932 fielding percentage. Swick also has the following accolades: Pac-12 Player of the Week, 2013 Capital One/CoSIDA Academic All-American, two-time Pac-12 All-American, and USC 2013 Tommy Award for Male Trojan of the Year.
READ MORE: Kevin Swick Senior Class Award for NCAA Senior Athletes
READ MORE: Kevin Swick the Ideals of a Trojan
WATCH: 2013 USC Tommy Awards
As if the life of a college baseball player wasn't demanding enough, Kevin Swick has pushed past the norm to take on additional responsibilities outside the diamond. Majoring in Business Finance, Swick has maintained academic excellence on the Dean's List with a 3.83 GPA while also leading as President of Value Investing Club since 2011. As a man for others, Swick has reached out to the community by making sandwiches for the homeless every Tuesday. Swick has also volunteered for the Best Buddies program and L.A. Veteran's Hospital.
READ MORE: Stevens Academic Center Spotlight: Kevin Swick
Swick's journey with USC baseball serves to prove that hard work does pay off. Swick expresses gratitude towards the many coaches who have helped mold him as a baseball player. "I think it starts from the bottom, especially with baseball. I would say that one of my coaches who really helped me out was my high school coach, he laid the foundation because he played college baseball. Having a high school coach understand that was really important and definitely helped me acquire skills like mental toughness and how to get through the grind everyday," said Swick. "And Coach Hubbs has been really instrumental, he's a great coach and the players really want to play for him. [Assistant Coach] Gabe [Alvarez] has been with me pretty much all four years and has helped my swing, my fielding and has been a huge part of everything we've done as an infield and as hitters."
As a walk-on his freshman year, Swick never imagined the kind of success awaiting him at SC. Swick gives credit, "I actually had a family friend, Phil Van Horn, who encouraged me to do that. It had always been my dream to play here and my parents were definitely supporting me. My coach wasn't sure if I could do it yet. Van Horn told me 'you have a good shot, you should try it out. I think you could do something cool here.' I talked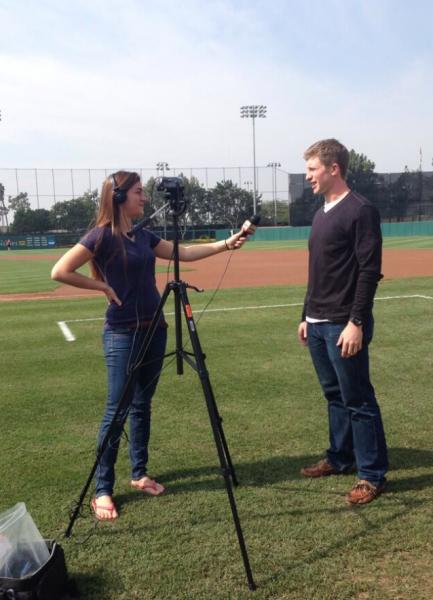 to the coaches two times and tried out."
Swick's perseverance and relentless work ethic may be attributed to his passion for USC baseball, "It's always been in my mindset to be the best I can be at anything I do. But growing up, USC baseball has always been on this pedestal for me, just the opportunity freshman year to be a bullpen catcher was more than I could really ask for. I was just excited. Even now, looking back I just think wow, this is the coolest opportunity. I am just really thankful for it."
Swick never stops challenging himself. Unlike most college students who may work one summer internship or play summer ball, Swick dared to combine his love for business finance with baseball in the summer of 2012. While playing summer ball for the Alaska league, Swick also interned for Permanent Capital Management in Anchorage, Alaska. "It happened that when I was going up to Alaska, I called up this firm and asked, 'Hey I'm playing baseball up here, can I intern with you?' And they were like, 'oh yeah, we play baseball too, we will help you out, come on up.' It was really cool," stated Swick. "Those are my two passions in life. I was able to do both and that was one of the best summers I've had in a long time."
Swick took a break from baseball last summer and interned for Fidelity Investments in Boston where he co-managed $800,000 with 15 other portfolio managers. Swick admits,"Investing is something I really love and enjoy, but I think it taught me something I didn't expect, and that is that baseball is my first love. I want to try to play as much as I can, wherever my ability will take me and that is something I wanted to explore. Is baseball really as big of a passion as I thought? And it is. That was a really cool realization for me."
READ MORE: Kevin Swick MLB Draft Prospect
With that realization, Swick reveals his post-graduate goals, "I would love to have a shot to play professionally. If not, I would probably take the investing route, which would still be great."
WATCH: Kevin Swick Souting Video
Many aspiring college athletes can look up to Swick for his stellar career at USC. Swick advises, "College baseball is the most amazing thing ever. But don't restrict yourself to baseball 24/7. Maybe have it 20 hours a day, give yourself another four hours to explore USC and the different opportunities here. Because there are a ton of interesting people you can meet in a lot of different fields. By broadening your horizons you become a lot more interesting as a person."
Finally, Swick thanks the people who have guided him, "First and foremost, my mom and dad have been the biggest supporters in my life. They were driving me to Orange County every Friday night to go to practices, then travel ball on Saturday and Sunday. They go to every game, my mom will be at Washington State when it's snowing in the stands. That's just the kind of support. Without them, none of this would have been possible. They are always there supporting my dreams. My brother was huge too. I wouldn't be who I am today without him." Swick also gave credit to his high school friends and coaches, concluding, "I am just a small equation in all of that, those are the people who have done most of the work."
Contact Staff Reporter, Cubby Sporrong here. Follow her on Twitter here.