Arts+Culture
Gifts Moms Will Love
Mother's Day is May 11th. Have you gotten your mom anything yet?
Moms are notoriously hard to shop for, but these suggestions will make it easy. The key to making her feel oh-so-spoiled is getting her something indulgent that she wouldn't spend on for herself. But that doesn't mean you have to spend a lot of money--there are ideas in here for every budget. Flowers, although still a nice gift, will go bad in a week. Why not get her something special she'll use for a long time instead?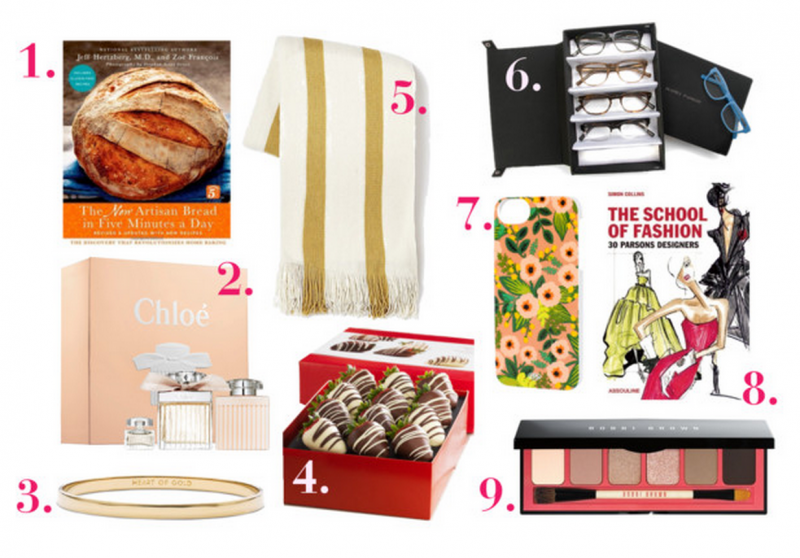 1. The New Artisan Bread in Five Minutes a Day, $18.96 at Amazon
This book, written by Jeff Hertzberg and Zoë François, tells you how to make easy, delicious bread with just four ingredients and five minutes each day. There are thorough, step-by-step instructions for the original five-minute loaf, as well as instructions for adapting that original dough into something fancier, like "Pretzel Buns" or "Apple-Stuffed French Toast." Great for any mom who loves cooking (or wants to learn how!)
2. Chloé gift set, $125 at Sephora
"Chloé" is a fresh, flowery fragrance that's quickly becoming a classic amongst the fashion set. Although $125 is a splurge, it's a deal considering the three products you're getting.
3. Kate Spade New York "heart of gold" bangle, $32 at Nordstrom
For elegant, quirky gifts, you can never go wrong with Kate Spade. This gold bangle is simple and classy on the outside, with a sweet message from you on the inside. She'll wear it with everything.
4. Fannie May chocolate-dipped strawberries, $40 for a dozen at Fannie May
"Forty bucks on strawberries?" you exclaim in horror. I agree it's ridiculous, but these strawberries are divine. They'll make a perfectly luxurious gift that she'll enjoy all week.
5. West Elm "Softest Throw" in Horseradish/Ivory, $14.99 at West Elm
On sale for $15, this super-soft blanket is a steal. She'll love snuggling up with it while reading and watching TV.
6. Warby Parker gift cards, starting at $95 at Warby Parker
The ultimate place for chic glasses, Warby Parker offers a brilliant trial system that ships the customer a box of trial frames they can try on at home before they buy. With a gift card, Mom can pick out a cute new pair of specs without ever leaving home. $95 buys a pair of regular prescription frames or non-prescription sunglasses, while prescription sunglasses ring in at $150.
7. iPhone case from Rifle Paper Co., $34 at Rifle Paper Co.
Perk up her phone with a floral case from the Internet's new favorite stationery shop. She'll be the coolest mom around—Rifle Paper Co. is making a huge splash across the blogosphere right now with their pretty designs and paper products.
8. The School of Fashion: 30 Parsons Designers, $36.99 at Amazon
Parsons, The New School for Design is the powerhouse fashion school that's birthed almost every name in NYC Fashion Week (and that currently hosts Project Runway). This book about famous Parsons alums, written by Dean of Fashion Simon Collins, is the must-read fashion book of the season; it's got sketches and interviews by everyone from Donna Karan to Alexander Wang.
9. Bobbi Brown "Nectar & Nude" eyeshadow palette, $48 at Nordstrom
Bobbi Brown is a trusted name moms love. Brown's makeup line has been around since the '90s, but her newest eyeshadow palette is completely 2014. These modern but mom-appropriate shades are perfect for everyday wear.
Reach Staff Writer Gigi Gastevich here.