Sports
First College Football Player To Come Out As Gay Has Arrived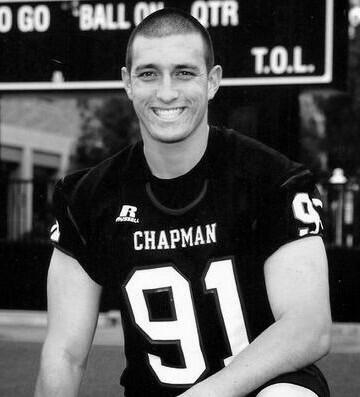 Mitch Eby, a junior defensive end on the Chapman University football team, told his teammates and closest friends that he was gay on March 18. Two weeks later, Eby shared the hand written speech with
Outsports.com
and became the first openly gay active college football player.
Eby's announcement comes at the heels of professional athletes Michael Sam and Jason Collins, as well as collegiate athletes Matt Kaplon and Conner Mertens, publicly coming out.
Before speaking to his teammates and friends, Eby contacted Mertens for guidance and advice.
"As soon as I got an email from him, it was exactly what I wanted, to see athletes like Mitch reaching out to me for help," Merterns told Outsports.com.
Following their discussion, Eby felt comfortable enough to publicly come out on his own. To his surprise, his community quickly accepted his sexuality. Eby's teammates applauded his openness and one player even called Eby his "hero."
Mitch Eby's full speech can be found below:
"I came up here today to talk to you guys about something that I've been dealing with for quite a while. It's something personal that I've always thought I could just bury away, but I can't. We live life so worried about how other people view us that we forget about ourselves. I can no longer go on living in fear, repressing myself because of how society may view me. I can no longer lie to my friends, family and teammates. It's time I lived life for myself for a change.
"With that being said, I am ready to share with you all that I am gay.
"It has taken me years to accept myself for who I truly am, so it's irrational to expect everybody to unconditionally accept me right away. However, the one thing that I hope that I can count on from each of you, my teammates, is your respect. Your respect as a friend, your respect as a teammate, and your respect as a man.
"Being gay may be something that defines me, but it does not limit me. It is such a small part of who I am. I am the same person you all know, no different than before. I'm still the kid that is obsessed with pretty much anything having to do with sports, I'm still the kid that some of you love to call stupid nicknames like 'mom' and 'hot dog,' and I'm still someone who will continue to go out there every day and push myself and push my teammates to be the best football team around. I am your teammate, I am your classmate and I am your brother. And I know that my brothers will continue to stand by my side, no matter what."
Reach Executive Producer Christianna Wiggins here, follow her on twitter here.