Food
Fala Bar: Healthy, Flavorful Food For All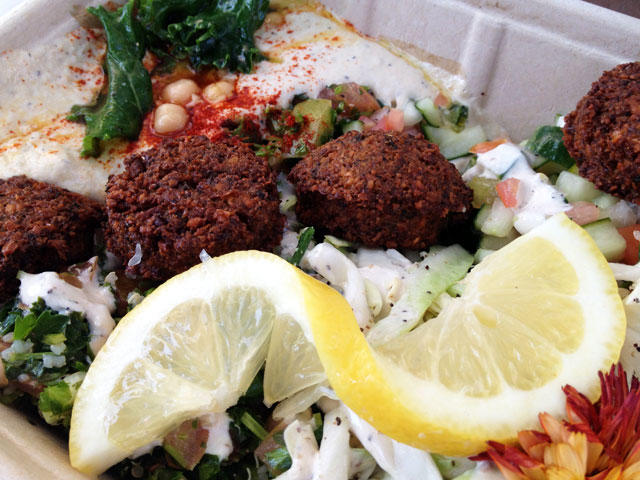 Fala Bar
, a vegan falafel bar and salad café, is L.A.'s newest innovative spot when it comes to healthy fast food.
The small eatery—located on Melrose Ave.—just opened about three weeks ago and has quickly become a bustling hub for customers looking for healthy lunch and dinner options … especially those on the go.
"I think people—especially here in L.A.—are looking for a healthy alternative to everything," says Gina Ragnone, the holistic health coach for Fala Bar. "There are not a lot of healthy fast food places, but we're a healthy fast food place. There's no drive-thru window, but we have lots of grab n' go options and everything's made to order very quickly. I made sure every ingredient used was used with sustainable farming and organic produce."
Fala Bar, as described by Mike Shab, one of its co-owners, is "a Middle Eastern twist [restaurant] with new age thinking." All of the food featured at this eatery is organic, locally sourced produce and the cuisine is also Vegan and nut-free.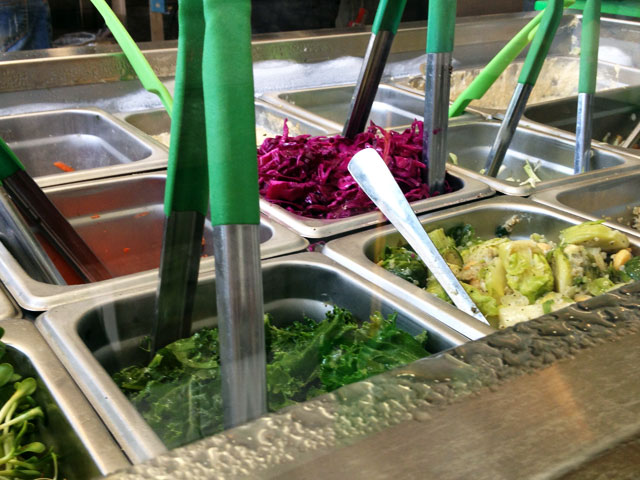 "We get our produce delivered daily," Shab confirms. "We spent about eight months perfecting the menu, even the little things like the cabbage salad that comes in the falafel, to ensure that every bite and every experience at Fala Bar is the best possible and leaves you with a lasting impression. We thrive on making sure it's [our product] the freshest, best and the tastiest. With Fala Bar, we're trying to bring the whole earthy feel to the table."
Fala Bar is the brainchild of Shab and his friend, Andres Izquieta—a USC alum—who is the owner of FIVE FOUR clothing. Shab was originally planning to open up a generic Middle Eastern-type restaurant, but Izquieta had some advice for his friend.
"He said, 'Hold on, let's talk about this' and one thing led to another," Shab remembers. "This concept came into play, and his [Izquieta's] girlfriend, Gina, pointed us in the right direction healthwise — to use certain products, to use a certain type of oil, to make sure everything is farmed locally and sourced organically to ensure the best quality of product. It was a collaboration of events that led to this."
Of course, one of the eatery's signature items is its falafel, around which the restaurant's concept is centered.
"I'm from Israel and there's lots of Middle Eastern restaurants here, especially in L.A.," Shab says. "The biggest deficiency I've always seen with these restaurants is a lack in the condiments. The meat is always seasoned right, but the actual condiments—the hummus, tahini, baba ghanoush, salads—get neglected. Our main thing was to make sure that the core of our product, the falafel, was up to par."
Thus, Fala Bar introduced not one or two, but four different types of falafel. "Original" features garbanzo beans, parsley, cilantro, garlic, cumin, onions and jalapenos; "Sweet Potato" is a mix of garbanzo beans, cilantro, parsley, garlic, cumin, onions and sweet potato; "Spicy" features garbanzo beans, cilantro, parsley, garlic, cumin, onions, red peppers and jalapeno; and "Crunchy" includes garbanzo beans, garlic, cumin and onions.
"The 'Sweet Potato' has been a customer favorite so far, and I personally like the 'Spicy,' but the 'Original' and 'Crunchy' are really good as well," Shab says.
"The oil we use to fry the falafel is one that can handle a high smoke point, so we're using grape seed oil," Ragnone explains. "Other oils that can't handle a high smoke point can turn into a trans fat once they're fried."
Falafel sandwiches—"Fala Sandwich" and "Hummus Sandwich"—are popular customer choices; sandwiches are served on whole, warm pita bread or in a cabbage leaf. The pita is the only gluten option on the entire menu, Ragnone says.
"Everything else is gluten free," she confirms. "I made sure everything is kosher [here]. The pita is not made in house, so it's pretty safe to eat here if you have an allergy. I also brought the cabbage leaf wrap to the menu, so that's an alternative to the pita."
The unique salad combinations are also hot sellers at Fala Bar. "Fala Me to KALEifornia"—made with lemony kale, garbanzo beans, quinoa, purple cabbage, shredded carrots, sunflower sprouts, micro greens, lemon wedge, hummus and avocado—is especially popular among customers. Sides—including a choice of five falabel balls and hummus and "Gigi's Snack Cup"—are also available.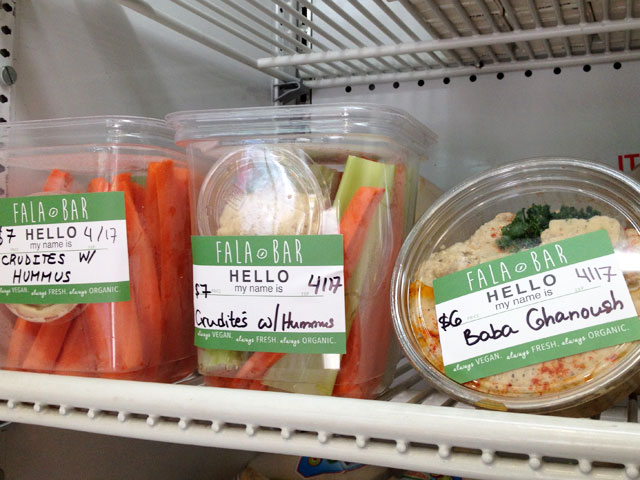 "'Gigi's Snack Cup' is like a parfait but with all of our different salads, hummus, tahini and a falafel ball on top," Ragnone says. "It gives you a sample of everything we offer."
Fala Bar is currently open seven days a week from 11 a.m. to 9 p.m. Customers can expect new menu additions coming soon, according to Shab.
"We are looking to introduce some new things," Shab says. "No matter what comes on the menu, we want to make sure it's 110 percent [ready]. Kale chips are something we definitely want to introduce in the future, along with a couple other things."
"We'll be introducing new things often, like different salads and other items, depending on what's in season," Ragnone adds.
But no matter how big the eatery gets or how much the menu expands, Shab is determined to keep its roots in place — high quality ingredients that showcase the condiments.
"Being Middle Eastern and my family being from Israel, it's been fun seeing them in the kitchen — my grandparents and my mom," he says. "It's a fun experience to see it [this restaurant] going back to Israel or anywhere in the Middle East … you see how much fun there is in food. There's always been that little niche there — it's cool to see what we can do with it."
View a slideshow of Fala Bar below:
Reach Kelli Shiroma here or follow her on Twitter (https://twitter.com/kellishiroma).