Nation and World
Factory Workers: Abusive Working Conditions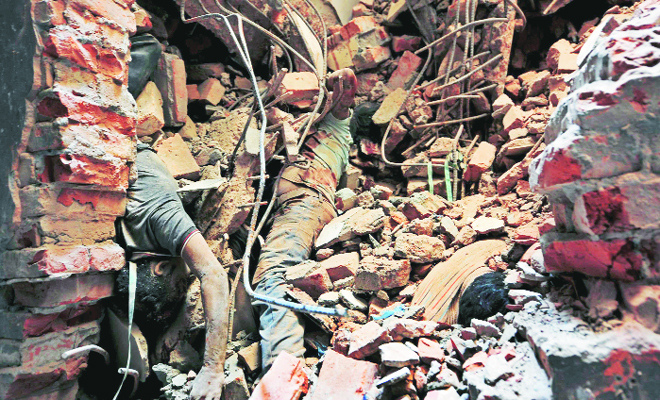 Aleya Akter (29) and Aklima Khanam (20) are Bangladeshi garment workers fighting to improve worker rights and establish living wages in various countries. Aklima Khanam is a survivor of the Rana Plaza factory collapse, which killed over 1100 Bangladeshi garment workers.
These two brave women came to share their stories with USC students in hopes of gaining support to get brands like JanSport to sign the Bangladesh Safety Accord. By doing so, brands would be forced to provide safe working environments and take responsibility for their workers.
Khanam has been working in garment factories since she was 14 years old. At the Rana Plaza factory in Bangladesh, she was working 16 hours shifts, from 8 a.m.-12 a.m., and oftentimes had to stay overtime until 3 a.m.
"I can't work anymore, and if my mother didn't work now, our family would have died" Khanam said, as she began to share her experience of the factory collapse.
On April 24th, 2013 Khanam and her coworkers refused to enter in to their factory because they knew it was unsafe. Unfortunately, they were forced to enter and work. About 30-40 minutes later, there was a power outage, followed by the sudden collapse of the building.
"The roof of my floor fell on a machine and the machine fell on me; I was stuck under the machine for 12 hours. I saw many other workers suffering around me and I saw some die. Around 8 p.m. rescuers came to rescue me and my coworkers. We did not get any type of compensation from anyone." Khanam sadly declared.
READ MORE: Dozens Of Workers Dies In A Bangladesh Factory Fire
"I want to tell students that we make their clothing, university students are the ones that can change our fate, said Khanam. "Do students want us to die?...Will you, students, stand by our side?"
Students emphatically shouted "Yes," giving Khanam an encouraging round of applause.
Next, Aleya Akter shared some of her terrifying experiences as a garment worker.
"I started working when I was 9 years old," Akter began. "Since I started work, I always noticed so many abuses....They abused us, beat us, kicked us from our sitting place to the ground, pulled our hair and gave us a time card to go to the toilet."
Akter continued to explain the bad working conditions she had faced. When workers didn't meat their quota, they had to stay overtime without pay; women received no pregnancy leave and workers would sometimes get just one day off after two or three months of working—and only if they pressured management for it.
READ MORE: Workers Continue To Die In Factories Producing Tommy Hilfinger, Gap And Kohl's Clothing
Aleya says at first, she was too young to speak up, but after witnessing so many problems she began to organize workers in factories and learn more about labor laws. When the company found out, they put Akter on suspension and she wasn't put back to work until her coworkers fought for her return.
"I went back to work," Akter explained. "But the company management always kept an eye on me, and when I went home, the cops would threaten me."
Akter talked to other organizers and they scheduled a meeting with company management, a meeting that resulted in more violence and almost death.
"The company management kicked me on my chest, they took me to another room, locked me, and tore apart my clothes," said Akter, recounting her horrifying experiences. "Four or five people had knives and tried stabbing me all together, I was able to flee though their legs."
Although there are still many factory workers being abused and exploited, campaigns such as the Student Coalition Against Labor Exploitation (SCALE) are working hard to help improve working conditions in factories around the world. After 2013, the minimum wage for Bangladeshi workers was increased to $66 per month, and so far about 150 brands have signed the Bangladesh Safety Accord, giving workers the right to speak up.

READ MORE: SCALE Meets With President Nikias About Workers' Rights

Students have been demanding USC (and other universities) to cut ties with brands like JanSport, but have not succeeded in getting university administrators to accept their requests.

Akter looked at all the students who took time to listen to their stories and asked, "Do they want Rana Plaza to happen again? We workers of Bangladesh are fighting for safer work places. Will you students of USC help us?"

Students clapped and said, "Yes!" But the question remains as too will they be able to follow through on the promise. Members of SCALE encouraged students here at USC to join the movement to protect workers like Khanam and Akter.

Contact Staff Reporter Karla Martinez here or follow her on Twitter.