Music
Coachella 2014: The Festival Experience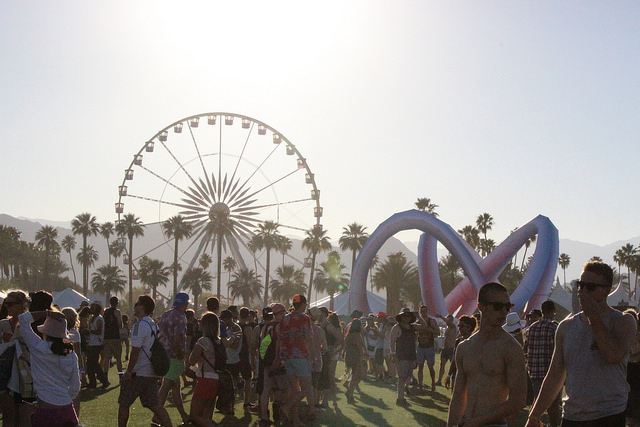 The defining moments of Coachella 2014 are coming in a dusty desert whirlwind of flower-crowned fashionistas, long beer lines and of course, an action-packed lineup of the world's hottest musical artists.
Here are a few of the moments that made Coachella worth (and not worth) the pricey entrance toll into California's music destination dreamland.
As the crowd wilted into a Day 1 late afternoon, post-pizza and acai bowl chill mode, Ellie Goulding woke us up with a pulsing cover of Alt-J's "Tessellate." Channeling the quintessential Coachella prototype dressed in high-waisted leather shorts and a crop top, the blonde beauty zapped everyone back to life with energetic renditions of "Anything Could Happen," "Lights" and other radio hits.
ALSO READ: Ellie Goulding At The Fox Theater: Show Review
Zedd lit up the Sahara Tent with electric energy that left me nearly deaf in my left ear – probably from my proximity to the speakers. It was at this point that the utter overcrowding began to take over the feeling of the festival.
In order to see 24-year-old Anton Zaslavski, fans had to shove their way through the tent's few openings. But the look on this DJs face was worth the sandal stomping and shoulder bumping. Zedd lifted his hands up and partied alongside the crowd. The DJ's excitement to be performing Coachella exuded from the stage.
Day 2 put the crowd into the most frantic hustle that could possibly be managed with a collective 200,000-person hangover, as it was impossible to catch every one of these performances that were stacked on top of each other. However a few acts stood out.
ALSO READ: Coachella 2014: Weekend One Recap
Kentucky pop rock band Cage the Elephant completely dominated the daytime main stage. Dressed in all white, head singer Matt Shultz sped and circled the stage like bumblebee searching for a flower to pollinate, before asking to borrow a pink and green floral umbrella from an audience member. Fans gladly passed the umbrella up, and the band transitioned into "Ain't No Rest for the Wicked." Onlookers from the beer garden kicked back and watched Shultz crowd surf, maintaining a visible connection with his fans.
Meanwhile, Banks seduced fans at the Gobi tent with her airy voice and hipster-gone-bad-girl style. The pop sorceress had frat guys swooning with bass heavy, ground shaking songs like "Fall Over" and "This Is What It Feels Like."
However all was not well in the tented areas. Massive crowds dominated just about every inch of space between the Mojave and Sahara tents. Port-a-john lines held about 4 people per stall. Stray makeup brushes were abandoned and stomped on in the dust and the water lines swelled into an impatient, shoving crowd.
No more shoulder bumping, they were throwin 'bows at this point. Festival planning 101, people: make enough free water easily accessible.
Next to the watering hole is what can only be compared to a stampede. The crowd from Pixies insisted on pushing through to see Empire of the Sun. Pack leaders carrying GoPros and tall guiding sticks with enlarged photos, unicorn heads or blown-up plastic monkeys lost their herds. Trains of girls holding hands got forcefully separated. This can only lead me to believe that festival organizers had not planned for the number of people who would be at the event – therefore cheapening the experience for everyone.
Fortunately, following this escapade was Pharrell's set. The powerhouse producer brought an entourage of musical guests on stage, including Nelly, Snoop Dogg and Gwen Stefani who all performed their beloved throwbacks like "Hot in Herre," "Drop It Like It's Hot" and "Hollaback Girl," respectively.
ALSO READ: Pharrell Wiliams: 'G I R L' Album Review
To say "the crowd went wild" would be an understatement. While the recognizable tunes were awesome, the proliferation of musical guests overall became indicative of how mainstream Coachella has turned throughout the past few years.
By Day 3, festival maps were discarded and the once wide-eyed fans roamed the grounds confidently. Fans who skipped Calvin Harris for Big Gigantic were rewarded with the most interesting electronic act of the day. With made-for-the-stage electronic jams, Dominic Lalli pumped up the crowd in between wailing saxophone solos while Jeremy Salken overlayed the electronic beats on the drums.
The Denver duo even brought out Indio's local high school marching band who joined them on their "I Need A Dolla" cover. Lots of respect for the inclusiveness and creativity.
The crop topped Coachella army gathered at the main stage for Disclosure's set. However the British brothers could have better belonged in one of the tents due to the softer instrumentals. Something about the sound technology wasn't resonating correctly. Their ethereal beats seemed to evaporate into the thick night air.
ALSO READ: Review: Disclosure DJ Set At Club Nokia
Although holding their performance in one of the tents would have been near impossible due to the masses of fans who planned their nights around seeing Disclosure's set, the duo jammed on standup drum kits and mitty pads and were joined by Mary J. Blige, AlunaGeorge for "White Noise" and Sam Smith for "Latch."
Overall, the festival was mostly a hit with the musical choices, with an appropriate balance of electronic music and hip-hop; but left punk bands like Ty Segall and The Pixies fighting to represent rock. Long, disorganized food drink and bathroom lines as well as borderline-violent crowds gave the unsettling impression that organizers simply did not account for how many tickets were being sold and circulated when it came to planning the actual festival experience. Until next time, Coachella.
Reach Contributor Anna Escher here.