Music
Brokechella: Showcases Best Of L.A.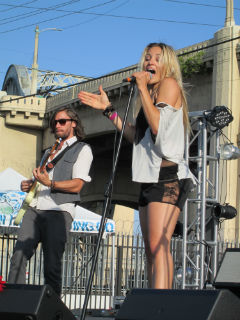 Downtown L.A. was alive with the sound of intense and rhythmically diverse music this weekend as thousands of people flocked to one of the most wallet friendly music festivals this past weekend,
Brokechella
.
For just $20 ($10 for presale admission) music lovers had the chance to experience the spirit of Coachella merged with the urban culture of L.A. as more than 50 up-and-coming acts hit the stage to showcase their musical and comedic talents, Saturday night.
Organized three years ago by the arts collective cARTel as a community festival, Brokechella has since spun into something more than an alternative festival, as it's quickly becoming the go-to place to see some of the best up and coming Los Angeles based artists and comedians.
"I really love that Brokechella really exemplifies and pushes forward the economy of Los Angeles music," said Negin Singh, the festival's Artistic Director. "All of these acts are the bands that play in our local bars and that are really bringing people out and keeping our music scene alive."
With something for everyone, the festival laid out food trucks along the entrance of the festival and performances within three different warehouses, along with art installations, a photo booth and a beer garden.
One warehouse was devoted to several talented and fast talking underground hip hop artists, some of whom made crowds of people move with twerk enticing beats as a mix of fresh '70s smooth funked things up. Most of the rappers were selected by the local hip hop collective Brownies and Lemonade.
"There are a lot of hip-hop cats and young rappers that are just needing a stage," said Kush Fernando, with Brownies and Lemonade. "This is a good platform for a lot of the local cats starting out."
Guests also had the chance to dance the night away inside a larger warehouse that staged 13 local dance and hip hop DJs selected by the festival's partners Shifty Rhythms label. This building was complete with a half-pipe skate board area for skaters, fog machine and strobe lights that rolled over guest as they jumped and swayed to the music.
"This is a great component to the festival because it's really focuses on these up and coming DJs playing electronic music," Chad Kenny with Shifty Rhythms said. "(The sound) is little more underground and a little more outside the box, but still has a really nice consistent energy to that."
The majority of event goers centered around the lounge warehouse that included a beer garden and seating to watch comedy performances and other more mellow musicians.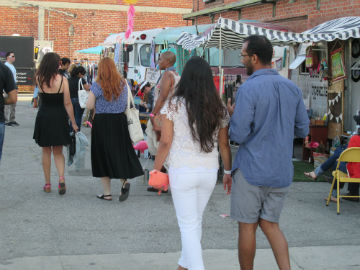 The festival also had several vendors along the outside of the warehouses and one more stage set up outside on which the alternative rock and indie dream pop bands selected by cARTel performed.
Vibes was one of several bands that hit the cARTel stage. The three person band ended the night with their infectiously catchy dance tunes layered with disco synths and vocal stylings similar to Billy Joel.
Vibe lead singer Alex Slavin shared his the bands reasons for being apart of the Brokechella line-up.
"Coachella always seemed like too much for me," said Alex Slavin, the lead singer for Vibe. "Both have their own place, but this festival is so great because it really showcases the L.A. music scene."
Among the crowds of people watching Vibe preform was Fresno resident Elisa Lopez. She and her boyfriend decided to make a four hour drive to L.A. to experience Brokechella in all its glory.
"The drive was really worth it," Lopez said."It's a great place to see all the talent Los Angeles has to offer in one pretty cheap place."
Like so many, Lopez struggled to purchase Coachella tickets before they ran out. Fortunately, she was able to hear about how inexpensive Brokechella event was and is now including the it to her list of must-return to festivals.
"Next year we're going to buy our tickets for Coachella first and on our way back to Fresno we have to stop at Brokechella now," Lopez said. "It's just too great to pass up."
Reach Staff Reporter Celeste Alvarez here or follow her on Twitter here.