Nation and World
Big Surprise: Kim Jong-Un 'Reelected'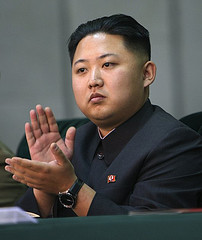 Kim Jong-Un
was reelected as the leader of North Korea, with 100% of the electoral vote. No one ran against him.
According to USA Today, polls opened on Sunday as North Koreans went to approve the new roster of deputies for the Supreme People's Assembly. Votes for the country's legislature are held once every five years.
Bearing almost no resemblance to an election by Western standards, voters had no choice of who to vote for - Kim Jong-Un's name was the sole name on the ballot. However, voters did reserve the right to vote "yes" or "no," and according to official accounts, virtually everyone chose "yes."
The state-run Korean Central News Agency released the following statement: "This is an expression of all the service personnel and people's absolute support and profound trust in supreme leader Kim Jong Un as they single-mindedly remain loyal to him."
We can't say we're surprised.
Reach Executive Producer Beatrice Verhoeven here. Follow her on Twitter.