Food
6 Recipes For A Fun Easter Brunch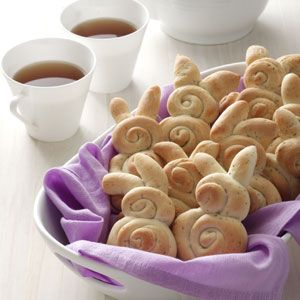 This year, gather your friends together for a fun Easter brunch. These whimsical recipes are sure to delight everyone at the table, both young and old.
Skip the actual rabbits this Easter and go for these cute rolls instead. Savory and delicious, these rolls are a fortifying addition to brunch.
1 package (1/4 ounce) active dry yeast

1/4 c. warm water

3/4 c. warm milk

2 tbsp. sugar

2 tbsp. shortening

1 egg, beaten

2 tsp. celery seed

1 tsp. rubbed sage

1 tsp. salt

1/2 tsp. ground nutmeg

3 to 3 ½ c. all-purpose flour

Melted butter
Directions:
1. Dissolve yeast and water in a bowl. Add the milk, sugar, shortening, egg, celery seed, sage, salt, nutmeg and two cups flour. Beat the mixture until it is smooth, adding enough remaining flour to form a soft dough. Turn the dough onto a floured surface and knead it until it feels smooth and elastic. This will take about six to eight minutes. Place the kneaded dough in a greased bowl, turning once to grease top. Cover the dough and let it rise in a warm place until it doubles in size. This will take about one hour. Punch the dough down, and let it rest for about 10 minutes.
2. Divide the dough into 24 pieces. For each bunny, roll one piece of dough into a 20-inch rope. Cut rope into one 10-inch piece, one 5-inch piece, two 2-inch pieces and one 1-inch piece. Coil 10-inch piece for body; place on a greased baking sheet. Coil the 5-inch piece for the head; then place it next to the body. Form ears from the 2-inch pieces and the tail from the 1-inch piece; add these pieces to the bunny. Pinch the seams to seal the dough pieces together. Repeat, placing bunnies two inches apart on the baking sheet. Cover and let the rolls rise until they double in size. This will take about 25 minutes.
3. Bake the rolls in a 375 degree oven for 10 to 12 minutes or until they are lightly browned. Brush the rolls with melted butter. Cool on wire racks until ready to serve.
These adorable chicks will make everyone love deviled eggs.
12 large eggs, hard-boiled and peeled

6 tbsp. mayonnaise

2 tsp. Dijon mustard

4 tsp. pickle juice

1 tsp. pickle relish

1 tsp. smoked paprika

1 carrot

Chopped black olives
1. Using a paring knife, cut off the egg's rounded bottom so it stands up straight.
2. Cut a zig-zag pattern around the top third of the egg, being careful not to cut into the yolk.
3. Take off the top section of the egg and set it aside. Gently put the ball of yolks into a mixing bowl and repeat with the remaining eggs.
4. Mash the yolks together and mix in the mayonnaise, mustard, relish, pickle juice and paprika. Add more pickle juice until the yolks have a smooth texture.
5. Allow the yolk mixture to chill for at least an hour in the refrigerator. After allowing the yolk mixture to cool, spoon or pipe the mixture into the hollowed-out egg whites. Over-fill the base; this will be the chick's head.
6. Slice the carrot into small triangles to create beaks. Place the carrot beaks in the exposed egg filling. Add two small, chopped olive pieces to create eyes. Replace the tops of all the eggs.
7. Repeat these steps until all of the eggs are completed. Serve the eggs immediately or chill them for up to 48 hours in the refrigerator.
Take advantage of spring's wonderful produce and prepare a fruit salad for your guests. Don't adhere too strictly to recipes for this dish; be adventurous and use whatever fruit you'd like.
Yield: 4 individual salads
Ingredients:
4-5 large oranges

1 large grapefruit (red ones if you can find them)

1 large banana

1 small container of fresh raspberries

1 small container of fresh blackberries

1 container of fresh blueberries

12-16 green or red seedless grapes

4 tbsp. or more fresh pomegranate seeds
Directions:
1. Wash and segment the citrus fruit, catching all of the juices over a bowl.
2. Peel and slice the banana and rinse and dry the berries. Gently combine these fruits with the citrus fruits right before serving the salad. Chill the fruit salad and serve it as soon as possible.
Pay homage to the Easter Bunny with these adorable cutouts.
2-3 large sweet potatoes

2 tbsp. olive oil

Sea salt
Directions:
1. Preheat an oven to 415 degrees. Line a baking sheet with foil and set aside.
2. Cut the sweet potatoes lengthwise about 1/2-inch thick. Place the cut slices on the prepared baking sheet. Drizzle with olive oil and sprinkle with sea salt, and toss to coat.
3. Bake the potatoes for 15 minutes or until they are soft. Remove the potatoes from the oven and carefully cut out the bunnies with a bunny shaped cookie cutter or a knife. If cutting is difficult, let the potatoes cool first.
4. Place the cut potatoes back into the oven and continue baking for another 20 to 30 minutes or until they are soft and slightly roasted.
5. Remove the potatoes from the oven and let them cool for five to ten minutes before serving.
Fruit punch flavored with oranges, lemons, pineapples, and peaches is filled with bright flavors perfect for spring.
1 (12-ounce) can frozen orange juice concentrate, thawed

1 (12-ounce) can frozen lemonade concentrate, thawed

3 c. pineapple juice

2 c. peach nectar

1 (1-liter) bottle ginger ale

5 c. ice cubes

Orange, lemon and pineapple slices for garnish
Directions:
1. Combine orange, lemon, pineapple, and peach juices. Stir the mixture until it is well combined.
2. Cover the mixture and chill until it is ready to serve. Stir in the ginger ale and ice cubes just before serving.
3. Float fruit slices in the pitcher as a garnish and serve immediately.
Note: Substitute 1 bottle of champagne for the ginger ale.
Delight your guests with this light carrot and zucchini cake topped with sweet cream cheese frosting. The touch of lemon is a welcome, but unexpected twist. These rich bars are a sweet way to end brunch.
Carrot and Zucchini Bars
2 eggs, slightly beaten

3/4 c. packed brown sugar

1/2 c. canola oil

1/4 c. honey

1 tsp. vanilla

1 1/2 c. shredded carrot

1 c. shredded zucchini

1/2 c. chopped walnuts

1 1/2 c. all-purpose flour

1 tsp. baking powder

1/2 tsp. ground ginger

1/4 tsp. baking soda
1. Preheat the oven to 350 degrees. Whisk together the eggs, brown sugar, oil, honey and vanilla in a large bowl. Next, fold in the carrot, zucchini and walnuts.
2. Combine the flour, baking powder, ginger, and baking soda in another bowl.
Add the dry flour mixture to the wet mixture, stirring just until combined. Spread the batter into an ungreased 13x9-inch baking pan.
3. Bake the bars for 25 minutes or until a toothpick inserted in the center comes out clean. Leave the bars in the pan and allow them to cool completely on a wire rack.
4. Frost and cut the bars when they are completely cooled.
Lemon Cream Cheese Frosting
1 (8 oz.) pkg. reduced fat cream cheese

1 c. powdered sugar

1 1/2 tsp. lemon zest
1. Using an electric mixer, beat the cream cheese, powdered sugar, and lemon zest until fluffy.
2. Spread or pipe the frosting over the cooled bars.