NBA
2014 NBA Eastern Conference Quarterfinals Preview, Part 1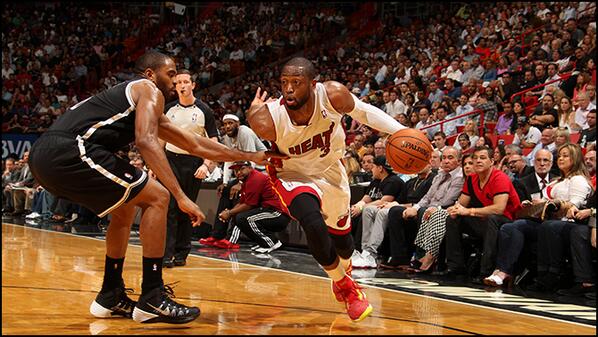 We break down each series for you, giving insight into which teams will move on to the Conference Semifinals.
(2) Miami Heat vs. (7) Charlotte Bobcats
Maybe playing in three straight Finals finally catches up to the Heat this postseason and they don't pull off the three-peat (side note: how stoked would Pat Riley be if the Heat actually win their third straight title? Not only does he get another ring, but he has the trademark to "three-peat.") But the odds of Miami being dethroned by the Charlotte Bobcats? I'm not a math major or a bookie, but it has to be close to a billion-to-one.
The Bobcats simply don't have enough firepower to keep up with the Heat. They were able to hang their hat this season on a sticky defense that ranked fourth in points allowed and sixth in defensive efficiency. That's good. But their offense is the polar opposite, ranking in the bottom-seven of the league in both points per game and offensive efficiency. That's bad. A team that relies on Josh McRoberts and Michael Kidd-Gilchrist as starters is basically playing with three guys on offense. You can pull a stunt like that and claw your way to the seventh seed in the abysmal Eastern Conference, but it's not going to work against Miami.
READ MORE: 2014 NBA Eastern Conference Quarterfinals Preview, Part 2
Another thing working in Miami's favor: they have Lebron James, the best player in the world. He should have an extra pep in his step this weekend after sitting out the final two games of the regular season. And speaking of sitting out, Dwyane Wade missed 28 games this year, many of which were simply to rest him for the playoffs. The Heat have been on cruise-control this season, waiting for the playoffs to arrive, and now they're here.
Miami in 5. That's giving a charity game to Charlotte where Big Al and Kemba Walker combine for 60 points and Miami looks like they'd rather just finish the series at home.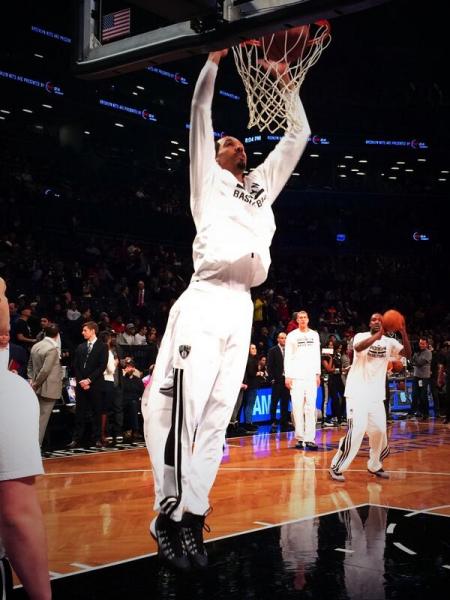 (3)
Toronto Raptors
vs. (6)
Brooklyn Nets
Two teams that have fairly similar stories. After exiling Rudy Gay to Sacramento, the Raptors went 41-22, the best record in the Eastern Conference over that span. And the Nets have come a long way since Jason Kidd was firing assistant coaches and finding ways to create extra timeouts early in the season. The Nets have posted a 34-17 mark since New Year's Day, which was the second best record in the East in 2014.
Most indicators point towards the Raps advancing in this series. They're ranked better both in terms of offensive efficiency (9th vs. 14th) and defensive efficiency (9th vs. 19th). They have home court advantage. They have Drake. They have the two players in the series who are finishing career years – Kyle "Should've Been an All-Star" Lowry and USC's own DeMar DeRozan. And the Nets are absolutely terrible at rebounding, ranking 29th in the league.
So, why am I leaning towards Brooklyn? First off, Amir Johnson hasn't been the same since injuring his ankle last month. That's going to hurt the Raps much more than the injuries to the chalk-outline of Kevin Garnett are going to hurt the Nets. When Brooklyn rolls with Pierce at the stretch-4, it may be too difficult for Johnson to close out at the three-point line effectively. And despite having the "speed" advantage, as DeRozan pointed out, Brooklyn will be able to throw several of their funky small ball lineups at Toronto. Much like the Celtics under Doc and Thibs, the Nets will be willing to concede offensive rebounds with their small lineups so they can get back on defense and prevent fast breaks. I'd also like to think Deron Williams is upset about getting torched by Lowry in their last two meetings, although that might be wishful thinking. If necessary, the Nets can throw the bigger body of Shaun Livingston -- who has had a nice jack-of-all-trades season -- at Lowry for a few minutes at a time.
Lastly, I cringe when people say teams are "built for the playoffs" and others are "too young" or "need to experience postseason heartbreak." It's BS. The best team's win in the playoffs, and they don't have to follow some half-baked narrative on what it takes to advance in the postseason. You strike while the iron is hot in the NBA. With that said, I'm taking the old dogs in this series.
Brooklyn in 6. Take care, Drake.
Reach Staff Writer Sean Burch here.