Film and TV
1990s TV Hits We Miss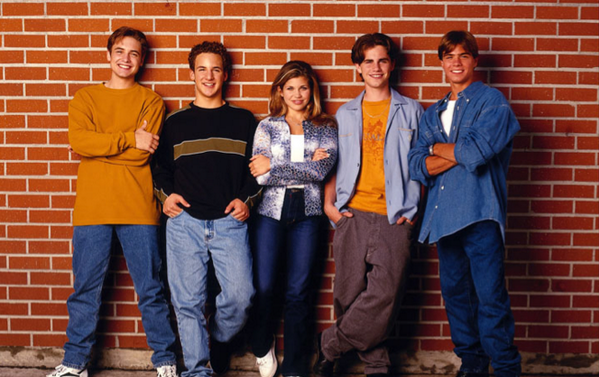 The 90s were a time where television series were at their peak. We like to call it, "The Golden Days." Many of the shows that aired almost 20 years ago are currently being watched by a new generation of viewers still today. Thus, it only seems fitting to put together our top five 90s shows.

"Friends"

Everyone knows the plot: six friends living in New York City dealing with the struggles of adulthood and manage to still come together with a cup of coffee on the infamous sofa. These six people are not going to just simply all be "friends" because apparently guys and girls can't be just "friends." However, the ever-entertaining relationships of these friends defy such rule with the exception of two. "Friends" is just one of those shows that can be seen multiple of times, in no particular order, and can still make you laugh.

"Boy Meets World"

A narrative that simply tells the life of a boy growing up all the way from elementary school until he gets married, making this show timeless. Everyone (whether you are a girl or boy) can relate to this show because, although the show's protagonist is about a boy, the show dwells into topics that almost every person has gone through. From heartbreak to a test you didn't study for, "Boy Meets World" brings back the memories we once experienced.

READ MORE: Disney's 'Girl Meets World' Trailer Brings Nostalgia

"Full House"

A single father having to deal with three daughters after the loss of his wife while maintaining his career can be overwhelming. However, he gets help from his brother-in-law and his best friend to balance the struggles of fatherhood. Tons of issues are touched upon this show like dealing with fatherhood, strong family bonds and being able to see Uncle Jesse work a muscle tee at times. What makes this show memorable is simply establishing a good ol' hug, which is what the Tanner family was known for.

"Fresh Prince of Bel-Air"

Everyone knows the catchy theme song to "The Fresh Prince of Bel-Air" and how it put Will Smith's career on the map. The narrative of a nephew being sent to Bel-Air all the way from Philadelphia after a fight is simply hilarious. The aftermath is what makes this show even more memorable because Smith's character causes all kinds of foolishness. His family also brings comical dynamics to the show, including the butler.

"Sabrina, the Teenage Witch"

Being a teenager in a world of adults and having to follow rules you might not agree with is hard enough. Put in magical powers and having to keep a secret about having them and that just creates a recipe for disaster. Sabrina lives with her two aunts that are 600 years old and talking cat to then later realize on her 16th birthday she has magical powers. "Sabrina, the Teenage Witch" brought not only the element of humor but also magic because everyone at some point wanted to make things disappear.

What all these shows proved to have in common is dealing with life and the crazy outcomes it has in store for us that we ourselves don't know.