Entertainment News
11 Lessons Beyonce Taught Me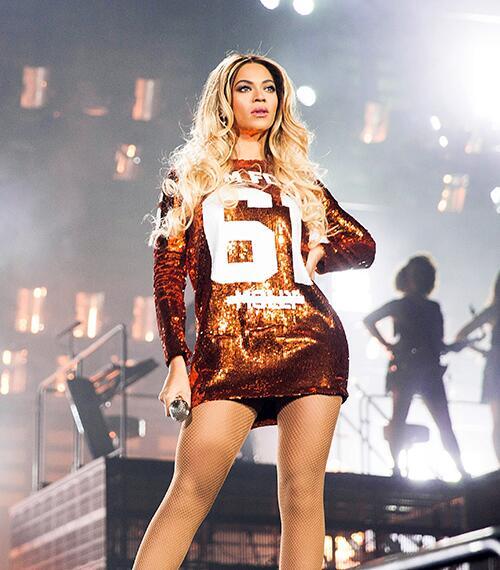 Beyonce Knowles does not take her title as the Queen of R&B and pop, lightly.
Since her official inception into the music industry in 1997 with the all-female group Destiny's Child, Beyonce has made hit music that follows her growth as a woman. She started out as a 15 year old girl singing about boy issues with her three best friends but as her celebrity status increased and she became a loving wife and mother, her music likewise evolved.
For those that have loyally followed Beyonce's career- let's be real, that's everyone- we know that although her music has changed, it has always contained positive and substantial content. Neither Beyonce or Destiny's Child was into making throw away albums just for ratings. In other words, "Bills Bills Bills" Beyonce circa 1999 is just as good as "surprise-just-dropped-a-secret-album" Beyonce in 2014.
In honor of all the great music that the Queen has graced us with, here is a list of the 11 most important lessons that Beyonce has conveyed through her music:
1. Love Your Body
"Bootylicious" was one of Destiny's Child's first hits. The song's funky beat kept everyone entertained but the message of the song is one that shouldn't be missed.
The video featured women with several different body types strutting their stuff, showing that you can be fabulous regardless of your size. Destiny's Child was telling ladies everywhere, if you're a little more bootylicious, you better own it.
2. It's Okay To Be A Little "Crazy In Love"
The love story between Beyonce and Jay Z first began with the single "Crazy In Love." The pair teamed up to produce this classic song that truly introduced twerking (sorry Miley, but no one can resist the urge to shake it when you hear Beyonce start singing "uh-oh") and the love that followed is history.
Since then Beyonce and Jay Z have epitomized a true power couple and they have proven that it's possible to be crazy in love with someone and still be successful.
3. But You Don't Need A Man To Be Awesome
Before Jay Z was in the picture, Beyonce and her girls Kelly Rowland and Michelle Williams conquered the music world with several chart topping songs that embraced their status as fabulous, fearless and single.
Their song "Independent Women Part 1" was originally made for the movie "Charlie's Angels," but it soon became an anthem for single and powerful women. The song encouraged listeners to pay their own way and thrive as independent individuals. In the second verse, Beyonce pleads "depend on no one else to give you what want."
4. Good Friends Will Understand Without Judgement
Beyonce, Kelly Rowland and Michelle Williams weren't just bandmates, they were also good friends. On their album "Destiny Fulfilled," the ladies sang a ballad entitled "Girl" that spoke about the importance of reaching out to friends when things aren't going so well.
The song reminds a general "girl" that her friends know her too well to simply ignore that there is obviously something wrong. While it is easy to decline help when one is embarrassed or fears judgment from friends, Destiny's Child recommends that you just sit down and talk to your girls- they'll have your back.
5. How To Dress
Like true royalty, Beyonce has impeccable style. She often displays her killer fashion sense in her videos, public appearances and her daily Instagram account, of course.
In 2006, Beyonce gave fans an entire song about every woman's favorite dress. "Freakum Dress" was a song that encouraged ladies to feel sexy by slipping on that little black dress and enjoying a well-deserved night out.
6. Be Confident
Beyonce has an overwhelming stage presence, but she's never cocky. She exudes confidence without putting other people down and she wants her fans to feel the same. In the song "Ego," Beyonce flaunts her talent and lets everyone know that one can be self-assured without being arrogant.
7. Leave Your Mark On The World
Beyonce is undoubtedly iconic in the music industry, but she still works hard to be philanthropic in her daily life. Throughout her career she has monetarily and physically supported 23 charities and foundations.
In the song "I Was Here," Beyonce speaks about the importance of leaving behind a positive legacy. She sings: "The hearts I have touched, will be the proof that I leave, that I made a difference." If those are the only requirements, you'll have plenty of proof Bey.
8. Speak Up And Stand Up For Yourself
Although Beyonce is very soft spoken, she doesn't let anyone walk all over her. Bey proves that with her 2007 ballad "Listen."
As the title implies, "Listen" begs a significant other to listen and be careful not to overlook his partner's dreams. The song specifically addresses the significance of communication within a relationship, but the message can be applied to everything. If you want things to change, you have to stand up for yourself and force people to listen.
9. Girls Run The World
For anyone who doubts that women have just as much power as men, you obviously haven't heard "Run The World (Girls)." In this hit single, Beyonce applauds all types of successful women, from college graduates to millionaires. She reassures women that they are very powerful despite the way they are traditionally portrayed in the media.
Just in case everyone forgot, who truly runs the world? Girls!
10. Everything Happens For A Reason
When things don't go as planned, it can be a disappointment at first, but you may later realize that a better opportunity awaits. Beyonce's song "Best Thing I Never Had" epitomizes the latter idea.
In the song, Beyonce describes being upset after a guy turns her down. She's sad for a while, but then she realizes that the boy sucks, and she is happy that she never got involved with him.
Ultimately, Beyonce's message is that you shouldn't be discouraged when things don't go as planned. When one door closes, another always opens, so be patient and let things fall into place. Everything happens for a reason.
11. You Are "Flawless"
If you woke up like that, Beyonce thinks you're "Flawless."
In December 2013, Beyonce dropped a surprise album for all of her fans. Simply entitled "Beyonce," the album featured 14 new songs and 17 videos. Many of the songs were very scandalous but quite a few had direct messages for fans. The most blatant of them all was "Flawless."
In this dance worthy tune, Beyonce tells everyone that regardless of your physical aesthetic, you are beautiful just the way you are.
WATCH THE FLAWLESS VIDEO HERE.
Reach Executive Producer Christianna Wiggins here, follow her on Twitter here.