Food
Whiz Now Open In Koreatown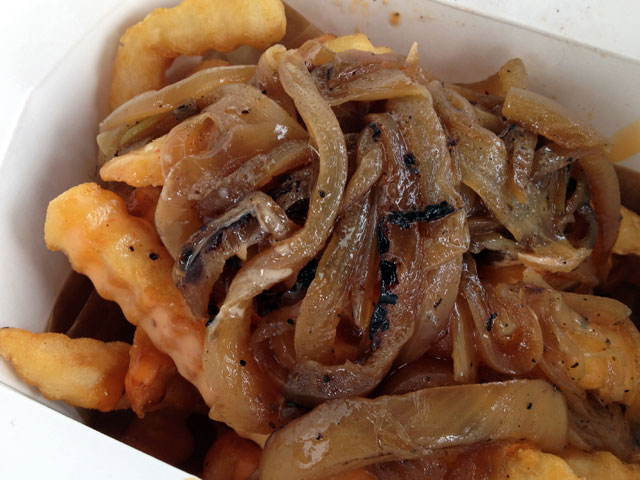 It's all about the authentic, homemade Cheese Whiz.
Just ask Paul Choi, the director of marketing for Whiz, the recently opened Koreatown sandwich shop specializing in Philly cheesesteaks.
"We have a housemade Whiz, and we have two variations of it," Choi explains. "We have a regular Cheese Whiz as well as a Pepper Jack Whiz that we use for our sandwiches. Our chef is from Philly so we wanted to do something a bit different. As far as I know, we're the only place that does that [homemade Whiz] that I've heard of — not just in L.A., but everywhere."
Whiz opened on Feb. 15 and is right around the corner from Beer Belly, a late-night joint known for its drinks and delicious bar food (the "Fat Stacks of Cheddar Mac" and "The Duck French Dip" sandwich are especially stellar). Whiz is currently open from 11:30 a.m.-9 p.m. daily (Beer Belly opens at 5 p.m. daily, with the exception of lunch hours on weekends).
"The chef who put together the menu for Whiz is also the chef at Beer Belly," Choi says. "Every now and then, we would sell cheesesteaks [at Beer Belly] as a way to do something different and new on the menu. The thought was, 'Why don't we open a separate place and we'll do all the things that we thought about doing at Beer Belly but never had the chance to? And we'll focus on cheesesteaks, hoagies, burgers, wings and fries.'"
The reaction to the new eatery has been great, says Choi, who notes that many of Beer Belly's loyal customers have given Whiz a try.
"We have regular customers who've been with us from the start, so I think that gave us a good platform to build off of," he says.
The most popular item at Whiz is the "Whiz Wit," according to Choi, which is a Philly cheesesteak with grilled onions, homemade Cheese Whiz and is served in a nine-inch Amoroso's Roll. The "Falafel Burger"—comprising housemade falafel, Tzatziki, cucumbers, tomatoes and spicy pickled carrots inside a brioche bun—is also a customer favorite. When it comes to sides, Choi would cite the "Philly Mega Fries"—topped with bacon, Provolone and Mozzarella cheeses and Whiz—and the "Sriracha Beast Fries" (not super spicy), consisting of Whiz, grilled onions and Sriracha Island dressing, as frequently ordered sides.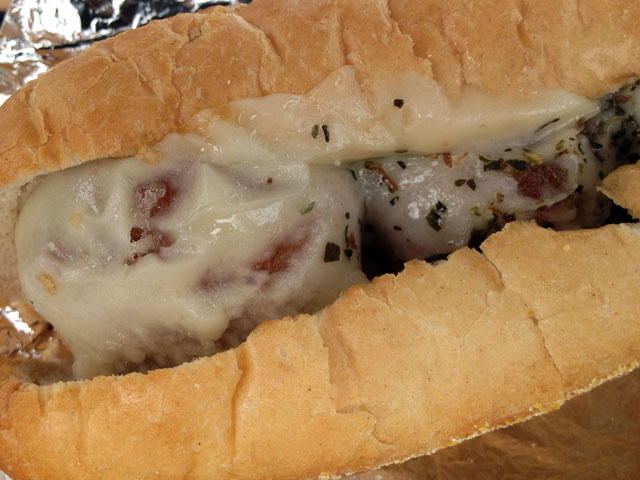 While the "Whiz Wit" is personally Choi's go-to, he encourages customers to try different things. The "Jalapeno Jack," for example, sports great textures and an explosion of flavors.
"The pickled jalapenos aren't too spicy and they add a nice texture," he says. "There's a little bit of crunch and a little bit of sweetness and spiciness from the jalapenos."
Customers at Whiz can order take-out or opt for delivery, as the new eatery does not provide much seating (there is no indoor seating, but there are a few tables located directly outside with a small adjacent parking lot). For easier access, customers can even order online, says Choi.
"First-time customers that order online up until April 2 get a free half order of wings," Choi says, of Whiz's current online ordering promotion. "The delivery radius right now is one mile. You can order online to pick up your order or get it delivered."
Speaking of discounts, students at the University of Southern California can get a 10 percent discount (in-store only) by showing a valid USC ID.
Since Whiz's opening, Choi has noticed two primary categories of clientele—locals (those in Koreatown and loyal patrons of Beer Belly) and tourists (who were curious about the new eatery, due to media coverage). In the upcoming months, he hopes that those who do visit Whiz will be have a pleasant experience—not just because of the food, but because of the eatery's overall vibe.
"A lot of places that serve Philly cheesesteaks try to focus on how Philly they are," he says. "We're not necessarily trying to do that, despite the fact that our chef is from Philly and our menu is heavily Philly based. I feel like because the ownership is L.A. and we're in Koreatown, there's what I call 'cultural fusion.' Not so much fusion food, but culturally, it's uniquely L.A., but at the same time, very Philly as well."