Food
We Want S'Mores: Where You Can Find S'Mores In L.A.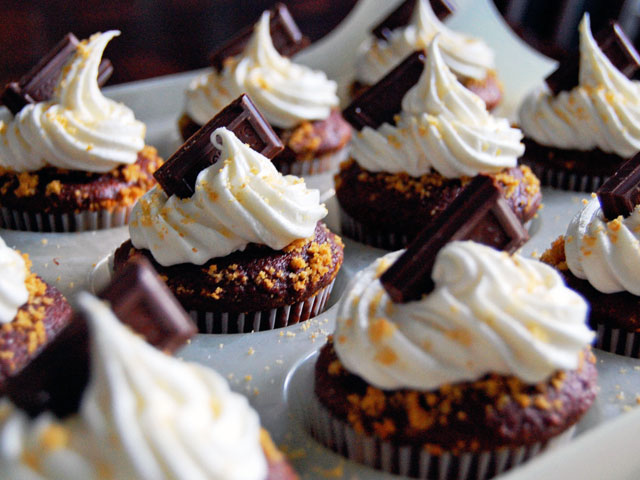 Even though "
National S'mores Day
" is celebrated on Aug. 10, many eateries and bakeries in L.A. features S'mores treats on their menus all year long. After all, people are always in the mood for "some more."
The next time you're craving something sweet, gooey, chocolatey and marshmallowy—whether or not it's summer—check out some of these places below.
Joe's Crab Shack – "Campfire S'mores"
This decadent dessert featured at Joe's Crab Shack includes a rich slice of chocolate cake sandwiched between two crispy graham crackers and is topped with freshly toasted marshmallows and a Hershey's chocolate bar.
Dylan's Candy Bar – "S'mores Bark" and "S'Mores Bar"
The "S'Mores Bar" featured at Dylan's Candy Bar consists of a milk chocolate bar filled with fluffy marshmallows and is topped with crunchy graham cracker bits. The "S'Mores Bark," meanwhile, features a medley of dark chocolate, crispy graham cracker bits, small marshmallows and a white chocolate drizzle, resulting in a less messy version of the campfire classic.
Luna Park L.A. – "Make Your Own S'Mores"
At Luna Park L.A., customers can have the experience of making their own S'mores for dessert. Diners will receive house-baked graham cookies, bittersweet chocolate and molten marshmallows in order to assemble their very own campfire treats.
26 Beach Restaurant – "S'mores French Toast"
26 Beach Restaurant, home of the sushi burger, serves up a pretty impressive brunch menu as well. One of the featured items includes a "S'mores" French Toast, which is filled with marshmallow fluff and Nutella and is topped with whipped cream, strawberries, Callebaut chocolate sauce and graham crackers.
Waffle-icious – "S'mores Waffle"
The specialty "S'mores Waffle" at Waffle-icious features Speculoos, marshmallows, a gooey, melted chocolate bar and decadent chocolate sauce.
THE MELT – "Chocolate Marshmallow S'More Melt"
While THE MELT is known for its grilled cheese goodness, the company also features a delicious dessert melt—the "Chocolate Marshmallow S'More Melt," to be exact. This dessert includes layers of marshmallow and chocolate sandwiched between two toasted pieces of bread.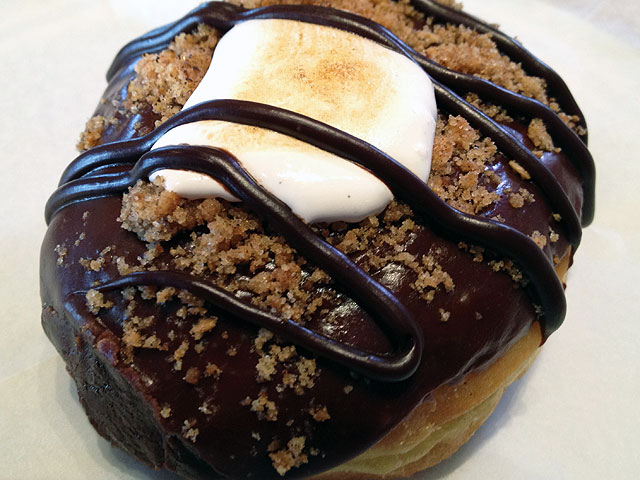 Glazed Donut Bistro – "S'more Please"
At this
shop
sporting "donuts for grown-ups," this
pastry
features a fluffy Bismarck donut filled with homemade marshmallow cream and fluff and dipped in a sweet Callebaut chocolate ganache and topped with homemade graham cracker streusel, marshmallows and a chocolate ganache drizzle. Talk about sensory overload! This donut is more of a dessert than a traditional donut.
Sprinkles Cupcakes – "S'more" Cupcake
This popular seasonal flavor at Sprinkles Cupcakes will be back on April 25 (it comes around several times a year, due to popular demand). This unique cupcake features a Belgian dark chocolate cake lined with a graham cracker crust, is filled with chocolate ganache and is topped with toasted marshmallow frosting. It'll truly cause a gooey explosion inside your mouth.
Gyu-Kaku – "S'Mores"
The "S'Mores" dessert featured at Gyu-Kaku includes pieces of crispy graham crackers enveloping chocolate squares and toasted marshmallows.
Syrup Desserts – "S'Mores Please"
This decadent dessert featured at the legendary Syrup Desserts includes the eatery's sweet original liege waffle, fresh raspberries, Belgian chocolate, caramel, Dutch chocolate ice cream and lots of marshmallowy goodness.
Crumbs Bake Shop – "Ultimate S'mores"
This new addition to the signature cupcakes available at Crumbs Bake Shop features a moist chocolate cupcake with a graham cracker crust layer and is filled with marshmallow cream. Loaded onto the filled cupcake is vanilla cream, chunks of chocolate, mini marshmallows, a chocolatey drizzle and crushed graham cracker bits. (Note: This cupcake is only available via online ordering).
The Cheesecake Factory – "Toasted Marshmallow S'Mores Galore"
This rich cheesecake debuted at The Cheesecake Factory last July and is one of the restaurant's most decadent dessert creations to date. This ensemble features a chocolate Hershey's cheesecake topped with chocolate ganache, toasted homemade marshmallows, whipped cream and Honey Maid graham crackers.
Disneyland's Big Thunder Ranch Barbecue – "S'mores Bake"
The "S'mores Bake" can be found on the dessert menu at Big Thunder Ranch Barbecue in Disneyland. This a la carte dessert (not part of the eatery's barbecue menu) features a twist on the traditional S'mores treat, as it includes a moist, warm, chocolate brownie topped with graham crackers, toasted marshmallow bits and lots of gooey hot fudge.
Slater's 50/50 – "S'more Signature Milkshake"
The "S'More Signature Milkshake" is just one of the various signature milkshakes on the Slater's 50/50 dessert menu. This sweet end to a savory meal includes chocolate syrup, toasted marshmallow syrup and real graham cracker bits.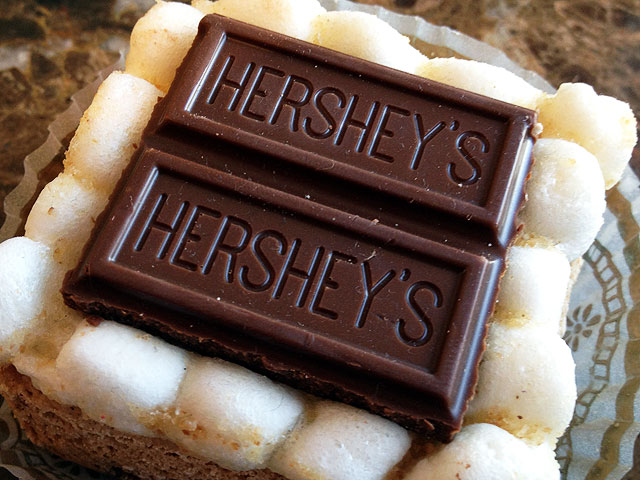 Beverly Hills Brownie Company – "S'Mores"
The "
S'Mores
" brownie featured at
Beverly Hills Brownie Company
is one of the bakery's best sellers. This treat features a brown sugar-based brownie adorned with a graham cracker crust, pieces of milk chocolate and a layer of toasted marshmallow on top.
Beer Belly – "Deep Fried Pop Tarts"
Yes, Pop Tarts just got better with this version available at Beer Belly. The "Deep Fried Pop Tarts" available for dessert feature the treat topped with strawberry or S'mores ice cream.
COOLHAUS – "S'Mores"
The "S'Mores" cookie featured among COOLHAUS' grandiose variety includes a graham cookie (not cracker) infused with burnt marshmallows and melted chocolate.
Donut Friend – "S'More 34"
"S'More 34," one of the featured flavors at Donut Friend—home to many donut varieties, as well as the "design it yourself" donut option—features a chocolate donut with a toasted marshmallow and chocolate ganache interior and is topped with graham cracker crumbs and a chocolate glaze on top.
Yogurtland – "S'Mores"
The sweet "S'Mores" flavor at Yogurtland features the traditional medley of chocolate, toasted marshmallow and graham crackers … in yogurt form.
Bruxie Gourmet Waffle Sandwiches – "S'Mores"
Bruxie Gourmet Waffle Sandwiches features both sweet and savory waffle concoctions on its menu. "S'Mores" can be found under the "Sweet" side, as it comprises graham crackers, toasted marshmallows and pieces of Belgian chocolate.
Golden Spoon – "S'Mores"
The "S'Mores" flavor at Golden Spoon features the gooey taste of marshmallows, chocolate chips and graham crackers in each and every bite.

Reach Kelli Shiroma here or follow her on Twitter.