Nation and World
Venezuelan Protests: One Month Later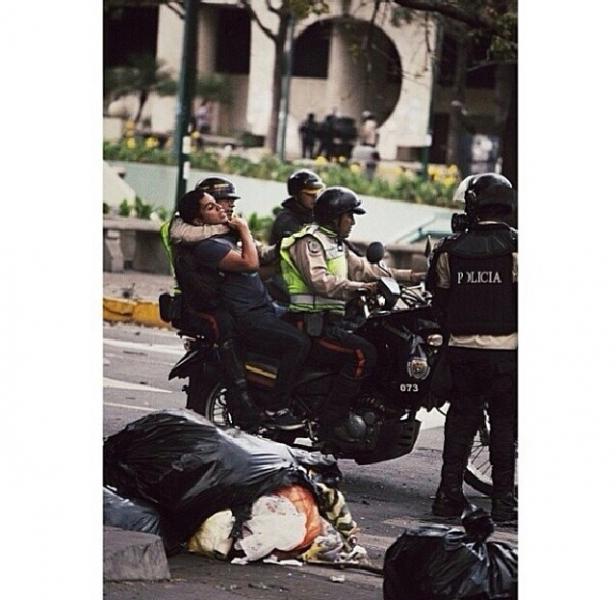 What started off as a student protest against crime has devolved into horrendous remonstrations all over Venezuela. Barricades, gas bombs, bullets, and violence continue to fill the streets throughout cities including Altamira, Caracas and Valencia.

Over 300 people have been injured and 29 people have been killed so far; there appear to be no signs of the violence reaching a conclusion in the near future.

It has been over a month since the protests began and despite the extreme force and brutality orchestrated by President Maduro's government, demonstrators continue to fight.

Some have complained that rather than trying to find a solution to the ongoing unrest, President Nicolas Maduro is using the United States as a scapegoat—accusing the country of inciting and supporting the protests. Venezuelan Foreign Minister Elias Jaua, accused Secretary of State John Kerry of being a "murderer," claiming that every time he gives a speech, he instigates more violence from protesters.

In a press conference President Maduro said that he plans to amplify operations against those taking radical measures—especially focusing his efforts in Caracas, San Cristobal and Valencia.

Watch The Full Interview: Full Interview: Nicolas Maduro

Despite these occurrences, the Venezuelan president unapologetically told CNN reporter Christiane Amanpour that he "sleeps like a child" and has "total peace of mind." His statement prompted an onslaught of criticism and ridicule, given the turbulent state of his country.

Throughout the protests, Maduro has met with opposition leaders, assuring them of his intention to "listen and respond with respect and affection;" yet many protesters believe that is only a strategy to prevent international criticism. While Maduro continues to meet with his critics, he continues cracking down on those who oppose his actions.

Though the aggravating protests in Venezuela have failed to receive as much attention and media coverage as the situation in Ukraine and the mysterious disappearance of the Malaysian Plane, the protests are having serious effects in other countries.

Tony Tyler, the CEO of the International Air Traffic Association, said that the Venezuelan government is stopping airlines from repatriating around $3.7 billion in earnings.

Additionally, Air Canada suspended flights to and from Venezuela. According to CNN, Canada's largest airline declared in a statement that "due to ongoing civil unrest in Venezuela, Air Canada can no longer ensure the safety of its operation and has suspended flights to Caracas until further notice." Depending on the outcome of the protests, their firm stance eventually may eventually hurt the company after Maduro told reporters of El Nacional that any airline who suspends operations with Venezuela will not be allowed back during his presidency.

Read More: Air Canada suspends flights to Venezuela

Last week The New York Times revealed that in Caracas, Venezuela, riot police officers and soldiers deterred a march of thousands of student protesters with the use of pepper spray, water cannons, and tear gas bombs.

Yet, this week people continued walking out into the streets of Caracas in support of opposition leader Leopoldo Lopez. Lopez has now been incarcerated for a month after having been accused of inciting the violent protests.

Protesters told Univision reporters that they will not withdraw from the streets until the government rectifies itself and finds solutions to the problems within the country.

People around the world are hopeful that their solidarity and bravery against Maduro's regime will ultimately lead to the positive changes for which Venezuelan protesters are risking their lives.

Contact Staff Reporter Karla Martinez here or follow her on Twitter.