International
USC STAND Hosts Event to Educate Students On Congo's Mineral-Conflict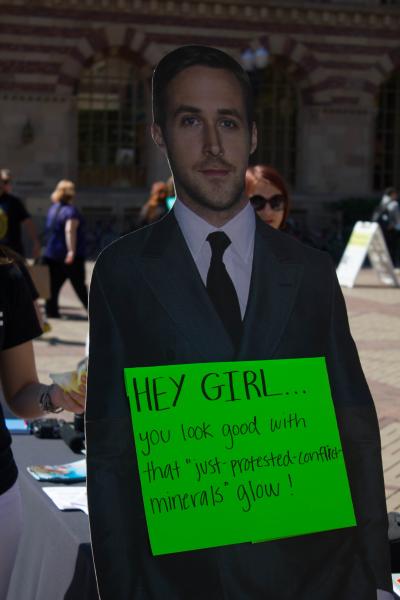 In an attempt to raise awareness for the re-occurring violence in theDemocratic Republic of Congo (DRC),
USC STAND: the Anti-Genocide Coalition
hosted an assortment of activities to get students involved.
The focus of the event was on the international consumption and use of devices made with "conflict" minerals. Minerals like tantalum, tungsten and gold are used to produce the metal in cell phones, laptops, tablets and other electronic equipment. What makes these materials a source of conflict is how militias use the profit from mineral sales to buy weapons and violently push their tribal agenda while continuing to control the mines.
DRC is the most mineral-rich country in the world with 40 percent of Africa's fresh water supply and about 45 percent of Africa's equatorial forest, according to Congolese Pastor Kasereka Kasomo.
DRC's mineral-conflict is part of a larger racial matter that's been going on since the outbreak of civil war in 1998. Since that time over five million people have been killed, with millions more forced from their homes.
Pastor Kasomo came to the USC event and spoke to students about the history of DRC and some of the hardships he's faced.
USC STAND held seminars before and after the event to share more information with students on what exactly is going on in DRC and how the United States is connected.
The group said it wasn't asking students to stop using their laptops and cell phones, but to simply make smarter consumer choices.
"Next time you're on Amazon.com, take the time to search the Internet and see if what you're buying is coming from a conflict-free mining zone," said Francesca Bessey, USC STAND's administrator director.
Bessey performed a spoken-word poem at the event, calling for students to be more aware of how their everyday actions, through their electronics, may be funding a bloody conflict from afar.
Bessey and STAND were also petitioning USC to release a statement saying the university is conflict mineral-free and that it fully supports companies with current or future conflict-free business strategies.
Currently 14 companies in California knowingly trade with warlords to acquire the minerals needed to make their products, said Kasomo.
And some well-known organizations like Nintendo, Nikon, and Sharp are ranked low in terms of progress toward conflict mineral-free manufacturing, according to a list assembled through an anti-genocide intiative of the Enough Project Campaign.
Microsoft, Intel and HP are some companies that ranked high. Apple also recently announced that it no longer will use the mineral tantalum from conflict-mineral zones.
The Enough Project is affiliated with the Genocide Intervention Network, which also supports STAND and its USC chapter.
Companies are required to disclose the use of conflict-minerals coming from DRC as part of Section 1502 of the Dodd-Frank Act, which also states that companies must provide a report concerning "due diligence" on the custody of such minerals.
While the efforts of USC STAND are noble, Sneha Chug, a USC student, and someone who's been visiting the DRC annually for the past 12 years, said often organizations like USC STAND overgeneralize the issue of conflict minerals onto the entire region of the DRC.
She says that most of the country is not in a state of conflict, and that the majority of the conflict mining occurs in the eastern part of the DRC.
Chug opined that organizations who use blanket statements about conflict minerals in DRC are convincing other companies to declare all of DRC a conflict zone, causing trade embargos.
As a result, the entire country is suffering economically, including the conflict-free mines in Congo.
Chug believes one of the best ways to fight the violence in Congo is through accountability, but says that many miners don't understand or know how to take on such a role.
She thinks activism groups should be helping people in conflict-mines learn to become more accountable instead of shunning these people altogether, which often include workers who are simply trying to make a living and have nothing to do with the violence taking place.
Bessey responded to Chug's comments in a follow-up interview, arguing that perhaps the rhetorical nature of the event could have been better, but that the issue isn't just about eastern DRC because the conflict, though physically concentrated in the east, affects the entire region.
The Congo awareness event also implemented the use of celebrity through the likes of a cardboard cutout of Ryan Gosling, who has given money toward solving the conflict in Congo.
When asked about how earnest she thinks celebrities are toward the DRC mineral awareness effort, Bessey said that if a celebrity is able to get just one person to shed the ignorance he or she may have about the situation in Congo then "its a victory, however minor it may be."
Ben Affleck is the most recent celebrity to be associated with DRC, with his Eastern Congo Initiative, a non-profit advocacy group targeting improvement in the region.
On February 26th, Affleck testified in front of a Congressional court about the violence occurring in eastern DRC.
Jewish World Watch, one of the organizations in attendance at the USC STAND event, will be hosting several walks to end genocide throughout southern California for March, April, and May.
Reach Contributor Victor Figueroa here, Follow him on LinkedIn or Twitter
Also check out Victor Figueroa's other work vicfig.com