International
UK Legalizes Same-Sex Marriage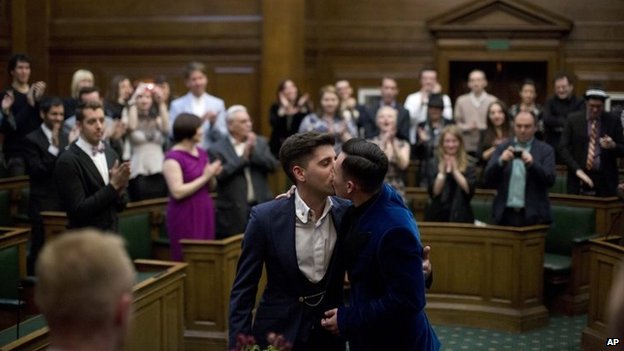 Prime Minister David Cameron called Saturday a "historic day" as gay couples said "I do" for the first time in England and Wales.
READ: At midnight hour, UK holds first same-sex weddings
"Civil partnerships" have been legal in England since 2005, allowing same-sex couples the same legal protections as heterosexual couples.
WATCH: Gay couples say 'I do' in England and Wales
They'll now, however, be able to have the title of marriage.
WATCH: Same-sex marriage now legal as first couples wed
This marks a shift in attitudes in a country where until 2003, homosexuality "promotion" was banned in schools.
PHOTOS: In pictures: UK's first gay weddings
Scotland passed a similar bill in Febrary. Same-sex marriages are expected to begin there in October.
Reach Executive Producer Anna Sterling here. Follow her on Twitter here.