Arts+Culture
TOTEM at Santa Monica Pier: Perfect L.A. Activity
No plans for the weekend? Hop in the car and attend a Cirque du Soleil performance in Santa Monica. This past week, I along with 39 other USC students were chosen as lottery winners to watch the spectacular Cirque du Soleil Totem performance. It was the perfect night, no rain or gloomy clouds to spoil the moment. In fact, it was the perfect atmosphere to sit in the warm blue and yellow striped tent of Cirque du Soleil.
SEE ALSO: Cirque Du Soleil TOTEM: Evolution Under A Big Top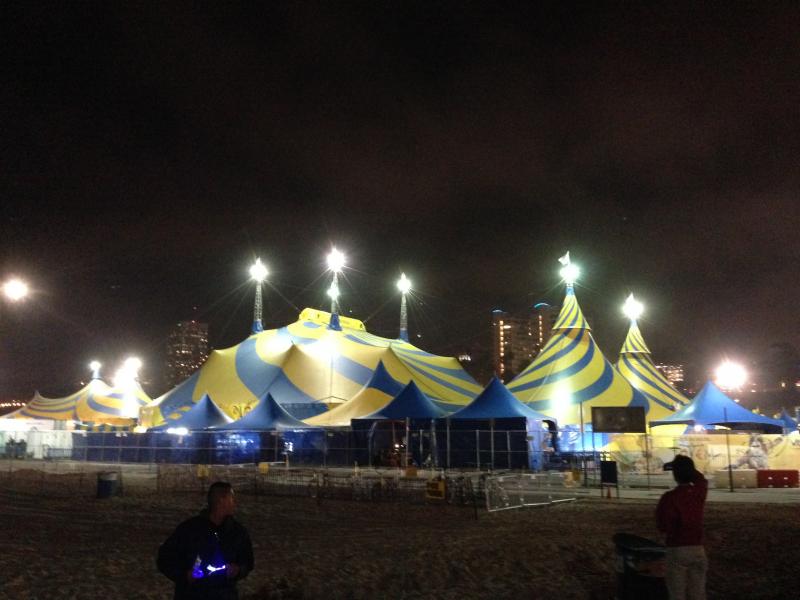 The pier was amazingly beautiful at around 7:00 p.m. If you do plan on attending TOTEM at Santa Monica Pier, book your tickets for the 8:00 p.m. show. And be sure to arrive at least an hour early before the show starts to enjoy the beauty of the area.
An hour before the show started, we went over to Santa Monica Pier Burger and got some vanilla frozen custard with cookie dough. To be perfectly honest, $4.75 for a tiny cup of custard did leave me in shock when I saw the size of it; however, nothing was going to spoil the excitement I had for Cirque du Soleil.
Before the performance begins, stroll along the pier or if you love the cold, go further down the beach and embrace the fact that you are about to do something especially special tonight. Nothing beats watching circus art and street entertainment at night. It really gets you in the mood and involved in the performance.
As for me, I found TOTEM at Santa Monica Pier to be a WONDERFUL and beautiful performance. The portrayal of frogs was especially realistic and the most breathtaking part of the show. The anticipation and nervousness we all had for the performers on their six feet tall unicycles was unbeatable. Each of us held our breath, hoping that they wouldn't fall off when catching bowls on their heads.
The only disappointment I had with the show was the ending. I was expecting more of a grand finale, you know, like a big BANG that emphasizes that it's the end. Instead, my reaction was more like, "what? It ended?"
Regardless, viewing TOTEM at Santa Monica Pier is definitely a special and memorable experience. If you're looking for something special to do this weekend, this just may be the perfect activity for you.
TOTEM performances are only on at Santa Monica Pier through March 16. Check out ticket availability here.
Reach Contributing Writer Amy Tseng by email.