Theater and Dance
Theater Review: 'Tartuffe' At A Noise Within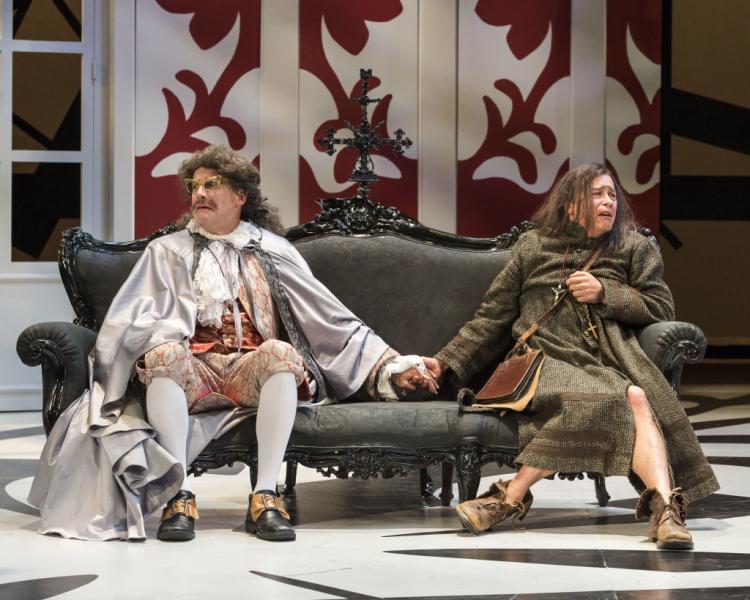 "Tartuffe" is one of the funniest plays of all time. Molière's most famous play is a wonderful example of a comedy of manners done quite right.
The production currently playing at A Noise Within in Pasadena hits most of the right notes, but ultimately falls shy of being the comedic masterpiece it could be.
The story follows Orgon (Geoff Elliott), a bumbling master of the house who has been taken in by the ruses of Tartuffe (Freddy Douglas), who is pretending to be a priest in order to sidle up against the wealthy Orgon. Orgon's wife, Elmire (Carolyn Ratteray), daughter, Mariane (Alison Elliott), and son, Damis (Mark Jacobson) are not so easily fooled, but Orgon is adamant that Tartuffe is an honest man. As Tartuffe's schemes become more and more disruptive, threatening to break up the engagement between Mariane and her true love, Valere (Rafael Goldstein), it become clear that something must be done, and so Orgon's family conspires to reveal Tartuffe's true colors.
READ MORE: Theater Review: 'The Bungler' At A Noise Within
The acting is all strong, and Julia Rodriguez-Elliott's direction is fairly adept, and hits many of the comedic moments well, but there's a sense that the show isn't quite complete. Perhaps it comes from Douglas' too-sympathetic portrayal of Tartuffe (it's hard to hate a fraud who doesn't actually seem to have any ulterior motives), or the unexplained anachronistic elements (why is there a disco ball?), but the overall effect is somewhat half-baked.
It's difficult to stage a script as strong as "Tartuffe" poorly, and the production at A Noise Within is by no means deficient. It's just nowhere near as good as the company is capable of, as evidenced by their successes with similar plays, like Molière's "The Bungler," or this fall's "The Guardsman."
"Tartuffe" plays at A Noise Within (3352 E Foothill Blvd., Pasadena) through May 24. Tickets are $34-$58. For more information, visit anoisewithin.org.
For more theater coverage, click here.
Reach Theater Editor Katie here; follow her on Twitter here.