Theater and Dance
Theater Review: 'The Musical Of Musicals, The Musical!' At The Chromolume Theatre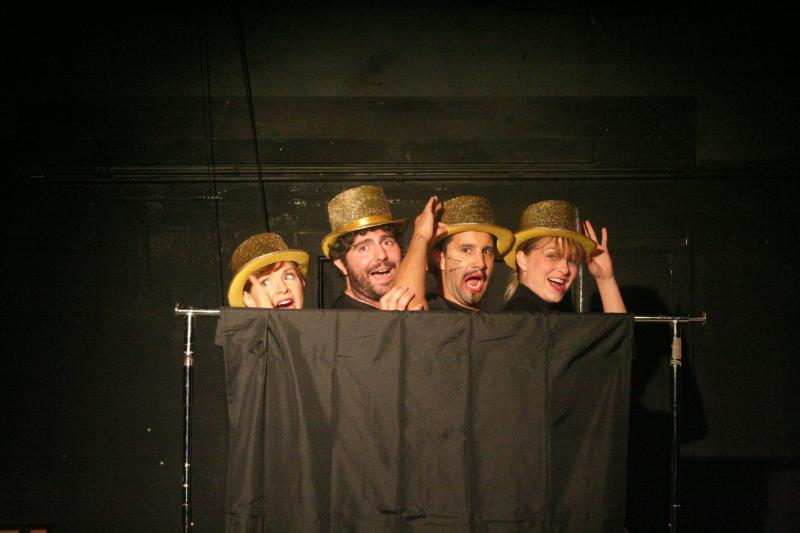 Anyone who's watched a pained sketch by a guest comedian on late-night TV knows it's not easy to get laughs. Humor is extremely difficult to achieve, because the most important quality for a comedian to have is completely immeasurable. It's a
je ne sais quoi
personality factor, a natural magnetism that makes the distinction between a try-hard and a true comedian. With it, humor is effortless; without it, it's fake.
Even though "The Musical of Musicals, the Musical!," showing now at the Chromolume Theatre, is billed as a comedy, the humor could have easily fallen flat after a few scripted laughs. But a few pregnant silences and facial expressions into the first number, the cast proved that they get it. The funny is real.
"The Musical of Musicals, the Musical!," created by Joanne Bogart and Eric Rockwell and directed by Kristin Towers-Rowles, is a satirical look at the classic musical. The show has five parts, each a short sketch written in the style of a famous musical composer. Each part is an iteration of the same quintessential musical theme: a young, naïve girl can't pay her rent on time. She and her comrades—a goodhearted romantic interest, a "helpful" aging star, and a psychopathic landlord—take on slightly different personas in each part. Jean Altadel as June plays a young country girl à la Fraulein Maria in "Corn," modeled off of Rodgers and Hammerstein, and later, strong-willed Junita opposite Jason Chacon's Phantom Jitter in Andrew Lloyd Webber-style "Aspects of Junita."
READ MORE: Theater Review: 'Tartuffe' At A Noise Within
The show is a self-aware romp through all of the most pompous musical clichés. There are obvious allusions to other musicals, but all comically mismatched and mangled. Phantom Jitter, for instance, wears an ill-fitting, plastic opera mask and takes Junita on a "gondola ride" across the stage in a red Radio Flyer wagon.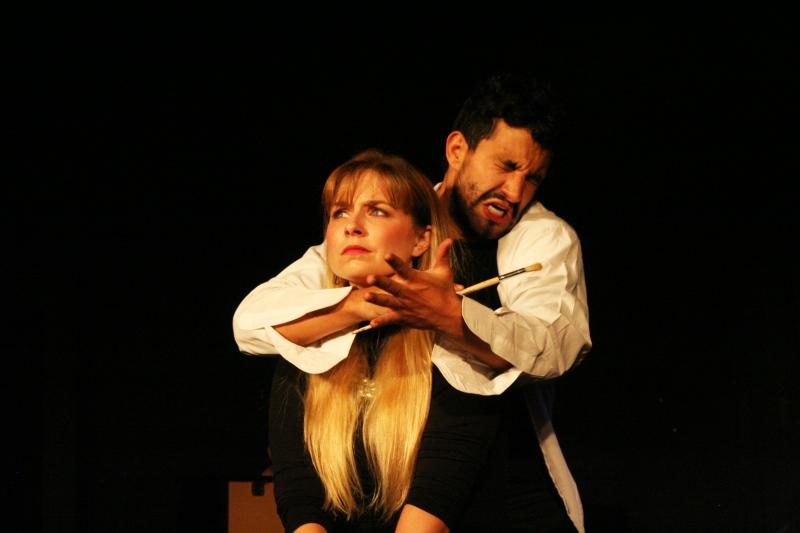 In "Dear Abby," secondary characters Junie Faye (Altadel) and William (Jason Peter Kennedy) sing "There's no reason for the rhyming, 'cause we're only marking time until the star gets back on stage…the plot is not advancing, but so what? At least we're dancing to a showtune…" The production is a pointed parody of other musicals, yet it's still very much a musical itself. The performances, while comically exaggerated, are classically strong. Christina Morrell's singing is especially impressive as she moves through the show's five very different musical styles as Abby.
Indeed, the double-cast production's greatest strength is its talented actors and actresses, who all have the inborn gift of comedic timing. The show would be much less without their perfectly elongated awkward silences and purposefully overdone physical comedy. Jason Chacon as Jitter and Jason Peter Kennedy as Billy steal the scene again and again with their hilarious twisted facial expressions.
All in all, "The Musical of Musicals, the Musical!" is an amusing show with a funny and talented cast. It's definitely worth a weekend trip to the cozy Chromolume Theatre.
"The Musical of Musicals, the Musical!" is playing through March 23rd at the Chromolume Theatre (5429 W. Washington Blvd, Los Angeles). Tickets are $23-$28. For more information visit the Chromolume Theatre's website.
For more theater coverage, click here.
Reach Staff Writer Gigi Gastevich here.