Theater and Dance
Theater Review: Impro Theatre's 'Shakespeare UnScripted'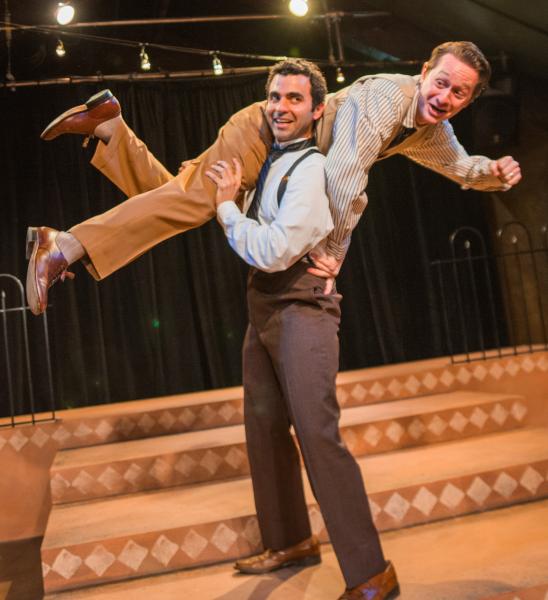 William Shakespeare will be 450 this April. One wonders what he would think about how he is viewed in the world today. No doubt—after he freaked out about the Internet and the concept of indoor plumbing, that is—he would be gleeful as to how his name has developed to be used as a certain style, that to have something be Shakespearean means to follow certain tropes and expectations.
Impro Theatre's "Shakespeare UnScripted" takes that version of Shakespeare, and with just a few requests from the audience of an event and "something of nature," sets off on the world of improvising a play. The program notes that the way the company works is that they immerse themselves in the world of Shakespeare—in the devices, archetypes and constructs he is known for—in order to create a new performance every evening.
ALSO SEE: Theater Review: '50 Shades! The Musical' At The Kirk Douglas Theatre
Reviewing improv is always difficult. After all, unless you were at the same show as the critic, you will be seeing a completely different play when you attend. But the seven ensemble members who made up this performance, under the direction of Brian Lohmann and Dan O'Connor, made the show awesome filled with awesome sauce. There was a lot of teamwork, which is vital to any improv performance. Special kudos have to go out to the 'lighting improviser' Michael Becker and the sound improviser Alex Caan, as the tech was always right in line with the plot as it developed.
The plot invented this performance had all the necessary tropes of a Shakespeare comedy, from a new royal deciding he needed to be married, to hidden identities and swapping of roles, to a potential treasonous subplot, to the obligatory plot twist at the end, to even the archaic double entendre. And, of course, the asides and Elizabethan language that Shakespeare is known for were also heavily present.
ALSO SEE: Theater Review: 'The Musical Of Musicals, The Musical!' At The Chromolume Theatre
The troupe was blatant about it being improv, including the running joke about a plague of interruptions within the world of Padua, where the main action took place, that "explained" away the fact that they spoke over each other occasionally. The laughs were plenty, and I would eagerly go back again to see what other Shakespearean stories this troupe would create. Whether you love Shakespeare with so much passion you plan on eating a cake for his birthday or you think he's as dry as sandpaper, Impro Theatre's "Shakespeare UnScripted" is entertaining, engaging and enjoyable. It shouldn't be missed.
Impro Theatres production of "Shakespeare Unscripted" is playing through May 4 at the Carrie Hamilton Theatre at the Pasadena Playhouse (39 S El Molino Ave). Tickets are $30, with student tickets of $15. For more information, visit Impro Theatre's Facebook page.
For more theater coverage, click here.
Contact Contributing Writer Angie here, and follow her on Twitter.