Arts+Culture
Theater Review: '50 Shades! The Musical' At The Kirk Douglas Theatre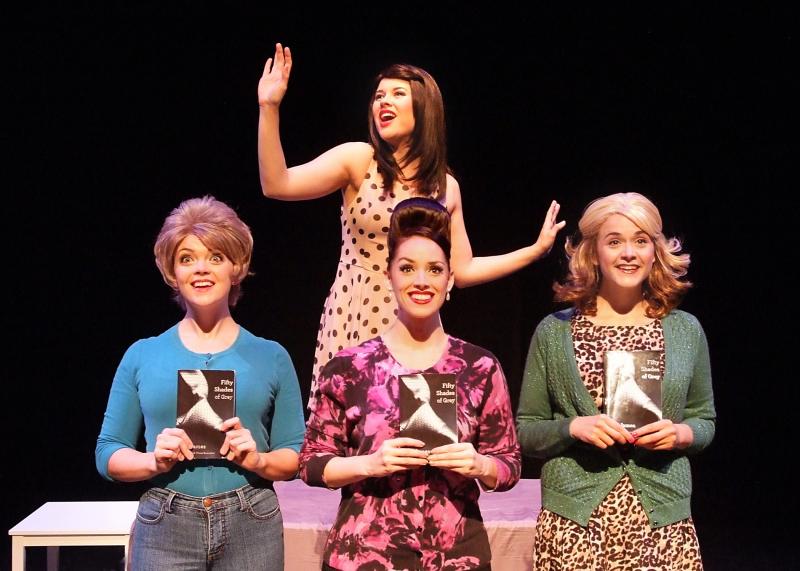 The theater lights dim as the last groups of middle-aged women prance through the aisles, some dragging their boyfriends by the cuffs of their shirts. The intimate space echoes muffled, premature giggles and smells vaguely of alcohol. A voice introduces the show through the loudspeaker by stringing together a series of 69 jokes, and instantly, the hysteria has begun.
"50 Shades!" is a parody of the book franchise of the same name, which has utilized the abundance of critiques about the story and employed them for comedic purposes. The show manages to do this quite well, as it centers around the book club meetings of three less-than-satisfied housewives. These actresses deliver a remarkably funny performance as acting stereotypes of the cult following that developed from "50 Shades of Grey." While their scenes are somewhat fleeting, the girls certainly make an impression. Tiffany Dissette, who plays the adventurous and imaginative Pam, thrills the audience with her priceless facial expressions as well as her impressive vocal chops. Sheila O'Connor, whose role lacks the quantity of speaking time that the other women have, proves that there are evidently no small parts. O'Connor's shy, Christ-fearing character, Carol, paints hilarity into the background of every scene. Her body language is appropriately outrageous.
READ MORE: Exclusive Interview With Tiffany Dissette From '50 Shades!'
The pairing of Ana (Eileen Patterson) and Christian Grey (Jack Boice) is quite unconventional—and equally uncomfortable most of the time—but succeeds in playing off of the backlash against the BDSM relationship. The actors are certainly not what one would expect who has read the books. The production team is currently withholding the publicity of photographs of the actor who plays Christian Grey, most likely to preserve the element of surprise (Grey's physique is not exactly as the novel suggests). Despite his surprising character, the audience's eyes are fixed on Boice, who plays Grey. His vocal inflection and confident swagger ooze confidence and assurance in his own sexuality. Juxtaposed with his appearance, the audience is collectively overcome by a fit of laughter. His dynamic with Patterson's Ana is utterly absurd and intriguing.
"50 Shades!" is raunchy yet compelling—much of the show centers around various reprisals of a song entitled, "This Hole Inside of Me." The cast definitely goes there, and they do so with pride. Inhibitions are discarded, and instead replaced with whips and high-pitched vocal "inflections." The performance is sexy in its odd way, and the audience cannot tear their eyes away from the excessive touching and exaggerated movements occurring on the stage. This musical is a shameless, fun, and completely enticing experience.
"50 Shades!" plays at the Kirk Douglas Theater (9820 W Washington Blvd, Culver City) through March 30. Tickets are $30-$50. For more information visit 50ShadesThe Musical.com.
For more theater coverage, click here.
Reach Staff Reporter Emily Mae Czachor here.