International
Taiwan's 'Sunflower Revolution': Trade Deal Or Democracy?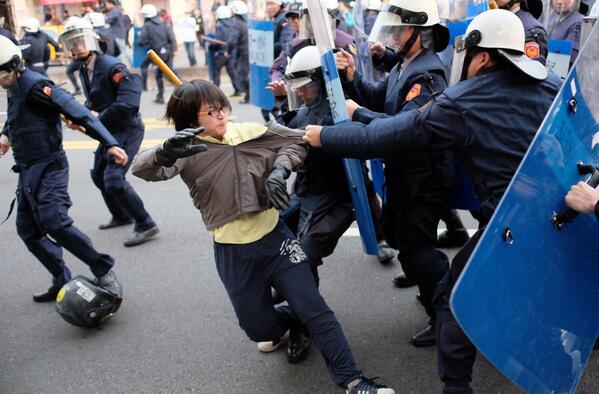 Taiwanese students headed to the streets on Thursday after a failed conversation with President Ma Ying-Jeou over a controversial trade pact with mainland China.

Coined the "Sunflower Revolution," tens of thousands of protestors swarmed the streets of Taipei with sunflowers, a symbol of hope and freedom, after a call from student leaders to escalate their "war" with the government.

"There is no meaning to hold a dialogue. We invite everybody to take the street today and start for a weekend rally," student leader Lin Fei-fan said in a news conference outside parliament, where about 1,000 demonstrators have occupied for more than a week.

The call came after an offer from Ma to meet student leaders on Tuesday. Ma agreed to talk about the trade agreement that signed in late June 2013 to drop 80 business barriers in China and 64 in Taiwan, said Ma's spokesman, Lee Jia-fei.

But the conversation failed to reach agreement on whether to have this trade deal.

Ma said the deal would open many Taiwan's service industries, including banking, printing and hair dressing, to Chinese investment market while providing Taiwanese business with similar opportunities in China.

"It is vital to Taiwan's economic future," Ma said in a news conference after the meeting with student leaders. However, protestors said a freer trade environment would allow large businesses in China to swamp Taiwan's small businesses, concerning that it would damage the overall economy.

"Eighty-five percent of Taiwan's companies are 'micro-enterprises,' with less than 10 employees…The deal will clash with small business here," Ketty Chen, a professor at National Taiwan University, said on her blog.

The protest first took place on March 23rd. Over the past week, thousands of people, including college students, teachers and small business owners demonstrated around Taiwan parliament, according to Chen who has been following the protests and blogging along the way. Student leader Lin said the continuing protest was not just to express concerns of small businesses, but also "on Taiwan's democracy."

Last Monday, Taiwanese police fired high-pressure water cannons on hundreds of student demonstrators who broke into the cabinet compound and reached to Premier Jiang Yi-huah's office on the first day of protest, according to Lin. More than 150 people were injured and 61 students arrested when police forced demonstrators away from the courtyard of the cabinet compound building, Executive Yuan, according to a recent report at Los Angeles Times.

"This was a direct infringement of Taiwan's democracy," said Lin. "If people don't have sights over the government, that's fake democracy and genuine dictatorship."

A week after the protest first broke out, mixed reactions came from people in the country. Hong Long, owner of a hair salon in Taipei, a city in Taiwan, said his store would not be affected after Chinese investors enter the market.

"Prices are already low, and pumping money into a salon won't make a stylist more fashion-forward," he said.

He added investor would only bring in money, but the technique in Taiwan is still better. Jenson Yeh, a salesman from southern Taiwan who has been participating in the protest for a week, said the agreement has political implications.

"I can imagine the Chinese is using government investment to penetrate Taiwan to a degree where they have power in every aspect of the society," Yeh said. He said he would rather sacrifice some economic growth to preserve Taiwan's freedom and make people's voice be heard.

As many students involved in the demonstrations, university schedules were disrupted. According to a figure from a news outlet in China, 52 university presidents signed a petition urging the government to resolve this issue with students.

"Some professors see it as a teachable moment and have moved their classes to the scene of demonstrations," said Chen, professor at National Taiwan University.

Student leaders said after the conversation with president Ma that the government was insincere and didn't provide details on the agreement for holding serious talks. They demanded the government to abolish the agreement and pass legislations on monitoring all trade deals with Mainland China.

"We won't give up until Ma Ying-jeou scrap the trade service pact," said a student leader Lin in a news conference.

The protest, which has involved an estimated 10,000 demonstrators since last Sunday, is the biggest challenge to Ma's rule since he took the office in 2008, said Chen.

China, which considers Taiwan to be one of its provinces, has developed extensive business ties and collaborations during Ma's administration.

Reach Staff Reporter Xin Li here.