Opinion
No-Makeup Selfies A Slap In The Face To Women With Cancer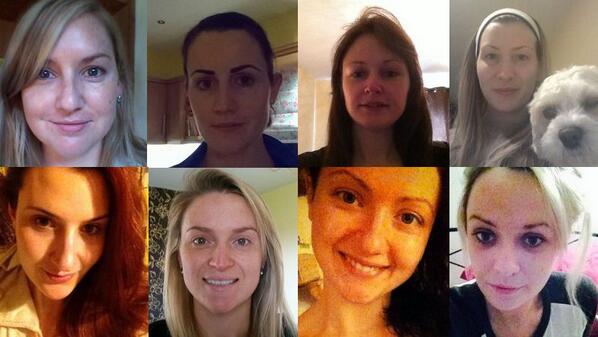 What do cancer, makeup and selfies have in common?
Nothing really, but these three have come together to form the #nomakeupselfie. The #nomakeupselfie trend—women posting pictures of themselves with no makeup to raise money for cancer research—has been the latest craze on Facebook and Twitter.
Its origins are as random as its gain in popularity. It can be traced, in part, to the Oscars this year when 81-year-old actress Kim Novak appeared with having work done on her face, to the point where it was difficult for her to move her face. After a Twitter war that ensued, with both those criticizing and defending Kim, author Laura Lippman posted a picture of her bare face on Twitter with the hashtag #itsokkimnovak. This caused a trend of celebrities, including Gwyneth Paltrow, posting no makeup selfies of themselves for various causes.
Beginning last Tuesday, women in the United Kingdom started posting selfies of themselves with no makeup on in a movement to raise money to fund cancer research. Women nominate their friends to post a selfie and then can text HOPE to the number 20222 to donate $5.00 to cancer research. The trend hit the United States on Thursday, and as of Thursday morning, £8 million ($13 million) for cancer research had been raised, enough to fund 10 critical trials that had been awaiting funding. Donations in the U.K. are going to Cancer Research UK and donations in the U.S. are going to the American Cancer Society.
Although no one can deny the positive contribution this movement has made to funding cancer research, I don't think the same can be said of supporting actual women battling cancer.
This movement implicitly states that a woman revealing her bare face to the public is monumental and that it needs a movement or an "excuse" in order for it to happen. By using no-makeup selfies to raise awareness for cancer implies that there is some correlation between the bravery of women showing their bare faces and the bravery of someone battling cancer. However, I think it can be agreed upon that these two cannot even be compared to one another.
Yes, there is a certain amount of recognition due to women who expose their bare faces to the world in a society that tells women their beauty and consequently their worth comes from their physical attractiveness. Many women use makeup as a means to cover up their flaws so that they are able to project a more "perfect" image to others. This image makes them more noticeable and favored, or at least less criticized. For some women, makeup is a means of gaining confidence, and thus I don't think using makeup should be viewed as negatively as it sometimes is.
However, there's something strictly different between exposing your true face with all of its "flaws," and not being able to identify or remember your true face. For those fighting cancer, the treatment takes its toll on the patient, most apparently through their physical appearance.
Because this movement was mostly about women taking barefaced selfies (the movement also included males who showed their support by taking selfies with makeup on), I will compare them to women fighting cancer.
In the midst of writing this article, I've come across everything from the mix-up of the donations that were supposed to go to support cancer research going to adopting polar bears from the World Wildlife Fund (the donations were all transferred to fund the cancer research) to the female student at Oxford who posted a picture of her bare and beaten face and used the movement to take a stand against sexual violence. However, I was surprised to see how little information there was from the perspective of a woman with cancer.
I don't doubt that women with cancer, anyone with cancer or anyone that knows someone affected by cancer for that matter, supported the movement which raised money for cancer research. However, I don't think that the method the movement used was necessarily empowering for the actual women who are affected by cancer.
Women who participated or are participating in this movement that implies that showing your bare faces is revealing you in your "worst" condition, think about how you're slapping the faces of women with cancer.
For women who are fighting cancer, they lose their face a little more every day.
For women who are fighting cancer, they live with the fear that they will like their face less than they did yesterday.
For women who are fighting cancer, they know that they can't "cover up" the flaws in their faces because that wouldn't be enough; that wouldn't make a difference.
Women battling cancer actually experience their physical appearance at its "worst." Their bodies are deteriorating and they're unhealthy, which reveals itself physically. For a woman to feel that her healthy, bare face is the "worst" condition that she could be seen in is rubbing salt in the wound for women battling with cancer and having to look in the mirror every day to see an unhealthy, unrecognizable face staring back at them.
Women who are fighting cancer can feel the pain internally, but they can also see this manifested in their diminishing physical appearance. On top of knowing that they might not even survive to see their face tomorrow, they know that everyday their face is being deemed less and less attractive by societal norms. Having to live with this knowledge, and then seeing women who are seemingly ungrateful for their health and shallow in their view of beauty post barefaced selfies to raise awareness of cancer would seem self-indulgent and offensive to women with cancer. The fact that these women are uploading a picture of themselves in support of a cause that destroys the physical body illustrates the offensiveness and how this movement placed the focus upon the self rather than the cause and those affected by the cause.
While initially at least the no makeup selfies were accompanied by the #nomakeupselfie and mention of supporting cancer research with links to where to donate, many later posts included nothing about the cause.
When you're participating in a movement to raise awareness or support a cause, I think it's important to do your research and understand the correlation and implication of the methods being used in the movement. As many of those participating in these movements are not directly affected by or particularly knowledgeable of the cause, it's important to be sensitive and think about your motivations, as well as the results of your actions on the cause and those affected by the cause.
I don't think anyone who participated in the #nomakeupselfie movement had bad intentions, and it is true that significant amounts of money were raised to fund cancer research, but I think it's important to note and think about the cancer patients that this movement sought to support. You're supporting a cause but you're also supporting the people who are affected by the cause. If you're not positively supporting the women affected by cancer, then all of that money raised doesn't really have much value.
Reach Contributor Grace Park here.