MLB
NL East Preview: A Two-Horse Race In A Top Heavy Division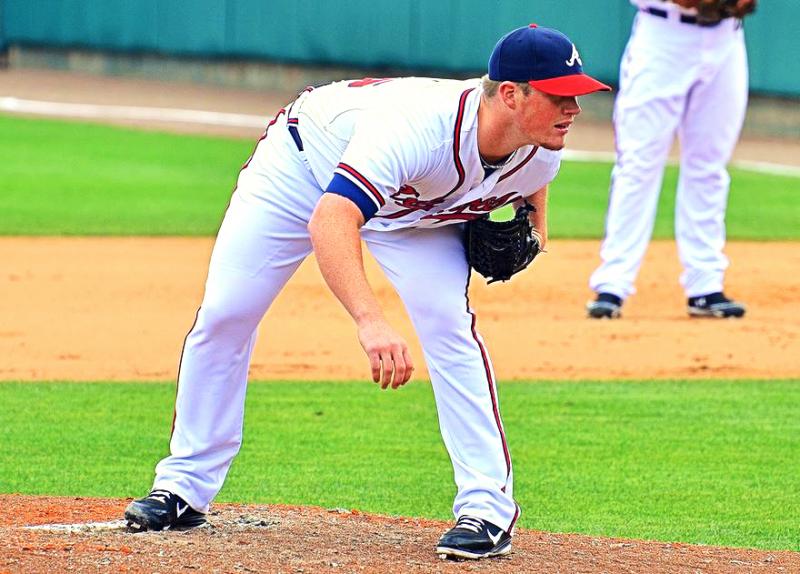 1. Atlanta Braves: 94-68 (2013 record: 96-66)
Lineup: The Braves offense epitomizes the "go big or go home" mentality. Atlanta swings for the fences and, led by Justin Upton and Freddie Freeman, they found success last season, leading the National League to the tune of 181 long balls. Chris Johnson finished second in the league in average, but as a unit, the offense struggles with strikeouts.
However, B.J. Upton should post better numbers this year after a dismal 2013 campaign in which he posted a .184 average and only nine home runs. He'll be protected in a stacked lineup with his brother Justin, Jason Heyward, Johnson, Freeman and Dan Uggla. Heyward needs to improve his average and Uggla needs to maintain some sort of consistency with the loss of Brian McCann; however, if a few of the stars start off hot, don't be surprised if it's contagious.
Pitching: With the departure of veteran leader Tim Hudson, the Braves rotation is extremely young. That said, they boast some of the league's top talent in Kris Medlen, Mike Minor and Julio Teheran. Offseason addition Gavin Floyd is expected to return form the disabled list around late April, but is primarily there only to eat up innings. The bullpen, which posted a major league-best 2.46 ERA last season, will be solid as ever, led by closer Craig Kimbrel.
Final Call: On paper, the Braves have the talent to repeat as division champions and post a number in the mid-90s in the win column. Winning another title will require several of the team's young stars to step up, but a hot start could be the spark they need.
2. Washington Nationals: 92-70 (2013 record: 86-76)
Lineup: If you're looking for star power, the Nationals have it bunches. Bryce Harper will only get better as he gets older, and he's surrounded by other power bats like Ryan Zimmerman, Jayson Werth and Adam LaRoche. Washington has speed at the top of the lineup in Denard Span, and the addition of Nate McLouth gives the team a very deep outfield.
Pitching: Washington lost Dan Haren over the offseason, but added Doug Fister to the rotation to fill his spot. Fister was a powerful force in Detroit, and considering he'll likely be the No. 4 starter, you'd be hard pressed to find a better front-four rotation in all of baseball. Steven Strasburg, Gio Gonzalez and Jordan Zimmerman are all at the top of their game. The bullpen has a star closer in Rafael Soriano and two outstanding relievers in Tyler Clippard and Drew Storen.
Final Call: It's going to be a dogfight at the top for the NL East crown between Washington and Atlanta. The Braves have a slight edge if everything pans out in their favor, but the Nationals have less questions to answer. If the Braves stumble, Washington will snatch up the NL East crown in an instant.
3. Philadelphia Phillies: 76-86 (2013 record: 73-89)
Lineup: Ryan Howard, Chase Utley and Jimmy Rollins provide the Phillies a core to work around, but the team hasn't done a lot to build a solid lineup around those stars. Howard and Rollins both had off years, putting the bulk of the offensive pressure on Utley. All three stars need to have a strong start to finish if this offense is going anywhere.
Pitching: Each year, Philadelphia's starting rotation catches everyone's eye, even though this year it will be without Roy Halladay. Cole Hamels and Cliff Lee are studs. Newly added A.J. Burnett can be hot and cold, but when he's on, his stuff is nasty. There aren't many teams that can field a one-two punch like the Phillies, and that gives them an edge in a best of three series. Unfortunately for them, Lee and Hamels can't pitch every night, so the back of the rotation will need to answer some questions as the season progresses.
As far as the bullpen is concerned, closer Jonathan Papelbon is the only proven pitcher of the group. The Phillies will need to figure out their situation with relievers quickly, because without Halladay in the rotation, they lost one of their starters who could go seven innings each outing.
Final Call: The Phillies have way too many holes to fill, both on offense and and in their bullpen. Big, consistent contributions from their stars could keep the team afloat, but they're missing too many big pieces to compete in a stacked NL East.
4. New York Mets: 72-90 (2013: 74-88)
Lineup: The addition of Curtis Granderson should do a lot for an offense that previously only relied on David Wright. Granderson brings average, power and consistency to a lineup that desperately needs it. Daniel Murphy has the potential to post a solid average, but overall the Mets lack enough power to compete.
Pitching: Adding Bartolo Colon could prove to be a great if he looks like he did last year. He's 40 years old, but last year showed he had something left in the tank. Jon Niese has potential to breakout this year, but needs to pitch longer into games.
Final Call: They were last year's road warriors, as the Mets were the only team in the division to finish with a winning road record (albeit by one game). Adding Granderson was a great move, but it's not enough for New York. If the Mets are going to win games both home and away, they need a deeper rotation and it could take a mid-season deal to make that happen.
5. Miami Marlins: 69-93 (2013 record: 62-100)
Lineup: Jarod Saltalamacchia and Rafael Furcal should give this offense an added boost. The pair also brings veteran leadership to a very young squad. Giancarlo Stanton will likely have a better year this year and bring power to the lineup, but the majority of the lineup will be new this year.
Pitching: Jose Fernandez is a monster and will only get better coming off his Rookie of the Year campaign. The staff was decent last year when all of their young arms were healthy, but the back end of the rotation is up in the air. The bullpen lost a couple relievers in the offseason, but closer Steve Cishek still anchors a unit that was pretty effective last season.
Final Call: The Marlins are young but improving. Give Miami a couple more years and they could easily be in the thick of the NL East.