NBA
The NBA MVP? All Signs Point To KD
Much like winning the NBA Finals is the ultimate postseason team feat, winning MVP is the ultimate regular-season award for an individual player. The 2013-14 NBA season has seen a number of players have excellent seasons: Whether it be the outstanding play of big men such as Blake Griffin, Kevin Love, LaMarcus Aldridge and Joakim Noah (not to mention the ever-steady play of Tim Duncan), the exceptional performances of wing players like Paul George, Carmelo Anthony and James Harden, or the emergence of players such as DeMar DeRozan, Goran Dragic and Anthony Davis, there has certainly been no shortage of storylines and standout performances. Although all of these players have played at a high level this year, the 2014 MVP race has ultimately come down to the two players everyone expected to see competing for the award at the end of the season:
LeBron James
and
Kevin Durant
.
James, the now-undisputed leader of the pack for the two-time defending champion Miami Heat, is looking to secure his fifth MVP in six years. Durant, on the other hand, is running away with what will be his fourth scoring title in five years, but is looking to not only be recognized as the NBA's best scorer, but also the league's most valuable player. Both have turned in award-deserving performances this season, and have led their teams to great records. However, in the end, only one can be crowned as the MVP. So who deserves it more? Let's take a look at their seasons thus far:
LeBron James, Miami Heat:
Core stats
26.8 PPG 6.9 RPG 6.4 APG 0.3 BLK 1.6 STL 3.5 TO 37.7 MPG
LeBron's stat line is, as it is every year, impressive. Posting nearly 27 points, 7 rebounds, 6.5 assists, and 2 steals a game is crazy good. However, James' numbers this season are actually down somewhat as compared with his career averages. His scoring is on par with what he has done over the last few years, but his rebounds, assists and blocks per game have fallen slightly. This isn't to say that he isn't playing at an incredible level, but simply raising the question of whether James is playing at top-LeBron form night in and night out. My guess is that he is saving up some extra energy for the playoffs. At this point in his career, as much as he'd love another MVP award, he understands what it takes to last through the grueling NBA season and make it to the Finals with enough gas left in the tank to take home a championship.
Kevin Durant, Oklahoma City Thunder:
Core stats
32.1 PPG 7.7 RPG 5.6 APG 0.8 BLK 1.3 STL 3.6 TO 38.5 MPG
Durant has upped his scoring average this season to more than 32 points per game, on pace to not only set a career-high, but also have a four-point advantage compared to the second-highest scorer in the league, Carmelo Anthony. However, this is not the only area where he's been better: he has also improved his passing this season, and is averaging close to six assists a game, giving his statistics a well-rounded quality, much like what James has consistently provided throughout the years. With his higher assist total per game this year, his astronomical scoring output cannot be explained by claiming that it's because he doesn't pass the ball.
Now let us take a look at some additional statistics and measurements (courtesy of ESPN):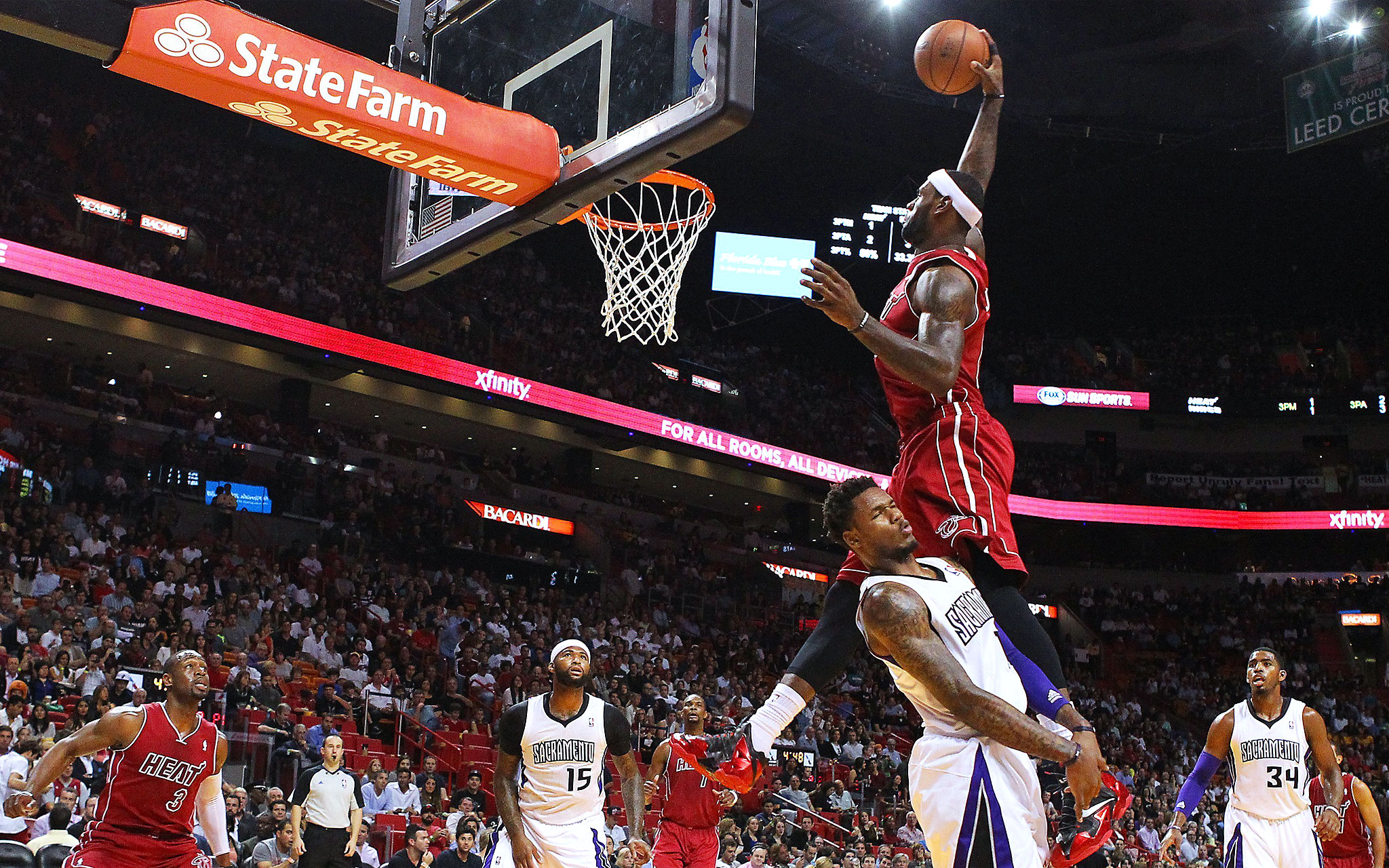 LeBron James:
.570% FG
.380% 3P
.744% FT
.29.18 PER
EWA (Estimated Wins Added): 23.1
TS% (True Shooting Percentage): .649
Team Record: 48-21, 2nd in the East
Stats this month: 25.8 PPG, 6.4 RPG, 6.6 APG, 0.5 BLK, 2.1 STL, .535 FG%
Kevin Durant:
.507% FG
.404% 3P
.868% FT
30.51 PER
EWA: 26.4
TS%: .639
Team Record: 52-18, 2nd in the West
Stats this month: 35.3 PPG, 8.0 RPG, 5.4 APG, 0.8 BLK, 0.4 STL, .491 FG%
Even in the more advanced stats and metrics, Durant has the edge on James, even if it is just slightly. While LeBron has the edge in two-point shooting percentage (an area he has always been very good in), their True Shooting Percentages—a metric that combines two-point, three-point and free-throw shooting to estimate a player's overall shooting—shows that they are very close in terms of overall scoring efficiency.
The biggest determining factor for who wins the MVP award, however, will likely be how KD and LBJ have played down the stretch. Durant has turned on the jets in not only March, but in the last couple months: He has now scored 25 or more points in 35 consecutive games. Feel free to reread that, if it blew your mind to the point of incomprehension. It's the longest streak since Michael Jordan did it in 40 straight games back in the 1986-1987 season. Durant also has three double-doubles and a triple-double this month, guiding his team to an 8-3 March record as the Thunder try and claim the #1 seed from the San Antonio Spurs.
Watch Kevin Durant score 51 in a double OT game against Toronto last week
James, on the other hand, has struggled as of late, save for a 61-point outburst against the Bobcats, a 43-point game against his former team in Cleveland and last night's 32-point effort against Portland. For the other 10 games James has played in March, he has only scored 20.5 points per game, with his team posting just a 4-6 record (a 7-7 March record overall) in those games. In some ways, James' struggles as of late highlight how valuable he truly is, as Miami has struggled during his (mostly) cold spell. However, winning the MVP award is ultimately about showing your value through successes, not struggles, and thus, it has become clear that Kevin Durant is the leader of this year's pack.
Barring a historically catastrophic meltdown, I believe Durant will unseat "The King" as the league's MVP. He has played out of his mind all year long and has carried his team to another 50+ win season, even without Russell Westbrook for a large chunk of games. However, the MVP is only a regular season award. So, the next question then becomes, can Durant also unseat James in the NBA Finals, and win his first NBA championship? We will find out soon. NBA playoff basketball returns April 19th.
Follow Ben Albert on Twitter at @hermthegerm13