Style
L.A. Fashion Blogs' Trend Of The Week: Fun Floral Prints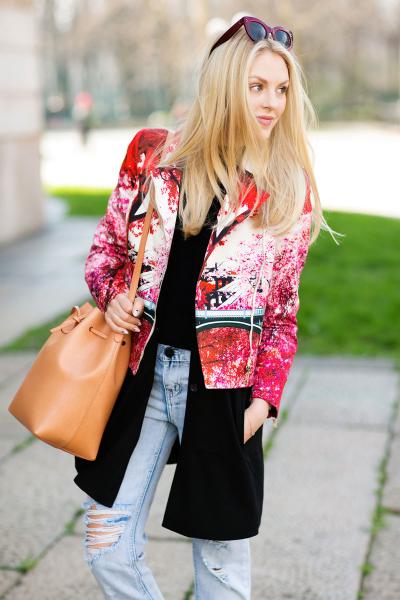 It turns out that spring showers do bring flowers. While floral prints have always been a springtime staple, this week, Los Angeles fashion bloggers find bold, new ways to wear the pattern.
Los Angeles-based blogger Shea Marie of Peace Love Shea wears a floral that is both daring and understated. She pairs the colorful, collared jacket with basic jeans and a t-shirt.
At first glance, the jacket appears to be a geometric and paint-splattered print. Take a closer look, however, and you will see that it is adorned with a cherry blossom mosaic.
The jacket, a limited-addition Mary Katrantzou design, is a bright pink/red with splashes of white and gold. Zippered detailing on the front and arms spice up the rest of the outfit.
While casual, this untraditional floral piece has the ability to transition a look from daytime into the night. The colors are vibrant, but alike in hue, and the print's precise detailing makes it stand out from others on the market.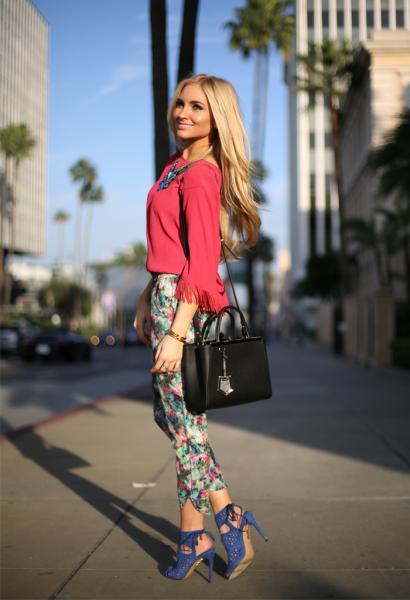 L.A. fashion blogger Sophie Elkus of
Angel Food
opts for a more traditional floral print look this week. Elkus wears a muted, fuchsia-colored fringe top with floral jogger pants. The
Sam & Lavi
pants feature an elastic waistband and front-side pockets. The floral print is colorful, but works as a neutral when paired with a solid top.
This floral is capable of shifting into a neutral zone, which is achieved by the use of bright accessories. Elkus chose the multi-colored jeweled statement necklace and cobalt blue cut-out heels that we see here. While this floral is more traditional than Shea Marie's pick, the mosaic pattern keeps it fresh amongst the basic floral prints on the racks.
Whether on the racks or on the runway, try a new way to wear floral prints for a fresh and fun addition to your spring wardrobe.
You can reach Staff Reporter Mona Khalifeh here.