Style
L.A. Fashion Blogs' Trend Of The Week: A Dash Of Pink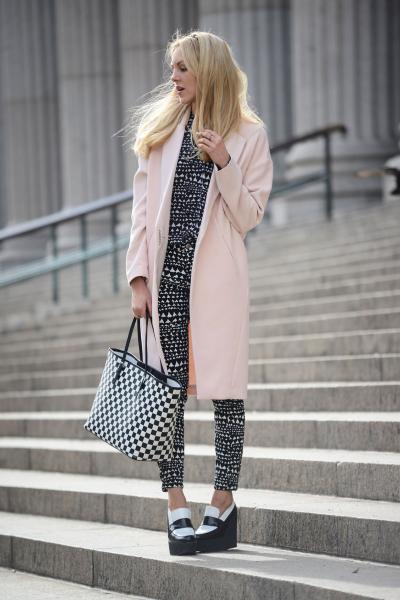 The latest color scheme that Los Angeles fashion bloggers are rocking for spring is black and white all over with a fun splash of pink.
This unique blend contrasts the hard of black with the starkness of white, and incorporates a soft pink hue to create ultra-feminine looks. It's a simple way to add a flattering pop of color and complement any monochromatic outfit effortlessly.
Fashion blogger Shea Marie of L.A.-based blog Peace Love Shea wears this color scheme in a cute way. Shea sports a Stella McCartney black-and-white patterned top and pants paired with a checkered black-and-white Michael Kors bag and chunky black-and-white loafer wedges.
While the monochrome colors and mix of patterns can leave you feeling lost, the harsh edges of this outfit are quickly softened by a long, pastel pink trench coat. The Malene Berger coat hits just below the knee and draws the eye vertically, elongating the entire look.
The trench also breaks up contrasting patterns that could potentially clash without the addition of the pale pink. The absence of major color also allows for silver accessories such as the midi rings and jeweled headband Shea chooses. Both are minimal and ideal among the playful designs.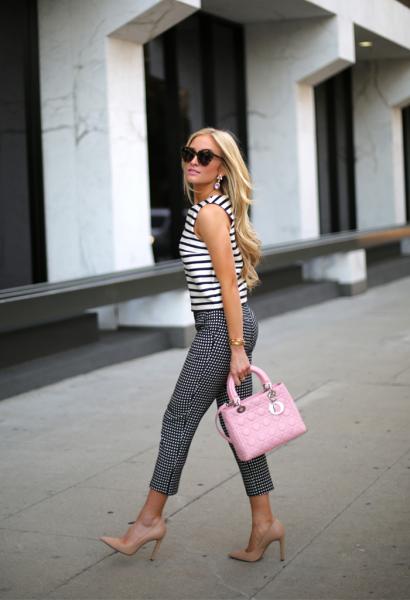 Angel Food blogger Sophie Elkus takes a similar approach this week by blending black-and-white patterns with a touch of pink. Elkus wears a pair of black-and-white gingham print trousers and a striped tank from Topshop. She softens opposing shapes with the bold addition of a pastel pink Dior bag, which stands out against the black-and-white color scheme. A nude pair of pumps completes the ensemble and serves as a nice neutral to balance the busy outfit.
This outfit is very feminine. Aspects such as the large, oversized sunglasses and jeweled earrings render it reminiscent of Audrey Hepburn. It's a modern day version of what Hepburn would wear while strolling down Fifth Avenue and peering into the glittering windows of Tiffany. The fusion of prints and contrasting colors helps to create a look that is both bold and girly.
A pastel pink statement piece is essential alongside black-and-white patterned looks to bring an air of femininity to any look this season.
Reach Staff Reporter Mona Khalifeh here.