Food
Glazed Donut Bistro: 'Donuts For Grown-Ups' Now Available In West Hollywood
"Donuts for grownups." The
tagline
for the newly opened
Glazed Donut Bistro
located in West Hollywood says it all — pastries made with high quality ingredients featuring unique combinations designed for those with a more refined palette. The eatery
launched recently
—the night before Valentine's Day—and is currently open from 8 a.m.-8 p.m. on Tuesdays, Wednesdays and Sundays; from 8 a.m.-10 p.m. from Thursday thru Saturday; and is closed on Mondays.
Sure, you'll find creations that are slightly reminiscent of "kid-friendly" donuts here, such as bite-sized donut holes. But the donuts featured at Glazed Donut Bistro contain an assortment of flavors that are often best enjoyed by "adults who know food," according to owner Harry Ben-Zvi.
He doesn't mean that in a pretentious way. Quite simply, a five-year-old who just wants a plain vanilla donut with rainbow sprinkles probably won't be a fan of the ensemble of choices, ranging from "Maple Bacon" and "Blueberry Lemon" to "German Chocolate" and "Raspberry."
"My guess is that the average age of our customer is about 35 years old," Ben-Zvi says. "We get some college kids, we have some families but it's overwhelmingly all adults here. [In addition to our sweet donuts] we have bottles of reds and bottles of whites, champagne and savory donuts. It's [our products] something that an adult who knows food can appreciate."
The menu—coupled with the ambience and West Hollywood location—definitely make Glazed Donut Bistro a hip spot where grownups can enjoy donuts. Red and white wines are suggested to accompany different donuts, and dessert wines and Dom Perignon are also available (there's an entire wine list featured). Another factor that makes this place unlike your typical donut shop is the fact that there is a savory donut menu available as well, featuring an assortment of signature sandwich-and-salad combos. The eatery includes several tables and chairs (inside and outside) so customers can linger and enjoy their pastries and not feel the need to rush out the door immediately following their purchases.
"This is definitely more of an eatery than a traditional donut shop," confirms Ben-Zvi.
All items on the sweet and savory donut menus were created by pastry chef Gena Lora, who says that the products' high-quality ingredients and fresh nature set them apart from donuts at other bakeries.
"For the glazes, we use fruit purees," Lora explains. "We use Callebaut chocolate, good cocoa powders and we make all of our toppings by hand. [For example] for 'Smores,' we make the graham cracker streusel topping by hand. We buy good toppings, too — the chocolate pearls are high quality. All the thought and love that goes into making the donuts is important, too."
Ben-Zvi is quick to say that Lora's creativity also makes the Glazed donuts one of a kind. He had the idea to start an artisanal donut shop after having plated donut—prepared by a pastry chef and served in a ramekin with an accompanying dipping sauce—for dessert one night in Las Vegas. All Ben-Zvi needed was the right chef to complete his dream.
"My background is in hospitality," he says, "and when I looked at that dessert, I thought, 'That's just uber comfort right there.' It took a bunch of trial and error until we found the right chef. Gena Lora is very modest, but she taught at Le Cordon Bleu for about 12 years, in addition to having her own catering business and opening a bakery. But she's an educator at heart; half of our staff are her former students. The kitchen is a blank canvas and Gena is hitting it out of the park."
Some of the more popular donuts from the sweet donuts menu include the fragrant "Tres Leches"—a soft, vanilla, cake donut soaked in a three-milk sauce (flavored with cardamom, nutmeg and cinnamon), dipped in vanilla bean glaze and is topped with Chantilly cream and fresh fruit—and the savory-sweet "Maple Bacon," which includes a yeast raised donut dipped in housemade brown butter maple glaze and topped with applewood smoked bacon. Other popular items include "PB & J," which is filled generously with fresh, housemade jam, dipped in a smooth peanut butter glaze and is topped with toffee peanuts; and "Smores," which includes housemade marshmallow fluff and cream, chocolate ganache and a Graham cracker streusel and marshmallow topping (Ben-Zvi refers to this one as more of a dessert but says "all of the donuts are equally deadly).
There is a good mixture of fruity donuts and chocolatey ones on the sweet donuts menu. Fruity flavors are fresh and a bit untraditional, but Ben-Zvi says customers are eager to try them.
"The 'Raspberry' [made with raspberry glaze and topped with Callebaut white chocolate pearls] is good, and I like the 'Blueberry Lemon,'" he explains. "I'm usually not very into cake donuts, but this one is good. It has cardamom blueberry and a light lemon glaze."
As if the uniquely named and created donuts are not enough, Lora has also concocted a menu of dipping sauces (served on the house) that pair nicely with specific donuts. Included on this
menu
of sauces are: "Salted Caramel," "Hard Cider Brown Sugar," "Chai," "Strawberry Basil," "Passion Fruit" and many more. The variety of sauces available, however—like the donut flavors—depend on the seasons and available ingredients.
"We try to have a fruit, a caramel, a chocolate and a vanilla [sauce]," Lora explains. "We're trying to keep it simple, but it's always changing."
"As the seasons change and new ingredients are made available to me, I'm inspired by the things I see," she adds. "Whatever's growing or I can get my hands on will probably be in the donut."
As for the items on the savory donuts menu, Ben-Zvi is quick to reassure customers that the donuts used to make the sandwiches are NOT glazed. Many customers assume that the same types of donuts featured on the sweet menu (vanilla bean glazed donut, etc.) are used to create the sandwiches on the savory menu. That, however, is definitely not the case.
"People might not realize that the savory donuts are not glazed and they're only lightly sweet," Ben-Zvi says. "The texture is of a donut, but it tastes more like a sweet roll."
Each of the items on the savory donuts menu is served with the customer's choice of French Fries or salad. Some of the most popular dishes on this menu is the "Fried Chicken Beignets"—comprising three of the eatery's lightly sweetened beignets filled with homemade, boneless southern fried chicken and paired with a delicious maple dipping sauce—and the "Monte Cristo."
"The 'Fried Chicken Beignets' is one of my favorites on the savory menu," Lora says. "The inspiration behind that was chicken and waffles. Knowing that we were going to be serving beer and wine, we thought it would be a fun bar food. The 'Monte Cristo' is a sandwich that's filled with ham and cheese. The ham and cheese go so well together and I can put it inside the dough and it fries really nicely."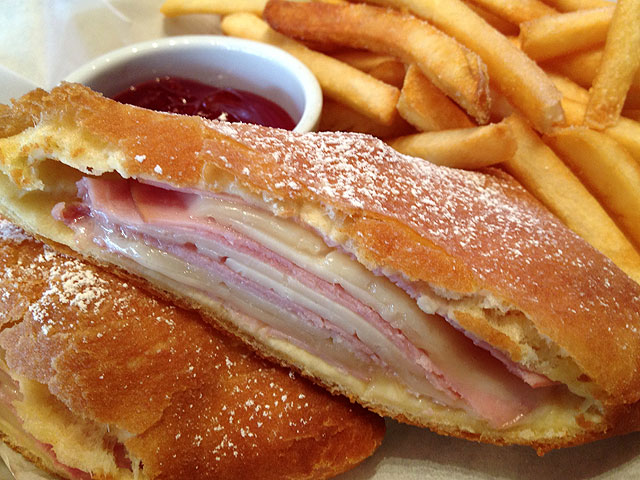 Another favorite on the "savory" menu is "Triple the Cheese," an upscale twist on the classic grilled cheese sandwich.
"It has Havarti, American and Swiss cheese made on a log roll and there's bacon jam [made with applewood smoked bacon slow-cooked with brown sugar, sweet onions and pure maple syrup] in it as well," Ben-Zvi says. "It's absolutely phenomenal."
The most expensive dish—but one that's worth it—on the savory menu is the "Shrimp Roll."
"The 'Shrimp Roll was actually inspired by Harry's father," Lora says. "He actually wanted it to be a lobster roll. You know how the bun is cut open and they fill it with lobster? We thought our shrimp version would go really well on our Long John donut."
Initially, customers may be a bit shocked at the prices at Glazed Donut Bistro — sweet donuts are typically $3-4 while the savories range from $7-14. However, Ben-Zvi notes that the savories are like a meal.
"One of the ideas here is to make sure the quality, originality, flair and service here is good enough to the point where even the more modest consumer would go, 'Yeah, I can't see myself doing this often but it's endearing,'" he explains. "We've actually had very little resistance about the prices."
Items from the savory donuts menu are available after 11 a.m. According to Ben-Zvi, the eatery enjoys a lunch rush and has a steady nighttime crowd.
"I think we're busy at night for two reasons," he says. "Our location is great — it's got a lot of bars, restaurants and clubs. Also, our donuts are natural pastries. They're more like pastries than donuts — how they're prepared, the flavors. They've got the sweetness of a pastry, not of a typical glazed donut. [The flavors] are more balanced; even our dipping sauces are not overwhelming."
Besides the donuts (sweet and savory) and the drinks featured at this bistro, the Stumptown Coffee served in-house also helps to set Glazed apart from the rest, Ben-Zvi says.
"I'm very proud of our coffee program," he says. "Their [Stumptown's] approach to coffee is similar to that of a winegrower. They have full-time people that go around the world, establishing relationships with farmers in Indonesia, South America and South Africa. These farmers are educated about sustainability and how to grow these beans and reap a better harvest; this comes through in the coffee. [Stumptown] has also been involved with us, hand-in-hand, when it came to training. All of our baristas have been trained by Stumptown, and all of the coffee we make here is housemade from Stumptown beans."
Ben-Zvi knows that his bistro is only three years old and there's plenty of room for growth and improvements. In the meantime, he hopes customers truly catch the essence of Glazed Donut Bistro and are excited about the ever-changing menu items.
"Stay tuned because things are always changing," he summarizes.
Get a sample of Glazed Donut Bistro below: