Food
Festive Saint Patrick's Day Desserts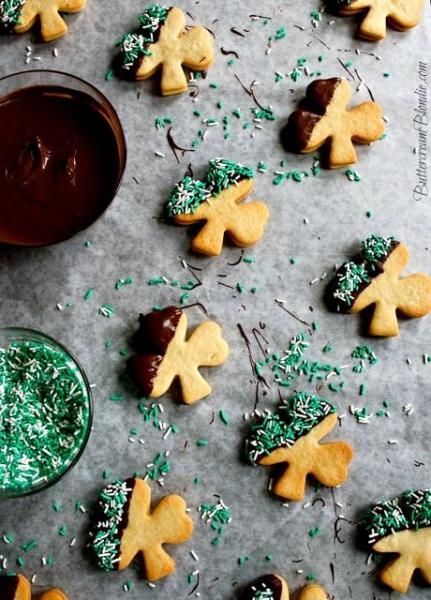 March is here and Saint Patrick's Day is fast approaching, so break out your shamrocks and green clothes! Whether you're Irish or not, celebrate the Emerald Isle with these festive desserts.

What could be more festive than Baileys and shamrocks?

Yield: 80 shamrock cookies or 40 cookie sandwiches

Baileys Cookie Dough

Ingredients:

8 ounces unsalted butter, room temperature

1 1/2 cups sugar

1 egg

1 egg yolk

1 tsp. vanilla extract

4 cups all-purpose flour

1 tbsp. baking powder

1/2 tsp. salt

1/2 cup Baileys Irish Cream liqueur

Directions:

Cream butter and sugar until light and fluffy. Add egg and egg yolk; then mix in vanilla extract.

Mix flour, salt and baking powder in a separate bowl. Alternate adding Baileys and dry ingredients into butter and egg mixture. Mix dough until both dry and wet ingredients are combined.

Wrap dough in plastic wrap and refrigerate overnight or until chilled.

Roll out dough with rolling pin, using a shamrock cookie cutter to shape cookies.

Refrigerate cut cookies for 30 minutes; this helps them retain their shape.

Bake cookies in a 350 degree oven for 12 to 13 minutes, rotating cookie tray once halfway through baking time. Cookies are finished baking when edges are golden brown.

Baileys Irish Cream Filling

Ingredients:

8 ounces unsalted butter, room temperature

2 1/2 cups powdered sugar

6 tbsp. Baileys Irish Cream

2 tsp. Trablit Coffee Extract or instant espresso powder

Directions:

Cream butter and sugar, adding a little sugar at a time.

Stir in coffee extract and Baileys. Stir until mixture reaches spreading consistency.

Note: You can substitute instant espresso powder if coffee extract is unavailable.

Assembly:

Fill a piping bag with frosting. Create piping bag by cutting one off one corner of a ziploc bag.

Dip cookies in melted dark chocolate and garnish with sprinkles or decorative candies.

To make cookie sandwiches, chill decorated cookies until chocolate is set. Pipe frosting onto the underside of one cookie and sandwich atop another cookie.

These milkshakes are a cool and creamy way to ring in Saint Patrick's Day.This recipe is great for someone who is short on time, but wants to make a great dessert to serve to their friends and family. It is also beginner friendly!

Yield: 2-3 servings

Ingredients:

1- 1 ½ cups mint chocolate chip ice cream

6-8 oreo cookies

½ cups milk

1 cup ice

Directions:

Mix well until all ingredients are blended; add ingredients to taste. Top with whipped cream, festive candies or sprinkles.

Decorate this dessert as much or as little as you want. To make this dessert a little more Saint Patrick's Day festive, add green food coloring to the whipped cream.

Buttery shortbread, crunchy toffee and creamy chocolate make these decadent treats worth the effort.

Yield: 16 squares

Shortbread

Ingredients:

3/4 cup butter, softened

3/4 cup sugar

2 cups all-purpose flour

Directions:

Preheat the oven to 350 degrees Fahrenheit. Cream together the softened butter and sugar. Stir in the flour, mixing well. Press the batter into a nine inch square pan. Bake for 25 to 30 minutes until the edges are golden brown. Let the shortbread cool.

Toffee

Ingredients:

1/2 cup butter

1/2 cup brown sugar

1 14-ounce can sweetened condensed milk

2 tbsp. light corn syrup

1 tsp. vanilla extract

Directions:

Melt the butter in a heavy saucepan over medium heat. Add the brown sugar, condensed milk, and corn syrup, and bring the mixture to a boil.

Cook for five minutes, stirring continually. Remove the mixture from the heat and stir in the vanilla extract.

Pour the toffee over the cooled shortbread.

Topping

Ingredients:

1 six ounce bag of chocolate chips

Directions:

Melt the chocolate chips in a double broiler or in the microwave. Pour over the cooled toffee shortbread. Allow the chocolate to set and cut into squares.

Serve this traditional sweet and spicy cake to your friends who don't favor chocolate, but be sure to save some for yourself.

Yield: 1 nine inch cake

Ingredients:

3 cups cake flour

2 tsp. baking powder

1/8 tsp.. salt

1/8 tsp. ground cloves

1/8 tsp. nutmeg

4 ounces butter

3/4 cups sugar

3 or 4 large Granny Smith apples

2 eggs

1/4 cup milk

2 tbsp. sugar to sprinkle on top of cake

Directions:

Preheat the oven to 375 degrees Fahrenheit. Sift the cake flour, baking powder, salt, cloves and nutmeg into a large mixing bowl.

Cut the butter into the flour using hands or a pastry cutter until the mixture resembles fine crumbs. Mix the sugar into the flour mixture.

Peel and slice the apples into uniform pieces, about ¼ inch thick. Toss the apples into the flour mixture and combine thoroughly.

Beat the eggs and add a dash of milk. Add this mixture to the apples and flour, combining well.

Transfer the dough into the prepared cake pan and flatten the top surface using the back of a large spoon. Sprinkle two tbsp. of sugar over the top of the cake.

Bake the cake for 45 to 50 minutes. Cool the cake for five minutes in the pan. Later, finish cooling the cake on a wire rack.

These cute pudding shots make toasting even more festive.

Yield: 12-14 large shots

Ingredients:

1 small box instant pistachio pudding mix. Note: do not use cook and serve pudding mix.

¾ cups cold milk

½ cup Baileys Irish Cream liqueur

¼ cup Jameson whiskey

8 ounces extra creaming whipped topping, thawed

1 package sugar wafer cookies

Optional: sprinkles, whipped cream, and green food coloring

Directions:

Mix the milk and instant pudding mix together using an electric mixer. To create a more intense green color, tint the mixture with food coloring.

Stir in the Baileys, Jameson, and the whipped topping. Lightly mix the ingredients; be careful not to form any lumps.

Assembly:

Spoon or pipe the pudding mix into a shot glass. Alternate layering pudding, sprinkles, and whipped cream. Garnish the pudding shots with extra whipped cream and more sprinkles! Place one wafer cookie in each pudding shot before serving to use as a spoon. Do not put the cookies in until serving or else they will get soggy. Refrigerate the pudding shots until ready to serve.

Note: To make a non-alcoholic version of this recipe, replace the alcohol with ½ teaspoon vanilla extract

Impress your friends with these seemingly advanced layered brownies.

Yield: 24 brownies

Chocolate Brownie Layers

Ingredients:

4 ounces unsweetened chocolate

1 cup margarine, softened

2 cups white sugar

3 eggs

2 1/2 tsp. vanilla extract

1 cup all-purpose flour

Directions:

Preheat the oven to 350 degrees Fahrenheit. Grease a 9x13 inch baking dish.

Melt the unsweetened chocolate in the microwave or in a double-boiler on the stove. Stir the chocolate every 15 seconds until it is smooth. Allow the chocolate to cool slightly before transferring it to a large bowl. Stir in the margarine and sugar until the mixture is smooth.

Beat in the eggs one at a time, then stir in the vanilla. Stir in the flour just until blended. Spread the batter evenly into the prepared dish.

Bake for 20 to 25 minutes, or until the surface appears dry and the sides are beginning to pull away from the edges of the pan. The brownies may look more like cake and may jiggle slightly in the center - this is normal. Cool the brownies on a wire rack without removing them from the pan.

Peppermint Filling

Ingredients:

½ cup butter, softened

4 cups powdered sugar

2 tablespoons milk, or as needed

1 1/2 teaspoons peppermint extract

6 drops green food coloring

Directions:

Beat the butter and powdered sugar together with an electric mixer. Add milk as needed until the mixture has a spreadable consistency.

Stir in the peppermint extract and green food coloring. Spread this peppermint mixture over the cooled pan of brownies. Refrigerate the brownies for 30 minutes.

Chocolate Topping

Ingredients:

1 1/3 cups semisweet chocolate chips

6 tbsp. butter

1 tbsp. vanilla extract

Directions:

Microwave chocolate chips and butter until both are melted. Stir the mixture every 20 seconds until the chocolate is smooth. Add the vanilla extract.

Pour this chocolate topping over the chilled brownies and quickly spread to cover the surface. Cool the iced brownies again until they are firm; then cut into squares and serve.

Reach Staff Reporter Helen Carefoot here.